How to capture real estate leads effectively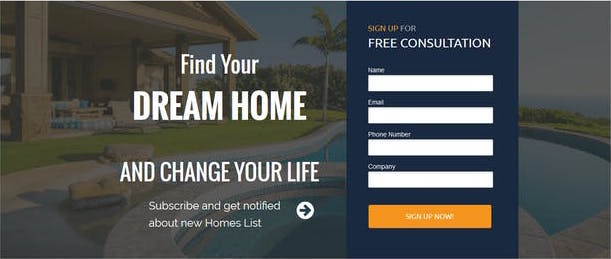 If you're like 50% of real estate agents, you probably have failed multiple times doing property lead generation. You probably spend your time and money doing your old lead generation tactics again and again but getting the same lousy results.
But the truth is there are lots of ways to get more property leads. Here are 10 expert tips from RealestateMY for converting those distracted and busy people visiting your real estate website into your newest, best quality leads that you can turn into sales.
Your network is your net worth.


Leverage your already existing relationships, especially if you're a new property agent, by making a long list of everyone in your phonebook, facebook account, and then setting a goal each day to personally reach out to each of them and let them know you are in the real estate business. Let them know to keep you in mind if they need your property services or know anyone looking for a real estate agent.
 
Your previous clients will also need your attention. Once a deal is closed, make a schedule to routinely call for a follow up. An easy way to do this is to send Happy Birthday greetings. This shows past buyers and sellers you've worked with you genuinely care and are a decent person to keep in contact with.

Also trying to get client testimonials from your happy clients as soon as you've closed their property deal is also a great time to get personal with them. Don't miss this opportunity for social proofing your personal brand!





Make email is your best friend.


Email marketing is great for real estate lead generation and nurturing in the business world.

So in your emails, don't be afraid to show your personality and authenticity. People want to deal with other real people. Avoid boring generic emails, and use your email to send content and ensure the first name of each lead is at the top; this personalisation to detail goes a long way.

When do real estate email marketing, make sure you send only quality content, and not just constantly SPAM your client database.





Be social, but also be real.


You will want to socialise your real estate business every chance you get. This doesn't mean you should be too salesy, but rather, use what you do for work everyday as an easy conversation topic to get people engaged you on social media. There are alot of people are interested in real estate, so use your social media marketing skills and share your insta story online with some smart engagement tactics.

Also, providing value on social media will help you attract more leads. In every social post to Facebook, Twitter, Instagram etc, aim to educate, and enrich. You don't need to focus only on sharing your own content but can sharing blog posts from others that your market cares about, like those that talk about local market conditions and local community events etc.


 



Simplify lead capture form and calls to action (CTA)


Don't ask for too much information in your lead capture forms. If you have more than three form fields on your lead capture form, cut it down. Keep it simple so you don't scare away your leads.
 
Make sure your CTA buttons are large and bold across your property website, and add them both above the fold, and test how it looks on mobile. Don't use vague, lengthy copy in your CTA, also include a clear and succinct value proposition for your future clients.





Simplify your property website's user experience UX.


Make sure buttons and links to your website's pages are clearly on the screen and state where they go to. Be simple, concise, and plain in your navigational menu links, and your visitors will have a better website experience. Your website should also be nice to look at, so squashing your pages with many images and text or leaving them blank with just your real estate business name and some links will definitely lead to low engagement with your prospects. Start with your website's homepage. examine it and ask yourself, is it easy for people to understand the purpose of my site? and understand the business by scrolling down on my homepage in 5 seconds? If not, you need to adjust your real estate website's setup.
 




Develop new landing pages and alter existing ones


Your website should have multiple landing pages and the more you have, the higher the chance you will get more exposure and quality leads. Create several landing pages with different content this will help you find what information works best for converting visitors into real property leads. Also, try things with your landing pages you have never done before, like adding videos to explain special project offers or your business solutions.





Continuously deliver value to your prospects.


Be strategic and generous with what you share to your leads. People actually appreciate what you have to say when you consistently give them good property insights and position your brand as a trusted real estate advisor. Create blog content on your property website consistently (at least a few times a month), and optimise your posts with the latest popular keywords specific to your local area market (e.g. "2 bedroom homes for sale in Petaling Jaya). You should also have some fun with your content creation by providing local neighborhood guides, profiling local businesses, and offering advice for buying, selling, and homeowning on your real estate website . This means valuable information your niche audience will appreciate and will want more of when done well by you.






Track your website's Visitor behaviour with Google Analytics


Data and visual evidence of your real estate marketing's performance gives you a clearer understanding of what isn't working. Visitor Flow in Google Analytics gives property agents a look at the flow. The feature shows your visitors' demographics and how they behave on your site. If executed properly, your real estate website will be your most valuable assets for attracting leads and converting them into clients.






Have patience.


A major reason real estate professionals have trouble getting leads is a lack of effective lead generation tactics and patience. Real estate agents are usually very busy, not ready to commit, or maybe another negotiator who has better communication or services has gotten their leads. But don't give up, the most important thing is to keep the communication going, do consistent phone calls and emails and take it a step further by making sure you're offering value at every stage for your real estate leads.


 
Stay tuned with the realestatemy.com/blog for more up-to-date tips and guides for real estate marketing professionals.