How To Write A Great Real Estate Negotiator Profile To Help You Make More Sales
How to write a great real estate agent profile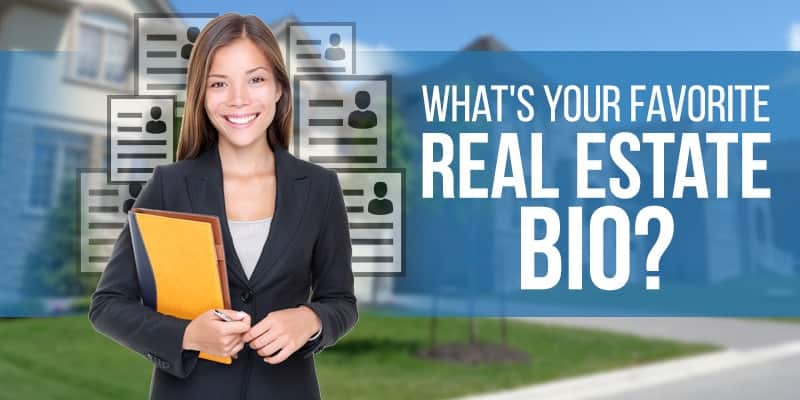 If you're like most people, writing your real estate agent profile is probably as awkward as going for a job interview with spinach stuck between your teeth. It's just really unnatural to write about yourself in the third person, isn't it? However, the reality is, as the real estate market shifts towards online media, your professional profile becomes an important part of your marketing arsenal. Aside from generating sales, it is a part of your personal brand where potential clients in Malaysia can make a meaningful connection with you.
The key is to understand the formula for writing a great real estate agent profile. Check out our 12 tips below with examples from real estate gurus to get you started on your own stellar profile.
Use a Sophisticated Photo
Skip cropping out a photo from your Facebook albums and hire a professional real estate photographer instead. Your face is a major part of your personal brand and helps people make a visual connection with you during their online searches. So, you want to make sure the photo that you use is one that conveys a positive impression and actually looks like you in real life.
Phil Gutowski's photo immediately draws the eye to it. With his genuine smile, he feels like someone you'd be comfortable to spend your time viewing homes with as he guides you through the buying process.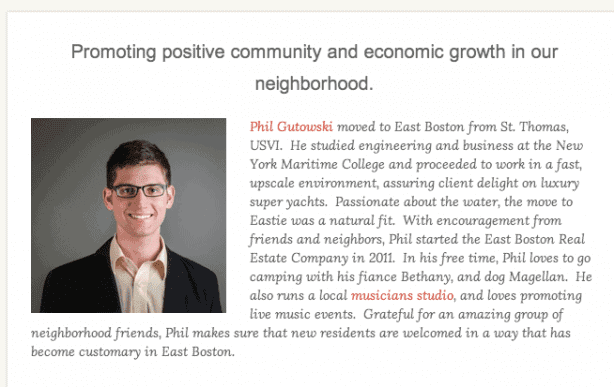 Be Truthful
Sincerity will go a long way in getting people to trust you. When someone is making one of the largest purchases of their life, you can be sure they will be scrutinising you for truthfulness. Tell them about how you're a straight shooter, a hard worker and that you love doing your job.
Greg Noonan's profile summarises his qualifications and experience with bullet points. This is a great way to showcase important information without padding it with unnecessary sales jargon.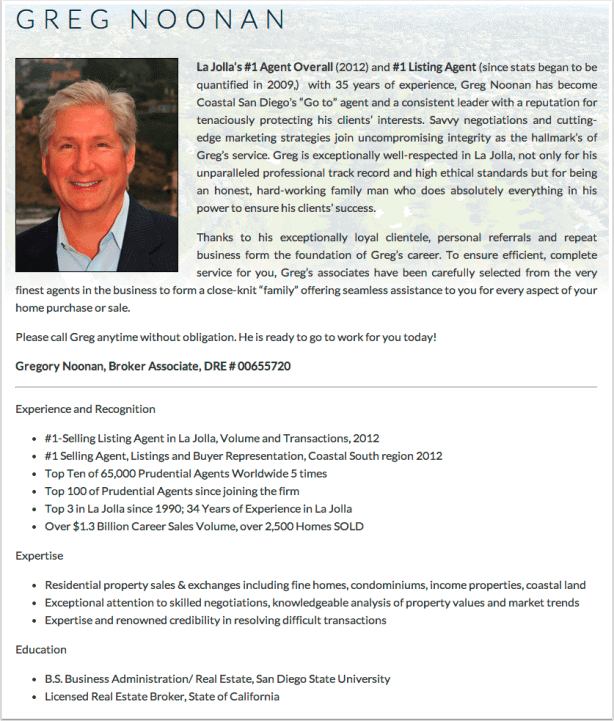 Show off Your Skills
Just like when you meet your future in-laws for the first time, highlight only the best parts about yourself. You want your readers to believe that you can meet their needs, so share some of your real estate background without going overboard. Walk that fine line between humility and boasting. Keep the information in digestible bits and use welcoming language. If you're new to the real estate scene in Malaysia, explain why you got into it and how much you love what you do.
Keith Darby first lists down his major accomplishments. Then he goes on to share about things that make him so good at his job.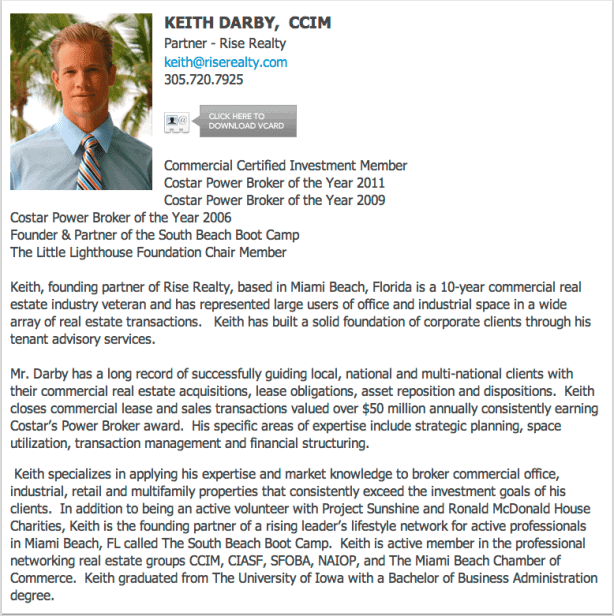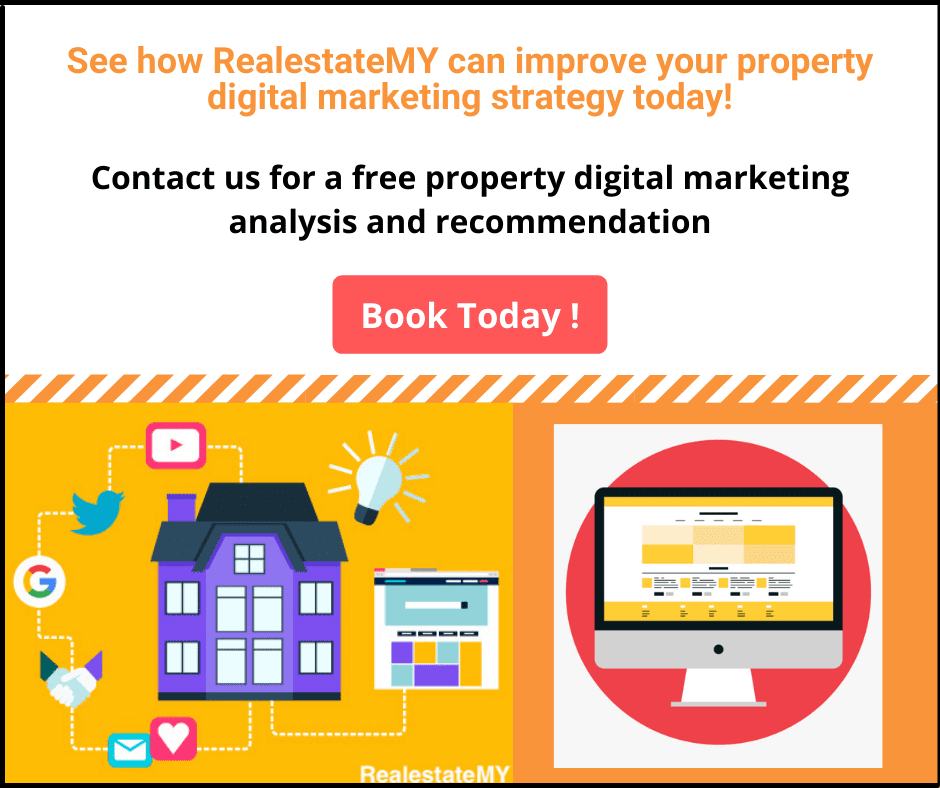 Share the Love
What makes you stand out from the thousands of other real estate agents in Malaysia? The answer: your passion in the work that you do. Tell your readers what gets you excited to wake up in the mornings. Share a little about what drives you and your readers will catch on to your enthusiasm.
In Travis Greene's profile, his family photo and work slogan reinforces his drive to put his family's and client's needs first.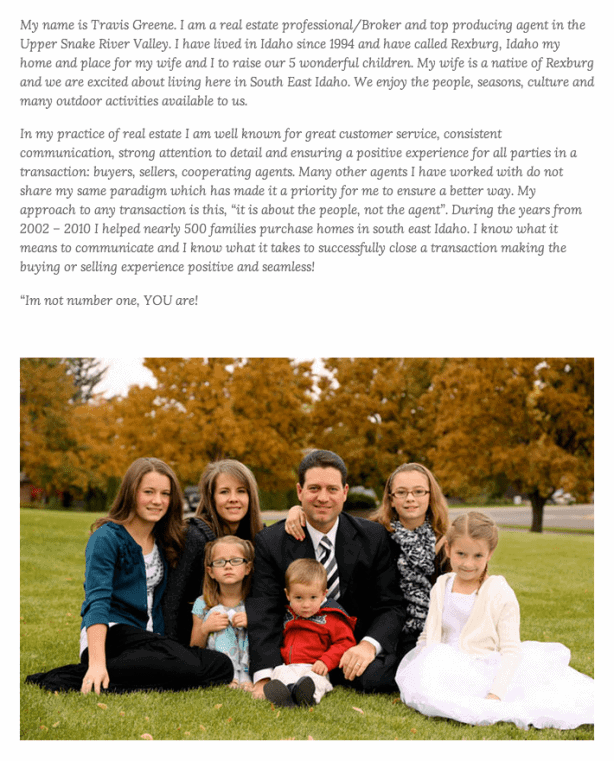 Stop Selling
It's tempting to slip into a salesperson mode when writing your profile – but don't. Your profile should be a written account of your life, not an advertisement. You will come off as phoney if you sell in your profile and this is a sure-fire way to lose clients quickly. Instead, be authentic and allow people to see what kind of person you are. People are more likely to trust you this way.
Tom Daves makes you feel like even before you've met him, you already know him.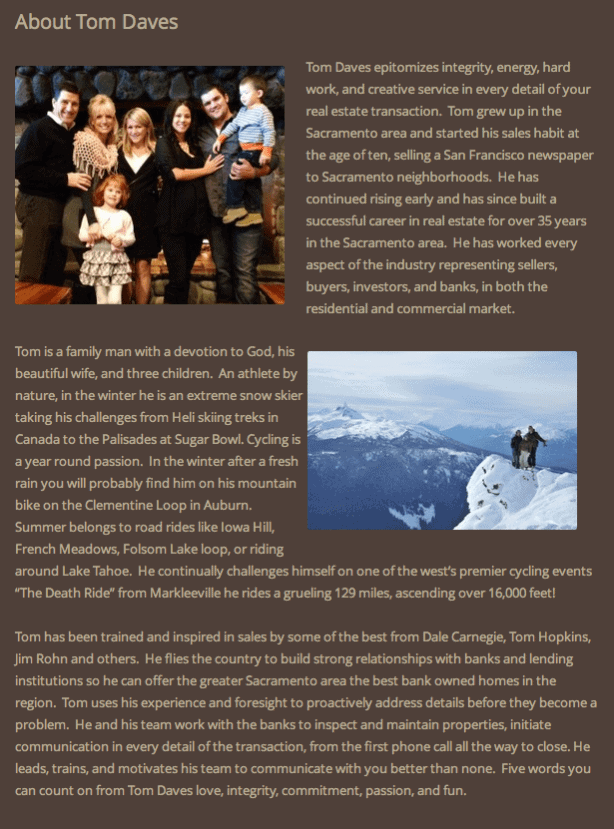 Keep it Clean and Quick
People are unlikely to spend more than a minute reading a profile. A good profile should be between 200 – 300 words and have 2 – 3 paragraphs. Keep the language simple and straight to the point. Use short sentences, professional font type and size.
Jonathan Wilson's bite-sized profile gives all his essential information in a way that anyone can understand.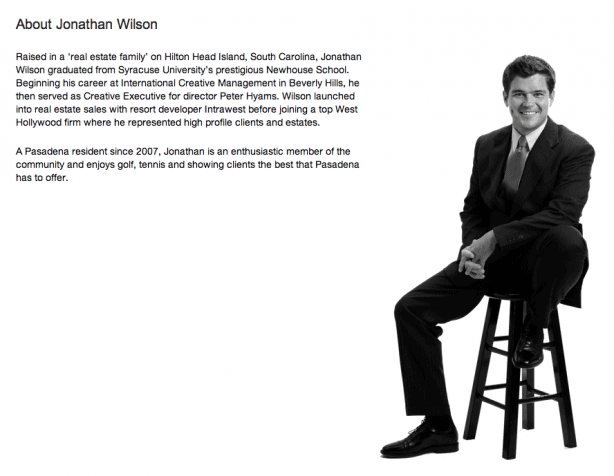 What if Longer Works for You?
Even if you have a lot of things to say, be prudent. Keep in mind that the average person reads 250 – 400 words a minute. If your profile runs longer than this, you risk losing your audience. Begin each paragraph with a strong sentence that hooks your readers' attention. Other than using personal touches and listing your accomplishments, video or audio dialogues are an added advantage.
Shay Hata's long biography is attractive with its catchy paragraphs and personal anecdotes.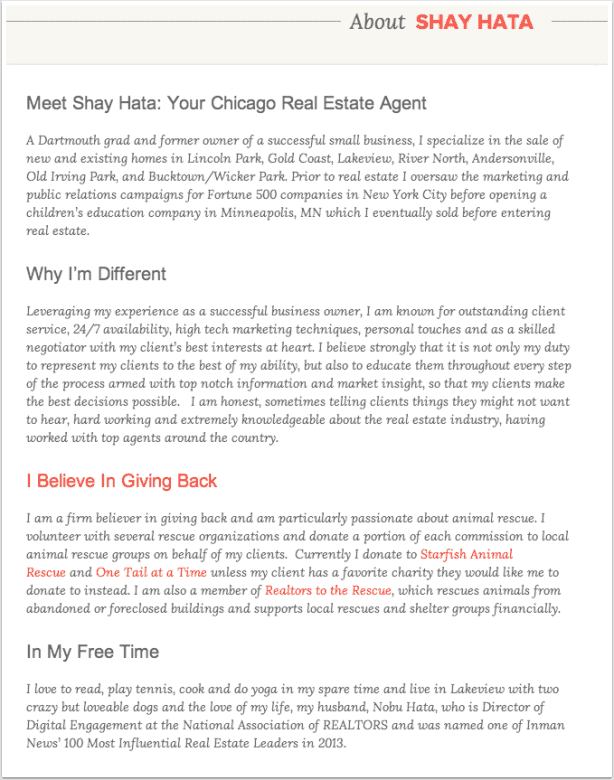 Make it a Video
Distinguish yourself from the crowd by creating a video profile. Quicksprout reveals that videos increase people's understanding about brands by 74%. In the real estate business, your personality is a huge part of your brand and videos are a terrific way to present this.
Lisa Archer's video profile is how to do it the right way.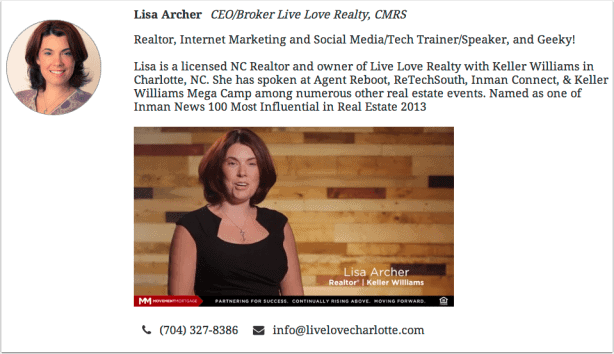 Group Mentality
For a group profile, make sure to convey the idea that there is no "I' in "team". No one likes to be caught up in bureaucracy and tossed between different agents. The potential client must feel like he will benefit from the expertise of the group.
At RE/MAX NE, each real estate agent has an individual profile within the "Meet Our Team" page. This presents a unified front to the client.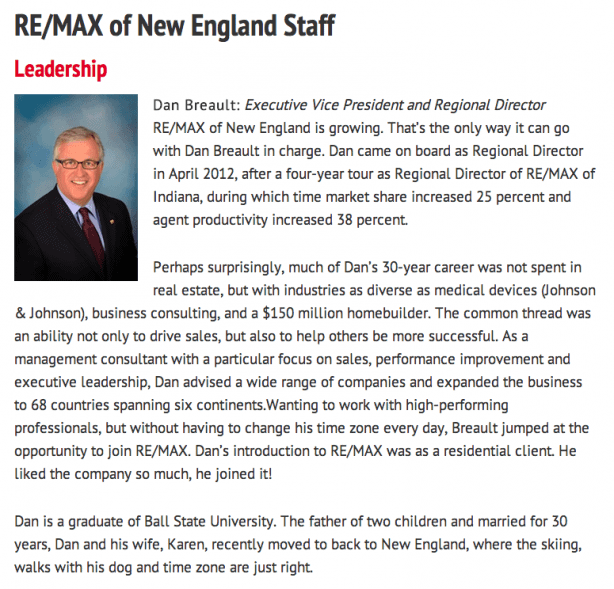 Where are You? How do I Reach You?
Include your geographic location in your description to make it easier for search engines to generate hits for online searches of your area for lead generation. Don't forget to say how long you have lived or worked there. People prefer an agent who knows the area well.
Invite people to get in touch with you by providing your contact details in your profile –address, phone number and email. Use calls-to-action like "Do you have a question I can help with?" to get your reader to engage with you.
Tracy Campion's profile immediately tells you that Boston is her forte and how you can contact her.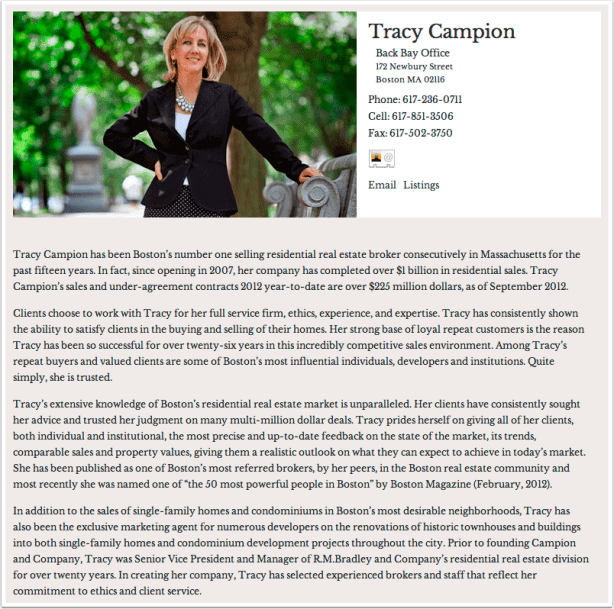 Keeping it Fresh
Things are constantly changing in your business and your real estate agent profile must keep up. Make it a point to update your profile every six months or once a year.
Edit Over and Over
Once you have written your profile, get a fresh pair of eyes to look at it. Weed out any spelling and grammatical mistakes, long-winded sentences, bombastic words and anything else that could misrepresent you. Show your potential client that you are a professional. Mistakes in your profile reflect a careless attitude which will turn clients away even before they've met you.
Stay tuned with the realestatemy.com/blog for more up-to-date tips and guides for real estate marketing professionals.