Description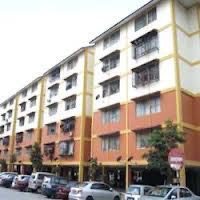 Gugusan Teratai is a leasehold low cost apartment located in the bustling township of Kota Damansara in the state of Selangor. It is surrounded by other such developments, such as Gugusan Melur, Gugusan Semarak and Gugusan Sejora. It is conveniently located at only 20 minutes to the city centre of Kuala Lumpur.
Gugusan Teratai is a walk-up apartment that stands at only 5 storeys tall, spread out over three blocks. Each block comes at a standard size of 750 sf, housing 3 bedrooms and 2 bathrooms. Prices for this apartment start at as low as RM125,000 with a maintenance fee of only RM50 a month.
Being an old development, all the units that are currently being sold at Gugusan Teratai come either partially or fully furnished. Even the partially furnished ones are quite complete, with built-in kitchen cabinets and sanitary ware while lights and fan fixings are a given. Many of the units also come with additional safety grills.
Despite being one of the low cost apartments in the area, residents here at Gugusan Teratai will enjoy having their own business centre, cafeteria, nursery and salon for their work and leisure, as well as a playground for the youngsters and a mini market. Residents will also have their own covered parking spot.
The apartment is located near various amenities such as banks, convenience stores, clinics, restaurants and other retail outlets. There are also many schools in the vicinity, while the local hotspots include Giza Plaza as well as The Strand. A short 10 minutes drive away are premier commercial centres such as Ikano Power Centre and The Curve, while the closest medical healthcare centre is the Tropicana Medical Centre.
The apartment is well-connected via a network of major roads that include the New Klang Valley Expressway (NKVE), the Damansara – Puchong highway, the SPRINT highway and the North – South highway. The Bandar Utama express bus terminal is located approximately 15 minutes away only away from the apartment whilst the nearest KTM station is the Sungai Buloh KTM station which is about 20 minutes away.
Property Details
Name: Gugusan Teratai
Address: Jalan Cecawi 6, 47810 Kota Damansara, Selangor
Type: Apartment
Tenure: Leasehold
No. of Blocks: 3
No. of Storey: 5
No. of Bedrooms: 3
No. of Bathrooms: 2
Built-up: 750 sf
Facilities
Business centre
Cafeteria
Nursery
Salon
Playground
Mini market
Covered parking
Analysis
Gugusan Teratai is located in a very high density area, with many apartments of the like around it, which causes heavy traffic congestion during peak hours. Parking is also a problem after work hours when the residents come home, when many cars can be seen to be parked alongside the road as there are insufficient parking lots within the development.
Although it is located in a low to medium cost area, Gugusan Teratai is somehow also not very far from their classier neighbours within Kota Damansara. However the shine does not spill over and Gugusan Teratai is not exactly popular for its exclusivity, and the residents here are mostly of the low to medium income group.
Gugusan Teratai as such does not hold much investment value at the moment despite its quite good location, especially due to its leasehold title. It does however make a good permanent residence for those who are looking for a low cost home in a reasonably good location.