Description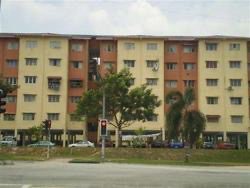 Gugusan Semarak is a leasehold low cost apartment located in the township of Kota Damansara. Placed centrally in a hub of housing developments, this apartment is a mere 20 minutes drive away from the city centre of Kuala Lumpur, as well as other places of importance such as Mont Kiara, Bangsar and Petaling Jaya.
As with the neighbours of Gugusan Semarak, this apartment is also a walk up apartment with no lifts, and is as such unsuitable for the elderly or handicapped. It is five storeys tall, with the average built up of a unit being approximately 650 sf with 3 bedrooms and 2 bathrooms. Considering its location, the price is reasonable at auction prices starting from RM75,000 and sale prices starting from RM100,000 onwards.
Being a long ago completed project, Gugusan Semarak is fully occupied and all units for sale were all pre-owned. As such, buyers can expect most of the units to be at least partially furnished with at least built-in kitchen cabinets, and light and fan fixtures. Some of the units also have additional safety grills installed, while the others may have water heaters.
Gugusan Semarak is not loaded with facilities such as swimming pools or badminton and squash courts, but they do however have a playground for the youngsters. Buyers will also be pleased to know that they might be able to get a covered parking lot over the open parking area, and the apartment area is safe with the 24-hour security.
As Gugusan Semarak is located on the fringes of Bandar Utama, the closest major shopping mall is 1 Utama Shopping Complex, The Curve and Ikea; all of which are within a 20-minute drive of the apartment. Closer to home at a 8-minute drive is the Giza Shopping Mall which within the vicinity are a wide variety of eateries, boutiques and banks. Renowned schools such as the Sri KDU International School and the Sekolah Sri KDU are also within the vicinity for an excellent education.
Gugusan Semarak is well connected by a series of major trunk roads. Seeing that it lies just off Persiaran Kenanga, the New Klang Valley Expressway (NKVE) and Jalan Sungai Buloh are rather easily accessible. Public busses and cabs can be found at the main roads, but the nearest train station which is the Kelana Jaya LRT station is a 20-minute drive away.
Property Details
Name: Gugusan Semarak
Address: Off Persiaran Kenanga, Kota Damansara, 47810 Petaling Jaya, Selangor
Type: Apartment
Tenure: Leasehold
No. of Blocks: 13
No. of Storey: 5
No. of Bedrooms: 3
No. of Bathrooms: 2
Built-up: 650 sf
Facilities
Playground
24-hour security
Covered parking
Analysis
Gugusan Semarak is a well located apartment. Due to a stroke of luck and the mass rapid development, this apartment is now surrounded by high end developments where major roads have been built and improved upon to create better accessibility. However, there is a setback due to the vast increment of vehicles traversing the roads and the ongoing MRT development, traffic is especially bad especially during peak hours.
Although the high end residential homes are all within the same township, Gugusan Semarak's immediate neighbours are nevertheless low to medium low cost apartments. As such, this particular residential area has a certain stigma that associates the residents to the lower income group.
Although some of the property agents have been seen trying to foister off units at Gugusan Semarak as a good investment, the fact remains that it is a low cost leasehold apartment that is unlikely to be a good investment in the near future; although prospects might improve after the completion of the MRT stations close to the apartment. Gugusan Semarak does however show potential as an affordable first home for those who can accept the existing community.