Description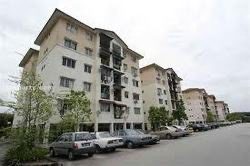 Gugusan Melur is a medium low cost leasehold apartment located in the township of Kota Damansara. It is rather centrally located, with TTDI being a mere 15 minutes away, while the other places of importance such as Bangsar, Mont Kiara and Petaling Jaya being approximately 20 minutes away. The Kuala Lumpur city centre is also only 20 minutes away, while the Kuala Lumpur International Airport is approximately 50 minutes away by car.
Being a medium low cost apartment, Gugusan Melur is not very suitable for the elderly and the disabled as it is a walk up apartment without any lifts. It is only 5 storeys tall and is spread over four blocks, and each unit is an average size of 700 sf. With 3 bedrooms and 2 bathrooms, this is a nice home for small families. The prices are steeper than its neighbouring apartments such as Gugusan Sejora, with the units on auction selling from RM100,000 and the units on sale selling from RM128,000 to RM180,000.
As Gugusan Melur is one of the older developments in Kota Damansara, all the units being released for sale are all pre-owned. As such, buyers will be able to get mostly partially furnished units where most if not all of them have already got lights and fans installed. Built-in kitchen cabinets, hoods and hobs are also the norm, as are additional safety grills at the main doors.
Gugusan Melur is a fully gated and guarded property with 24-hour security, and while they do not have a swimming pool, they have a very well maintained playground that is suitable for children of all ages. Parking lots are also available within the development, although it is an open air parking lot.
Gugusan Melur is situated in an excellent location, with the closest major shopping mall being 1 Utama Shopping Complex, The Curve and Ikea; all of which are a mere 15 minutes drive away. Likewise closer to home at a less than 10 minutes drive is the Sunway Giza Mall which within the vicinity are a wide variety of eateries and banks. There are also a number of highly recognised schools within the area, such as the Sri KDU International School and the Sekolah Sri KDU.
Gugusan Melur is well connected via a series of main trunk roads. It lies just off Persiara Surian, which connects to the New Klang Valley Expressway (NKVE) and the main road Jalan Sungai Buloh. The closest train station is the Kelana Jaya LRT station which is approximately 20 minutes away, but residents are looking forward to the upcoming MRT station which is supposed to be within walking distance of the apartment.
Property Details
Name: Gugusan Melur
Address: Jalan Camar 4/5A, Kota Damansara, 47810 Petaling Jaya, Selangor
Type: Apartment
Tenure: Leasehold
No. of Blocks: 4
No. of Storey: 5
No. of Bedrooms: 3
No. of Bathrooms: 2
Built-up: 770 sf
Facilities
24-hour security
Parking lot
Playground
Analysis
Gugusan Melur is undoubtedly a well located apartment. It is surrounded by new high end developments, which developers have built many access roads from to main highways. Nevertheless, there is a drawback as the number of vehicles traversing these roads increase amongst the ongoing contraction, causing the traffic congestion to worsen during peak hours.
Although Gugusan Melur is a medium low cost apartment, the neighbourhood of Gugusan Melur veers more towards the lower income group, causing the residents of the area to be stuck with a certain stigma associated with low cost residences. As such, some of the more particular buyers may consider other areas in spite of the affordable price an excellent location here.
A number of interested speculators of the middle income group have looked over the apartment as a bargain, but as a leasehold property its appreciation will be slow and might even reduce over time closer to the lease expiry date. It is however an excellent purchase as a first home or own home if the buyer can accept the existing community and environment.