Description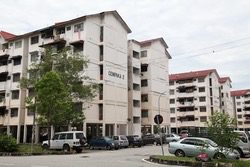 Gugusan Cempaka is a leasehold, low cost apartment situated in the fast-growing Kota Damansara, Petaling Jaya. Gugusan Cempaka is sited within close proximity to similar residences like Gugusan Seroja, Gugusan Teratai as well as commercial areas like Surian Industrial Park 2 and The Core by Sunsuria. It comprises of 5-storey blocks which contain apartment units with a built-up area of 600 sf. These units comprise of 3 bedrooms and 2 bathrooms.
Amenities such as the Section 6 Commercial Area is sited within a stone's throw away where residents can enjoy their meals at the food court there or shop for their basic necessities at the 99 Speedmart or 7-11 convenience stores located there. Besides that, there are also tuition centres like Kumon Learning and Agape Chapel nearby. Not only that, famous eateries like KFC, Pizza Hut and McDonalds are all located just a short walk away near Persiaran Surian where residents can also find a Shell petrol kiosk as well as a police station there.
Apart from amenities like these, there is also Tulips Dialysis Centre positioned just a short walk away from Gugusan Cempaka for those who needed medical attention in this field. Some of the schools that are situated within a 1.5 km radius away from Gugusan Cempaka are SMK Sek 10 Kota Damansara, SK Sek 9 Kota Damansara, SK Sek 11 Kota Damansara, SE Seksyen 6, and SK Sungai Buloh S7 and with SR Seksyen 6 being the nearest one situated to Gugusan Cempaka.
Gugusan Cempaka can be easily accessible using many routes such as Persiaran Surian, Jalan Cecawi 6, Persiaran Kenanga or even Persiaran Mahagoni to name a few. For those who travel via public transportation, you can easily commute to major cities via RapidKL buses and there are several bus stations right at roadside next to the apartment.
Property Details
Name: Gugusan Cempaka
Address: Jalan Cecawi, Kota Damansara, Petaling Jaya, Selangor
Type: Apartment
Tenure: Leasehold
of Storey: 5
of Bedrooms: 3
of Bathrooms: 2
Built-up: 600 sf
Facilities
Analysis
Although Gugusan Cempaka is a low cost apartment, it is well surrounded with great amenities. And on top of that, the areas surrounding Gugusan Cempaka is still developing and with the recent development of The Core by Sunsuria as well as the Surian Industrial Park 2. With the constantly increase of prices in Kota Damansara, it is no double that Gugusan Cempaka price will increase in near future. Especially with the upcoming LRT in the area, the price will definitely boost further.