Description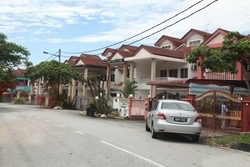 Section 6 is located along Jalan Cecawi 6 within the developing township of Kota Damansara. It is sandwiched between Shah Alam and Petaling Jaya. The total area of 1,500 acres have been earmarked for residential development which is divided into 12 sections, Section 6 being one of them.
Section 6 comprises of houses and shop lots. Most of the houses available here are double storey link houses or terrace houses. Apart from that, there are quite a number of low cost flats, apartments and condominiums within the vicinity as well. Terrace houses in the enclave normally have a built-up from approximately 2,000 sf with a total of 3 to 4 bedrooms and 3 bathrooms.
Shop lots within Section 6 are typically available with a built-up of about 1,500 sf, most of these shop lots are 3-storey tall. Most of the developments get to benefit from facilities like security, children's play ground as well as covered car park.
Residents of Section 6 have the luxury of an abundance of amenities within close proximity. Within short driving distances, one may arrive at Sunway Giza whereby a wide array of eatery, boutiques as well as entertainment outlets are available. Furthermore, Mc Donald's, KFC, and Pizza Hut are within walking distance.
The low-cost flats within Section 6 are within close proximity to a number of educational institutions like Segi College, Sri KDU and Sekolah Kebangsaan Section 6 Kota Damansara. A mosque (Surau Al Nur) can be found within short walking distance.
Commuting to and fro Section 6 proves to be hassle free as there are many entrances and exits. Commuters may opt to travel via major highways such as NKVE or LDP which connects to many other enclaves. Public transportation may suffer a little drawback as there are limited bus services in the area.
Property Details
Name: Section 6
Address: Jalan Cecawi 6, Kota Damansara, 47810 Selangor
Type: Terrace House, Link House, Apartment, Flat, Shoplot
Tenure: Leasehold
No. of Storey

Shoplot: 3
Terrace House: 2
Link house: 2

No. of Bedrooms

Terrace House: 3 – 4
Link House: 3 – 4
Apartment: 3
Flat: 2 – 3

No. of Bathrooms

Terrace House: 3
Link House: 3
Apartment: 2 – 3
Flat: 2

Built-up

Terrace House: From 2,000 sf
Link House: From 2,300 sf
Shoplot: From 1,500 sf
Analysis
Section 6 have numerous amount of development and properties that will provide good rental yields and investment opportunities. This is mainly because of its positioning within the developing township of Kota Damansara.
The development of Kota Damansara begin in 1992, with most of the development boasting an average take-up rate of about 85%. As at end of 2005, the estimated population of Kota Damansara was 300,000 and rising.
As such, the enclave is very sought after; hence boosting property prices, while having good rental opportunities. Most of the development within the vicinity have seen dramatic increase of prices with some breaching the 200% appreciation mark. Residents of Section 6 will have the privilege of visiting the botanical garden which is set on a 1,000 acres plot of land.
However, prospective tenants would like to take the traffic condition into consideration. Along with the rising population, and numerous amount of new developments, traffic congestion comes as no surprise.
To make things worse, the enclave is under-serviced by public transportation, with only a limited amount of buses and bus stations. Even taxi drivers will hesitate to head towards the area in fear of the traffic condition.
In spite of that, there have been a proposed LRT Station which will be positioned within Kota Damansara, probably a short distance away from Section 6. Although that might benefit a good number of residents, it has faced numerous objections mainly because the propose LRT line will be built across the forest reserve, where activists have fought valiantly over the years in order to protect and preserve the forest.