Description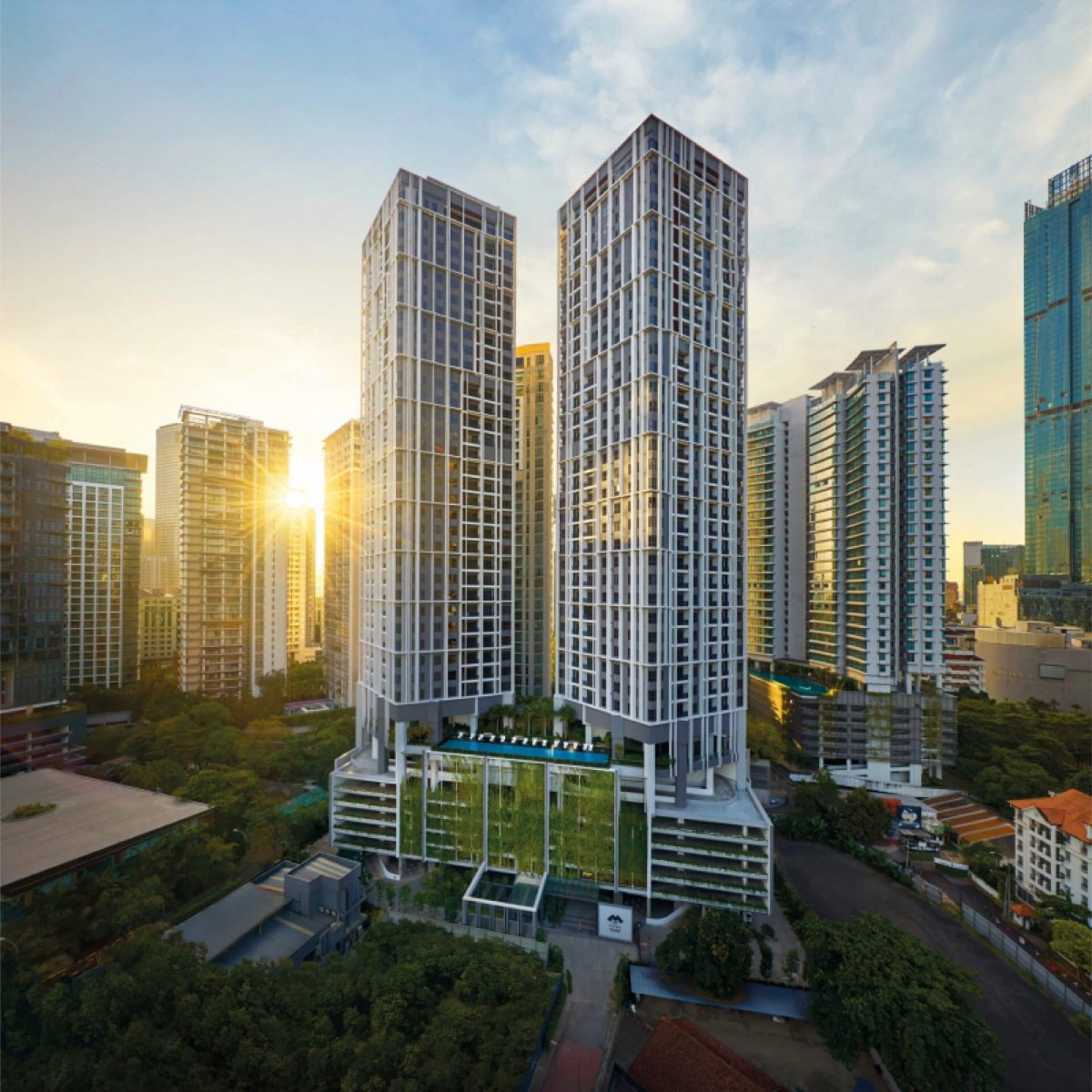 The Mews is another luxurious serviced condominium property that can be found in that golden area near KLCC. In collaboration with Mitsui Fudosan Residential, Eastern & Oriental Berhad, a much respected name in the local development scene, are behind this freehold project. By estimation, the place will be ready by the third quarter of 2017, around July to September. Jalan Yap Kwan Seng, linked to Jalan Tun Razak and also Jalan Ampang that fronts the twin towers, is the exact location of the property.
Standing at the height of 38 storeys, the two blocks of The Mews consist of 256 units in total. Six types of layouts are the choices that the buyers have. The choices start with Type A at the size of 923 sf and end with Type E2 with 2,619 sf. Type A has limited number of rooms with only a bedroom and a bathroom, but Type E2 is way more lavish with 3 + 1 bedrooms and 4 + 1 bathrooms.
Currently, The Mews boast quite a view of the city. However, that will not remain for a long time as more and more high-rises are cropping up. The glamorous developers brings a sense of style to the property, and it will be evident through the polished wooden floor finishing, spacious walk-in wardrobe and shoe closet and also equipped appliances. It should be mentioned that the residence spaces will be of no column whatsoever, eliminating the need to compensate for large and obstructing columns in your interior.
The security feel of The Mews is so far convincing, with a wide network of vigilant CCTV cameras guaranteed to be installed before completion. From the facilities point of view, the developer has managed to keep things interesting. While the swimming pool, gymnasium, lounge area, playground, parking bays and functions room are quite common, attention-grabbing inclusions such as saltwater hydra spa pool, squash court, pond and even a rooftop garden have made The Mews to be that bit more of an interesting proposition. Additionally, shuttle services will be provided to spots around Kuala Lumpur for the residents.
Amenities are aplenty with The Mews. Shop at Suria KLCC, Avenue K and Ampang Park, and take a walk along the KLCC park and the Bintang Walk. Whet your aesthetic appetite with Petronas Philharmonic Orchersta and Petronas Gallery as they are quite nearby. [Double Tree] hotel can be a temporary stay for extra guests at the house, and medical emergencies can be rushed to Tawakal Medical Centre, Pantai Indah Hospital and Twin Towers Medical Centre. Adding to the already long list of amenities are renovated old bungalows that have now been transformed to walking-friendly restaurants, offices, boutiques and furniture shops. SK J Gurney, SKL Lai Ming and SRJ Raja Muda are the local schools up for grabs. Besides that, some college can be found inside the city, one of them being SAL College.
The Mews is situated off a lane off Jalan Yap Kwan Seng. The road connects Jalan Tun Razak and Jalan Ampang. Through the former, one can take AKLEH while the latter offers access to SMART Highway. Jalan P. Ramlee is also another good alternative. Public transportation in the area consists of cabs and trains. The stations at KLCC and Ampang Park will be enough to satisfy the train riders.
Property Details
Name: The Mews
Address: Jalan Yap Kwan Seng, 50450 Kuala Lumpur
Developer: A JV between Eastern & Oriental Berhad & Mitsui Fudosan Residential
Completion Date: Q3 2017
Type: Serviced Residence
Tenure: Freehold
of Blocks: 2
of Storey: 38
of Units: 256
of Bedrooms: 1 – 3
of Bathrooms: 1 – (4 + 1)
Land Area: 1.3 acres
Built-up: 923 – 2,619 sf
Maintenance Fee: RM0.55 psf
Launch Price: RM1,600,000 – RM4,700,00
Layouts
Type A

1 bedroom + 1 bathroom (923 sf)

Type B

2 bedrooms + 2 bathrooms (1,271 sf)

Type C

2+1 bedrooms + 2 bathrooms (1,459 sf)

Type D

3+1 bedrooms + 3+1 bathrooms (2,059 sf)

Type E1

3+1 bedrooms + 4+1 bathrooms (2,417 sf)

Type E2

3+1 bedrooms + 4+1 bathrooms (2,619 sf)
Facilities
Saltwater hydro spa pool
Swimming pool
Children's swimming pool
Gymnasium
Squash court
Pond
Lounge
Kids' playground
Function room
Covered parking
Rooftop garden

Herb garden
Functions place
Open lawn
Private garden
Analysis
Property developers now carry a certain brand through their properties, and the brand of Eastern & Oriental looks to be solid and stylish amongst the eyes of Malaysians. Past projects such as St Mary Residences and Dua Residency set such high standards in property quality and status, while the rare by-the-beach shopping mall in Penang called Straits Quay reinforces the strong positive image of this developer. What more with a collaboration with the famous Mitsui Fudosan, a Japanese construction giant, The Mews' ultra-high standard seems to be guaranteed, at least for the time being.
However, the one problem that will always bug projects that are located in the middle of the city is traffic congestion. Things are worse as The Mews will be dependent on Jalan Yap Kwan Seng, a two-lane road that connects the super busy Jalan Ampang and Jalan Tun Razak. Plus the already existing populations from the offices at the same road, peak hours will see the drivers rooted to the road for quite some time. The road will be packed even on weekends, as the road is often-travelled upon by KL drivers. Those who prefer to travel by foot or go to nearby offices should be happy with this, but not the drivers. Even the shuttle services will not be able to escape the heavy traffic.
Kuala Lumpur will serve the lifestyle of the potential residents of The Mews well, as the amenities and facilities that are available could be deemed beyond satisfactory. The only downside to the neighbourhood is the traffic. Other than that things are just fine.
As it is an Eastern & Oriental property, situated in the hustle and bustle of Kuala Lumpur, boasts such luxurious lifestyle promises with amazing facilities, The Mews is definitely a sound investment. Of course, those who can afford it will look at this as a fantastic opportunity. The demand of such condominium in the heart of KL looks to linger for a while longer, hence a purchase would be regarded as positive. The Mews is also considered one of the best luxury condos in KLCC.