Description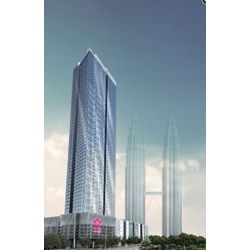 Star Residences is a mega development to be built in the heart of Kuala Lumpur, only a walking distance away from the esteemed KLCC. Coming out of a collaboration between Symphony Life and UM Land, this freehold serviced apartment will be the tallest residential tower in the city. A staggering six years will be taken for its completion, which will be sometime in 2019. Only the first tower has been launched, with the second one going out at the end of 2014 and the one after that early 2015.
Tower 1 of Star Residences will stand tall at 57-storey. A high number of 557 units will be available, with layouts ranging from 625 sf to 2,262 sf. Located in the prime area of Malaysia's capital city, the units will not come cheap with the starting price being at RM952,000. The larger units will come equipped with kitchen, and hot water system will complement all units. Surely this property will be guarded, though much detail has not been released on that matter.
The list of facilities at Star Residences is set to be one of the longest around, parallel with the developer's ambition to provide the best for the buyers. The usuals are definitely there, such as the swimming pool and gymnasium, but the interesting ones are entertainment deck, sky bar, indoor bar, party lawn, hot spring spa pool, water therapy and steam bath, heated hydro massage pool and hydro massage therapy room. Residents of Star Residences need not to go to a spa centre with such luxuries being provided.
Suria KLCC, Avenue K and Ampang Park will provide the residents of Star Residences with the necessary shopping amenities. The first two are definitely bordering world-class, hence the quality of the project. But the other type of amenities, namely recreational parks, will also be offered with Royal Selangor Golf Club, KLCC Park and Titiwangsa Park being close. Longer walks and drives will take the occupants of Star Residences to Pavilion, Starhill Gallery, Lot 10, The Mews and many others. Medical institutions are also within a short driving distance with Prince Court Medical Centre, Beverly Wilshire Medical Centre and the National Heart Institute.
Probably one of the biggest draws of Star Residences is its proximity to the KLCC train station. Two minutes of walk will take you there. Many roads surround the property, as it is in the centre if the city, such as Jalan Ampang, Jalan Yap Kwan Seng, Jalan Kia Peng, Jalan Tun Razak and Ampang – Kuala Lumpur Elevated Highway (AKLEH).
Property Details
Name: Star Residences
Address: Jalan Mayang, 50450 Kuala Lumpur
Developer: Alpine Return (A JV between Symphony Life & UM Land)
Completion Date: 2019
Type: Serviced Apartment
Tenure: Freehold
of Blocks: 1
of Storey: 57
of Units: 557
of Bedrooms: 1 – (3+1)
of Bathrooms: 1 – (4+1)
Land Area: 4.2 acres
Built-up: 625 – 2,262 sf
Maintenance Fee: RM0.40 psf
Launch Price: From RM952,000
Layouts
Type A1 / A2

1 bedroom + 1 bathroom (625 sf)

Type A3

1 bedroom + 1 bathroom (711 sf)

Type B1

(1+1) bedroom + 1 bathroom (721 sf)

Type B2

1 bedroom + 1 bathroom (722 sf)

Type C1

3 bedrooms + 3 bathrooms (1,443 sf)

Type C2

(2+1) bedrooms + 3 bathrooms (1,335 sf)

Type C3

(2+1) bedrooms + 2 bathrooms (1,259 sf)

Type C4

3 bedrooms + 3 bathrooms (1,754 sf)

Type D Penthouse

(3+1) bedrooms + (4+1) bathrooms (2,262 sf)
Facilities
Lounge
Reflective pool
Outdoor pavilion (also barbecue area)
Floating cabana
Hydrotherapy shower
Gymnasium area
Children's pool
50-metre swimming pool
Pool deck
Jacuzzi
Hammock garden
Gourmet kitchen
Sports lounge
Yoga room
Dance room
Pre-function area
Outdoor garden
Outdoor cafe terrace (also with barbecue area)
Meeting room
Steam bath
Grab & go bar
VIP and normal karaoke rooms
Reading room
Private dining area
Nursery
Playground
Laundry room
Surau
Banquet room
Koi pond
Changing room
Toilet
Entertainment deck
Sky bar
Indoor bar
Party lawn (another barbecue area)
Hot spring spa pool
Water therapy and steam bath
Heated hydro massage pool
Hydro massage therapy room
Analysis
Tijani Ukay, The Wharf, 6 Ceylon and Surin are some of the esteemed works of Symphony Life. On the other hand, UM Land boasts Seri Bukit Ceylon, Suasana Bangsar, Somerset Puteri Harbour and many many more. Their stature are distinguished, and Star Residences promises to be another excellent project from them.
So far, the worst thing about Star Residences is the fact that the owners will have to rent their own carparks. In comparison to other developments that usually give carparks with any purchase, Star Residences want their public to pay for the parking bays every month. That is a huge drawback, and it puts dent on the glamourous outlook Star Residences has come out with.
Another concern is the traffic density of the area of Star Residences. It is more than well known that the traffic there can be crazy, especially at rush hours. Adding more residential units there will not help the cause one bit, and something should be done or the traffic is gonna be standstill at rush hours.
Nonetheless, the Star Residences' prestige does make it look like a certain success. Many are saying that the market for such high-end residential projects is getting smaller, but maybe the launch of the commercial section will change the game. Time will tell.