Description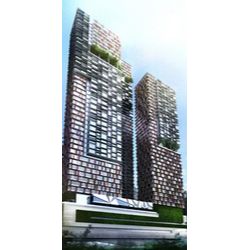 Ampang Park Shopping Centre is located on Jalan Ampang in the heart of Kuala Lumpur. It was developed by Low Keng Huat Brothers Realty and completed in March 1973. One of the first shopping centres in the country, it is famed for its extensive expertise in Malay fashion apparel. Over time, Ampang Park has maintained its popularity and become somewhat of a landmark, especially during Hari Raya, as consumers make a beeline to purchase festive goods and clothing.
Ampang Park is comprised of four floors dedicated to textiles, shoes, handbags, groceries, toiletries and household products. Various other amenities within the building include banks, a post office, travel agents and currency exchange services. There are also gadget stores, beauty salons and spas. Food and beverage outlets within the shopping centre serve local and international food, catering to the needs of shoppers so they do not need to commute further for sustenance.
Ampang Park is strategically located at the intersection of Jalan Ampang and Jalan Tun Razak in the heart of Kuala Lumpur. It is easily accessible via Jalan Ampang, Jalan Tun Razak and the Ampang-KL Express Highway. In terms of public transportation, the Ampang Park LRT station is situated right across the shopping centre, so consumers can simply cross the street for great bargains and specialty stores.
Property Details
Name: Ampang Park Shopping Centre
Address: Lot 404, Jalan Ampang, 50450 Kuala Lumpur
Developer: Low Keng Huat Brothers Realty
Completion Date: Mar 1973
Type: Shopping Mall
Tenure: Freehold
of Blocks: 1
of Storey: 4 + mezzanine level
Rental: From RM2,800
Facilities
24-hour security
Public telephones
Guest service desk
Public transportation
Valet parking
ATM Machines
24-hour parking
Wireless internet
Analysis
Ampang Park Shopping Centre has survived the test of time. It is now 41-years-old but still continues to thrive as a distinctively Malaysian shopping experience. Within walking distance to Avenue K, KLCC the Petronas Twin Towers, Tabung Haji and the US Embassy, its strategic location has also made it a tourist destination for those seeking authentic Malaysian fare and gifts.
Traffic on Jalan Tun Razak on the way to Ampang Park can get extremely congested during peak hours. However, Jalan Ampang is manageable. Overall, Ampang Park is situated in a high-density area with plenty of activity occurring throughout both day and night. The shopping centre's management provides 24-hour security, as well as 24-hour parking, for those who are concerned about safety.