Description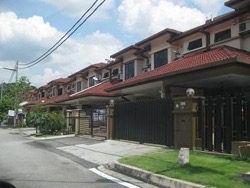 Section 7 is a residential enclave located within the bustling and thriving neighborhood of Kota Damansara. The enclave is among one section of the many similar sections, such as Section 1 to Section 8, each section comprises residential developments along with a few commercial lots.
Section 7 comprises of landed-residential development which is mostly made up of terrace / link houses. There are either double-storey units or 1.5-storey units up for grabs. Double-storey houses typically comes with an average built-up size of 1,800 sf with 4 bedrooms and 3 bathrooms. 1.5-storey units on the other hand are slightly smaller with built-up size starting from 1,300 sf which comes with 3 bedrooms and 2 bathrooms.
Being situated within Kota Damansara, residents within Section 7 have easy access to a multitude of amenities. A short drive along Persiaran Surian will bring commuters to Dataran Sunway and The Strand – both of which are commercial enclaves which are host to an abundance of shop-lots. There are plenty of restaurants, cafes and hawker stores here which makes up the majority of shops. Apart from that, there are banking facilities, car work shops, boutiques and salons.
There are many facilities for recreational activities as well, for more options, residents could head to Sunway Giza, Giant, Carrefour, The Curve, Ikea, IPC, and Cineleisure – all of which are no more than 2km away. Apart from that, there is a badminton hall opposite Dataran Sunway, as well as several golf courses within Kota Damansara.
In terms of education, plenty of educational insitutions can be found within close proximity from Section 7. SK Sungai Buloh S7, SRA Kota Damansara, SMK Sek 10 Kota Damansara and SK Sek 9 Kota Damansara all falls within a 1km radius. Additionally, Sri KDU, SRJK © Damansara, Segi College and KBU College can all be found nearby as well.
The main road interconnecting commuters to Kota Damansara is known as Persiaran Surian – which is directly linked to several highways, namely NKVE, LDP and Penchala Link. Several bus stands can be found along the stretch of road, while taxis can easily be hailed there considering the large amount of traffic daily. Furthermore, a new proposed MRT station can be found in Dataran Sunway which is expected to be completed in 5 years time.
Property Details
Name: Section 7
Address: Section 7, Kota Damansara, 47810 Petaling Jaya, Selangor
Type: Residential
Tenure: Leasehold
of Storey: 1.5 – 2
of Bedrooms: 4
of Bathrooms: 3
Land Area: 24 × 70 sf
Built-up: 1,300 sf – 1,800 sf
Facilities
Parking
Playground
Mini market
Analysis
Kota Damansara is currently one of the most sought-after address as it is excellently positioned within an abundance of amenities as well as various established residential neighborhood such as TTDI, Bandar Utama, Damansara Utama, and Damansara Jaya to name a few. Literally everything can be obtained within short driving distances, especially from the popular hang out spot of The Curve and other shopping malls nearby.
Over the course of several years since Kota Damansara is being developed, prices of properties within have sky rocketed, some even enjoyed an appreciation of over 200%. The enclave is currently rather dense with large amount of commuters traveling via Persiaran Surian on a daily basis. As such, traffic congestion is a common problem which cannot be avoided.