Description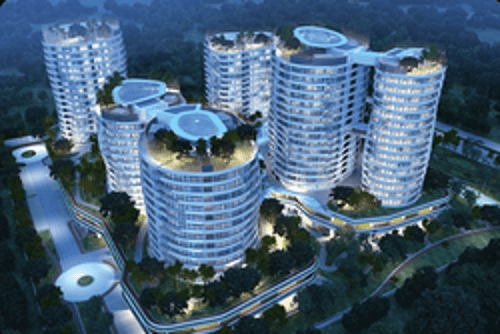 O2 City is located in Puchong South, Selangor. It is a modern integrated serviced neighbourhood based on the concept of community living. Its intention is to bring back a sense of friendship and goodwill between neighbours, back when everyone knew each other's names, visited each other's homes and played together in a tight-knit community. O2 City is a project by Perfect Eagle Development, a ten-year-old company with an impressive track record. The expected completion date is in 2015.
O2 City was built with sustainability in mind. Thus, you will see plenty of greenery and an emphasis on recycling initiatives. "Green" features include a recycling centre within the confines of the neighbourhood, with direct access to organic decomposers. No less than 1,000 trees will be planted throughout the 13.54 acre land, effectively reducing the "heat island" effect in order to create a soothing environment lush with greenery. Other green facilities include tree houses, a herb and spice garden, eco pool and scented garden.
There are a total of six blocks of serviced apartments within O2 City. Block A comes up to 15 storeys and houses 90 units, while Block C is 12 storeys high with 84 units. Block B1 is 11 storeys high with 66 units, Block B2 is 12 storeys high with 96 units and Block D1 is 16 storeys with 120 units. Finally, Block D2 is 16 storeys high, housing a total of 52 units within the building. Unit floor sizes range from 1,000 sf to 2,600 sf, with prices beginning from RM500,000.
The apartments are designed to embody flowing, organic architecture, with 200 different variations in balcony shapes and sizes. In line with O2 City's sustainable living concept, residential apartments will have several environmentally friendly features incorporated into the buildings. Features include a rainwater harvesting system that optimises water conservation, a natural ventilation system that cools each building while minimising energy consumption, and solar panels on roofs to reduce electrical usage.
The O2 Residence is covered in paint that is low in harmful VOCs (Volatile Organic Compounds_ that emit greenhouse gases and cause long-term health problems. The entire compound is certified with the BCA Green Mark and the Green Building Index as a true green development.
O2 City is accessible via an extensive network of highways. These include the LDP, MEX, Kesas, Elite, SKVW and North South highways. It is a half-an-hour drive from the city centre, while other popular townships such as Subang and Petaling Jaya are 20 to 25 minutes away. A host of amenities are also conveniently located nearby for all your educational, medical and recreational needs. O2 City  is also close-by Aman Sari , Kinrara Hills, and Taman Bukit Kuchai .
Property Details
Name: O2 City
Address: Bandar Putra Permai, 43300 Puchong South, Selangor
Developer: Perfect Eagle Development
Completion Date: 2015
Type: Condominium
Tenure: Leasehold
of Blocks: 6
of Units: 508
of Bedrooms: 1 – 4
of Bathrooms: 1 – 3
Land Area: 13.54 acres
Built-up: 1,000 sf to 2,600 sf
Facilities
Canopy walk
Tree house
Yoga deck
Playground
Sand pit
Garden pavilion
Herb and spice garden
Eco pool
Wading pool
Swimming pool
BBQ area
Recycling area with organic decomposer
Sauna
Function and party zone
Bubbling pool and water recreation area
Scented garden
Indoor and outdoor gym
Floating island
Audio and visual room
Water recreation area
Bicycle trail with bicycle parking area
Outdoor activity area
Jogging track
Tai Chi zone and reflexology path
Chess zone
Cafeteria
Community library
Laundrette
Childcare centre and games room
Convenience store
Music room and multipurpose hall
Free WiFi
Analysis
O2 City is located in an area that is already being hailed as the Golden Triangle of the Southern Corridor, with Puchong South situated right smack in the middle of it. It is easily accessible via the South Klang Valley Expressway (SKVE), Lebuhraya Damansara-Puchong (LDP), Maju Expressway (MEX), the ELITE Expressway, Besraya Highway, KESAS Highway, the Kajang Silk Highway and the newly proposed Serdang-Kinrara-Putrajaya Expressway (SKIP).
In terms of amenities, residents will have access to a wide selection that will not require them to venture far from O2 City. Educational institutions are readily available for families with children. The list of schools is extensive, starting with Limkokwing Universiy, Multimedia University, Universiti Putra Malaysia, Binary University College, Alice Smith International School, Rafflesia International School, Australian International School and the Nexus Internation School. Both Columbia Asia Medical Centre and Hospital Serdang are located within minutes of the development, while residents have access to plenty of retail and F&B outlets surrounding the area.
Safety-wise, O2 City is gated and guarded with 24-hour security. Residents are provided with access cards and security guards patrolling the vicinity. Traffic can get congested during peak hours as commuters get bottlenecked due to unfinished construction. However, the opening of the SKIP Highway might be able to alleviate current traffic conditions.
There are concerns regarding the price due to O2 City's leasehold status, with many voicing their requirement for affordability. Most people, however, are in agreement over the positive aspects of this low-density development. Many are hesitant about the sustainable concept as it is still a relatively new one that is rarely seen in Malaysia. O2 City is also considered one of the best luxury condos in Puchong .