Best Luxury Condo In Puchong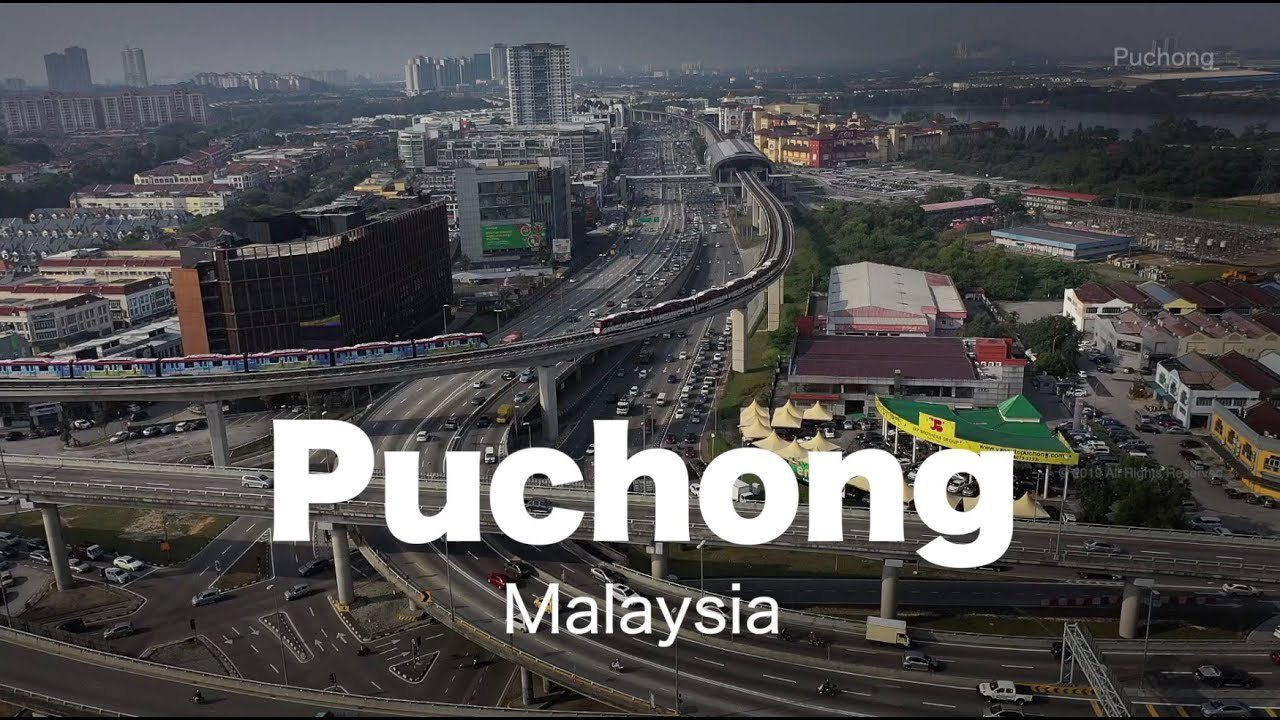 Puchong is a major town in Petaling District, Selangor, Malaysia. It is bordered by Subang Jaya in the north, Sepang and Putrajaya in the south, Serdang in the east and Putra Heights in the west. Puchong consists of low and high-rise residential homes, commercial properties, and bungalows spread out in dedicated garden precincts and commercial centres. From the luxurious, resort-style villas to the trendy, serviced suites; Puchong promises unparalleled convenience and comfort with many public amenities such as retail outlets, recreational centres, and offices close by. If you are looking for a great condominium to buy or rent in Puchong , we have listed the top luxury condos in Puchong for you to choose from:
Top Luxury Condos In Puchong
Zen Residence, Puchong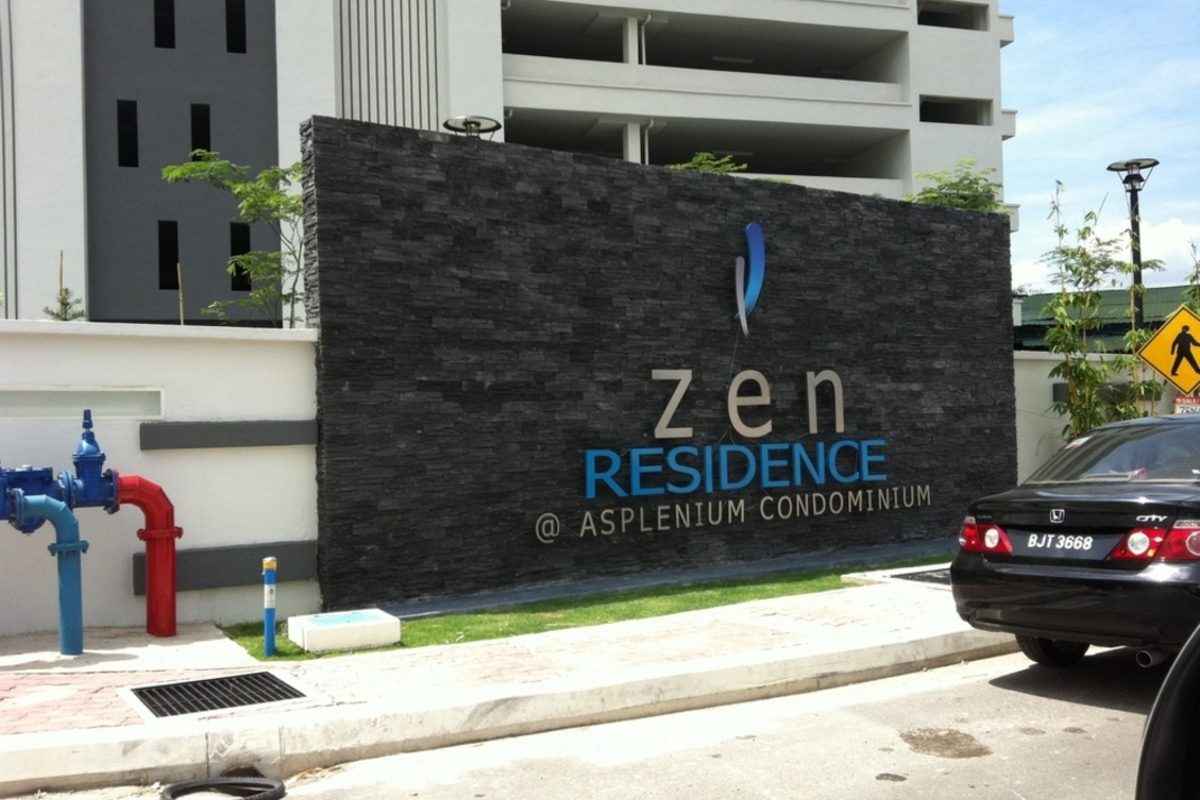 Zen Residence is a condominium is located in Puchong. It consists of two blocks of 21-storey residential units built on 4.16 acres of land. It has built-up areas ranging from 1,178 to 1,493 sf with only eight units each floor. It is a project by Sentral City, which was launched in 2008 and completed by the end of 2011.
Each unit at Zen Residence is given two parking bays. The development comes with complete condo facilities. Apart from that, it also has multi-tier security which includes card access and security at guardhouse, secured lobby access, secured level access, secured car park access, quadrant security and security patrol. This has certainly made Zen Residence stand out amongst the other developments in this area.
Zen Residence is located in the middle of Puchong along Jalan Puchong, which is quite near to Taman Industri Puchong, Bandar Puteri Commercial Centre and Bandar Bukit Puchong. It is accessible via Lebuhraya Damansara Puchong, Lebuhraya Bukit Jalil, KL – Seremban Highway and Kesas Highway. This new condominium is also within close proximity to public amenities such as shops, schools (Han Ming Chinese Primary School), and shopping malls (IOI Mall, Tesco).
The Wharf, Puchong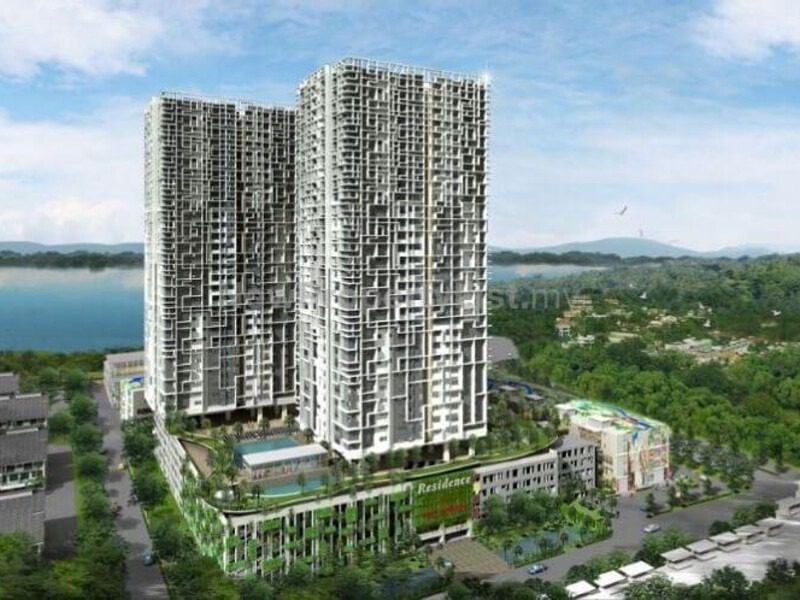 The Wharf is an integrated residential and commercial development located in Puchong. This commercial development is within close vicinity to Lake Vista, Lake Haven, Taman Puchong Utama and Taman Putra Impiana to name a few.
The Wharf comprises of The Wharf Residence, a condominium that consists of a total of 1,002 residential units, Bizwalk that comprises 3-storey shop offices and also Wharf Lifestyle Mall which is currently not for sale. The Wharf Residence offers units with built up areas ranging from 818 sf to 1,146 sf and each unit comes with 2 bedrooms and 2 bathroomss. Facilities provided are swimming pool, parking bay, store room, playground, 24 hours security and jogging track intact.
The Bizwalk's units come with a land area of about 39' x 75' sf and with built-up sizes ranging from 700 sf to 2,625 sf for each unit. All units are equipped with a lift and also 24 hours security. Besides that, the standard unit comprises of 2 rooms that can be easily transformed into 3 rooms. Apart from that, facilities such as sliding door meeting rooms and security card access system are also provided.
Being a commercial development itself, many amenities are easily accessible. For example, clinics like Klinik Kulit Ko are just a short 4 minutes drive away via the Putra Prima Interchange. There are also multiple schools located near to the Wharf such as SMK Puchong Utama 1, SK Puchong Utama 1, SK Puchong Utama 2 and SMK Puchong Perdana – all situated within a 15 minutes drive away. It is easily accessible via the Putra Prima Interchange and also major highways like the Damansara-Puchong Highway, ELITE and NKVE.
Koi Prima, Puchong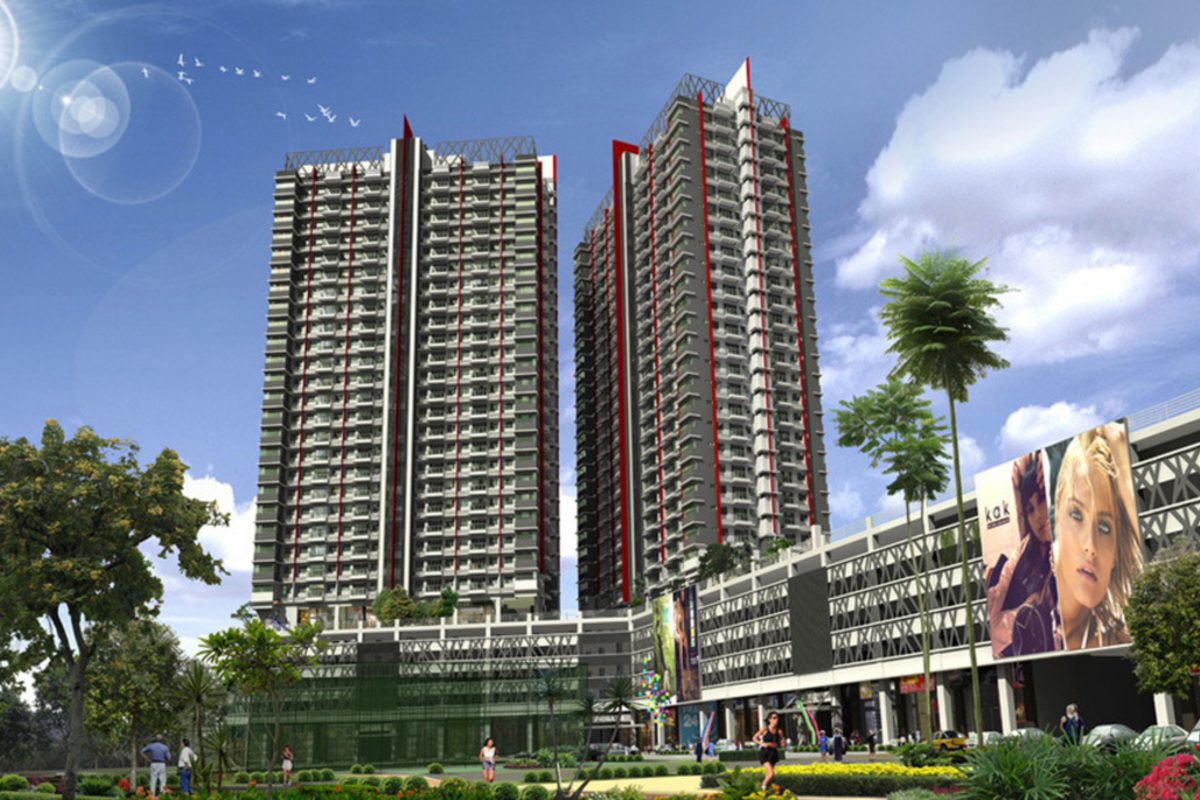 Koi Prima is a high rise development located in Taman Putra Prima, Puchong. Developed by Masteron, this high rise serviced condominium is scheduled to be completed by 2015. This development comes with four 26 storey blocks, which has 1,283 units in total. Covering 7.9 acres of land, this entire project has a gross development value of RM450 million.
The built-up of the units at Koi Prima varies between 1,055 sf and 1,098 sf and the launch price of this property began from RM371,400 up to RM408,300. It comes with two types of layouts, whereby each layout has 3 bedrooms and 2 bathrooms. Each unit is given two car parks. The intermediate unit comes with 1,055 sf, while the corner unit has 1,098 sf, with a total of 12 units per floor. Koi Prima's main attraction is a 1.5 acre park it comes with, Prima Park.
Consisting of a jogging track, outdoor gym and two tennis courts, the facilities at Koi Prima is suitable for families to have outdoor activities and have a fun leisure time. Other facilities included in Koi Prima are clubhouse, snooker / games room, karaoke lounge, children's playground, BBQ pit, event / multi-purpose hall, cafe, launderette, nursery / kindergarten and themed gardens.
Koi Prisma aspired to emulate 'a home in the suburbs' feel to its residents by featuring open landscape thematic hanging gardens for recreation and ventilation on selected floors. Furthermore, 45% of the podium level is dedicated for landscaping and facilities. The water features available at the condominium are aplenty, with them offering two swimming pools, two children pool with water slides, an outdoor jacuzzi and a koi pond.
The Heron Residency, Puchong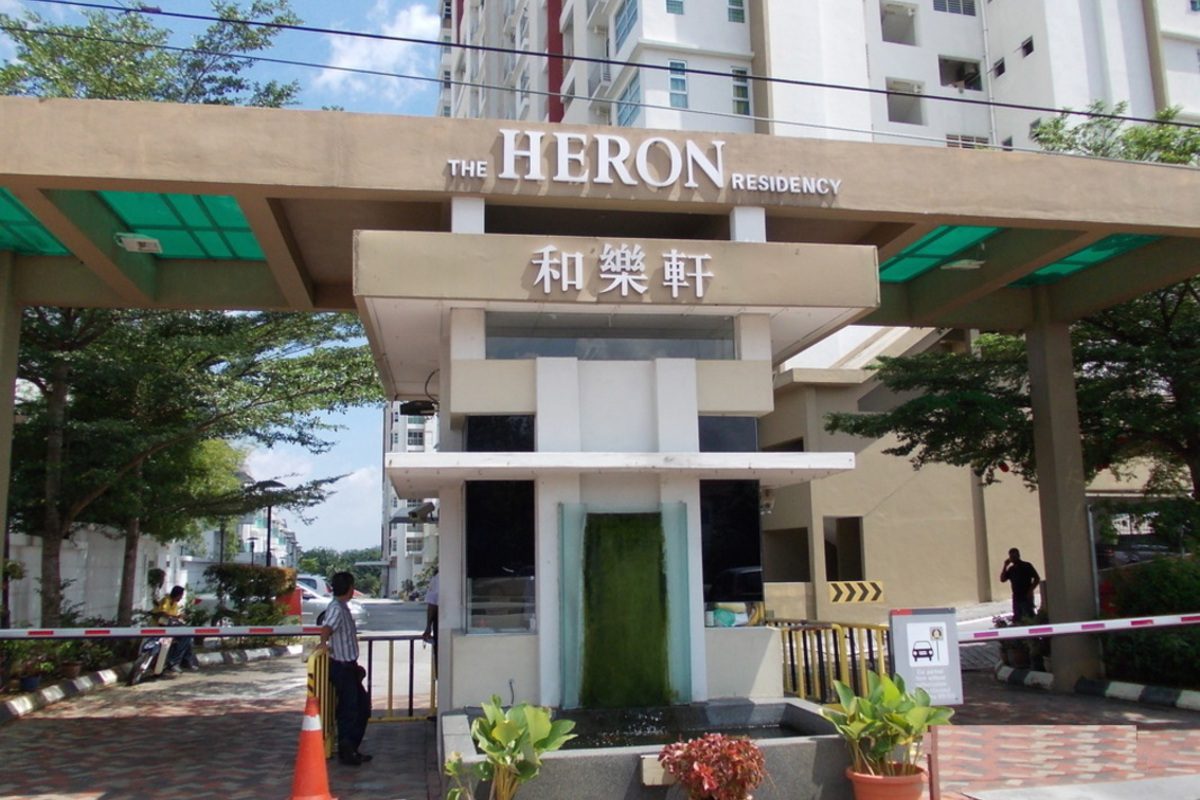 The Heron Residency is a resort-style service apartment located in Puchong. It was launched in July 2005, and consists of 290 suites. It was completed 8 months ahead of schedule. The condo is developed by Darul Dinasti. It consists of two blocks with 290 units. Facilities at The Heron Residency include a clubhouse, gymnasium, sports facilities, business centre, putting green, swimming pool, gated card access security, audio/video studio, cafeteria, laundrette, and a night garden.
Location-wise, the main selling point is that The Heron Residency is close to several educational campuses. These are the Malaysian Multimedia University (MMU), Lim Kok Wing, and Universiti Tenaga Nasional (Uniten) which are all located within the Cyberjaya/Kajang area. Other than this, there are other local schools and colleges nearby. In terms of shopping, it is close to the main shopping area in Puchong where Giant, Tesco, and IOI Mall is. It is also close to the ELITE, Kesas, and LDP highways.
O2 City, Puchong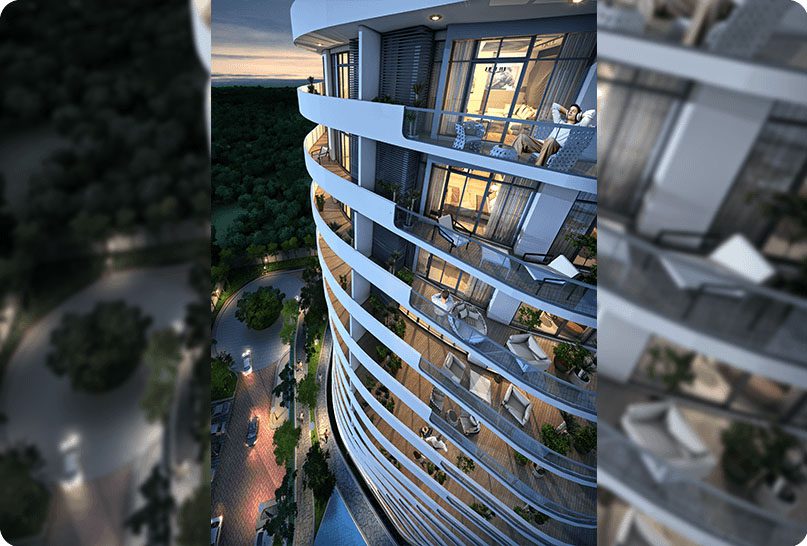 O2 City is located in Puchong South, Selangor. It is a modern integrated serviced neighbourhood based on the concept of community living. Its intention is to bring back a sense of friendship and goodwill between neighbours, back when everyone knew each other's names, visited each other's homes and played together in a tight-knit community. O2 City is a project by Perfect Eagle Development, a ten-year-old company with an impressive track record. The expected completion date is in 2015.
O2 City was built with sustainability in mind. Thus, you will see plenty of greenery and an emphasis on recycling initiatives. "Green" features include a recycling centre within the confines of the neighbourhood, with direct access to organic decomposers. No less than 1,000 trees will be planted throughout the 13.54 acre land, effectively reducing the "heat island" effect in order to create a soothing environment lush with greenery. Other green facilities include tree houses, a herb and spice garden, eco pool and scented garden.
There are a total of six blocks of serviced apartments within O2 City. Block A comes up to 15 storeys and houses 90 units, while Block C is 12 storeys high with 84 units. Block B1 is 11 storeys high with 66 units, Block B2 is 12 storeys high with 96 units and Block D1 is 16 storeys with 120 units. Finally, Block D2 is 16 storeys high, housing a total of 52 units within the building. Unit floor sizes range from 1,000 sf to 2,600 sf, with prices beginning from RM500,000.
The apartments are designed to embody flowing, organic architecture, with 200 different variations in balcony shapes and sizes. In line with O2 City's sustainable living concept, residential apartments will have several environmentally friendly features incorporated into the buildings. Features include a rainwater harvesting system that optimises water conservation, a natural ventilation system that cools each building while minimising energy consumption, and solar panels on roofs to reduce electrical usage.
The O2 Residence is covered in paint that is low in harmful VOCs (Volatile Organic Compounds_ that emit greenhouse gases and cause long-term health problems. The entire compound is certified with the BCA Green Mark and the Green Building Index as a true green development.
D'Aman Residence, Puchong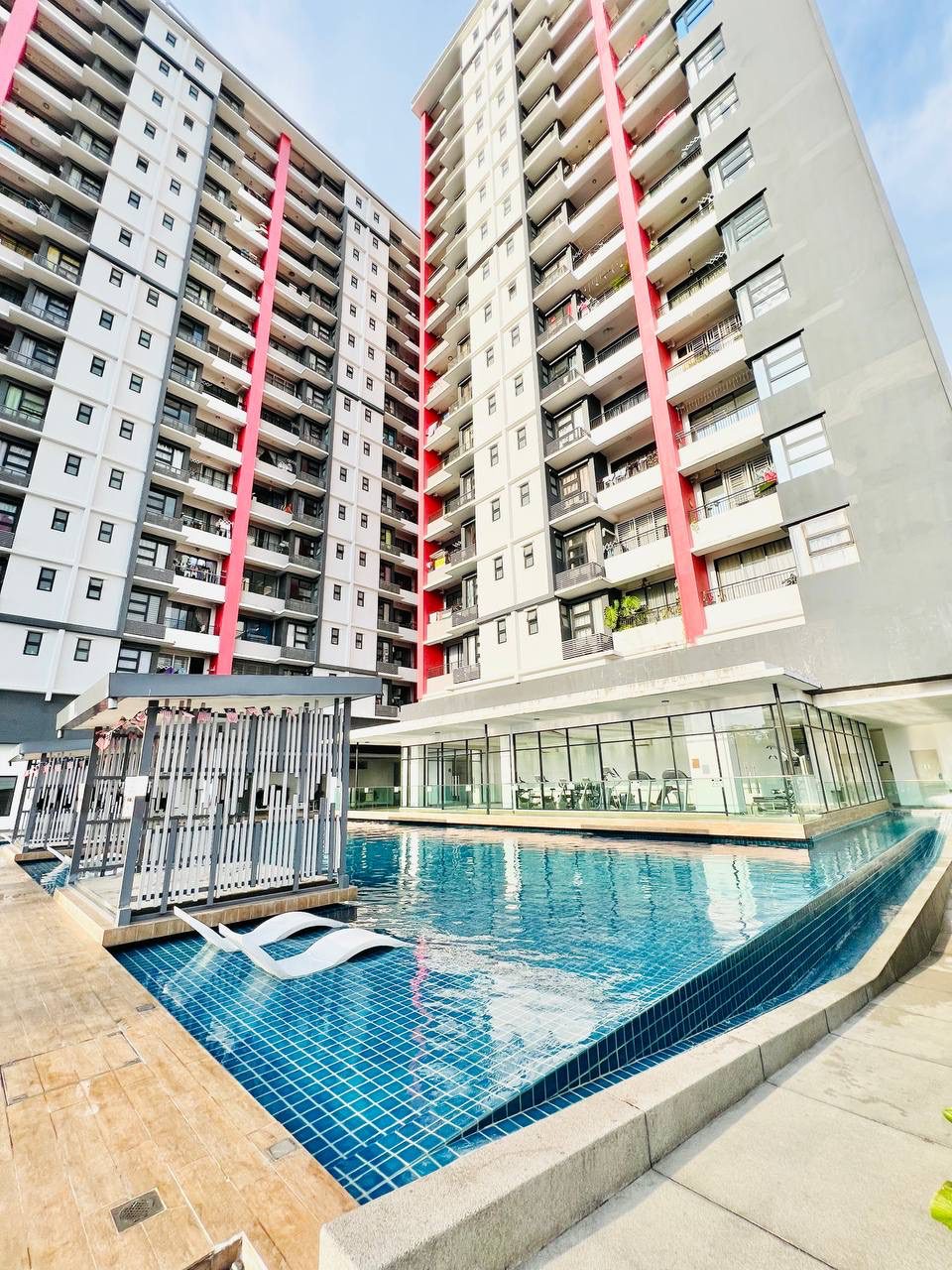 D'Aman Residence is the third phase of Calisa Residences which was developed by Masteron in the vicinity of Puchong. This leasehold serviced apartment which was built on a 2.09 acres of land, comes with 22 storey and 419 units. The built-up of the units varies from 883 sf to 1,389 sf, with a launch price of RM313,000 and a maintenance fee of RM0.20 psf. This project was launched and commenced on May 2013.
A total of 5 layouts are available in D'Aman Residence, whereby Type A, A1, A2 and B comes with 3 bedrooms and 2 bathrooms, meanwhile Type C comes with 3 + 1 bedrooms and 2 bathrooms. Type A is the second smallest unit with a built-up of 947 sf; Type A2 comes with 1,087 sf; Type A3 is the smallest unit with 883 sf; Type B comes with 1,076 sf; Type C is the biggest unit with 1,389 sf. Type B has the highest number of units offered, 300 units. Meanwhile, the other layouts have a total number of 119 units.
Quite a number of facilities are also included in D'Aman Residence such as infinity pool, wading pool, jacuzzi, indoor gymnasium, adult outdoor gymnasium, squash, pilates / yoga area, cafeteria, surau / prayer room, multi function hall, indoor badminton, convenience shops, reading room, barber shop, indoor games room, child care / nursery with outdoor garden, children playground, foot reflexology path, landscape, 3 tier security, security guards and access card (to lobby and car park). Each unit is also provided with 2 covered car parks.
Calisa Residences, Puchong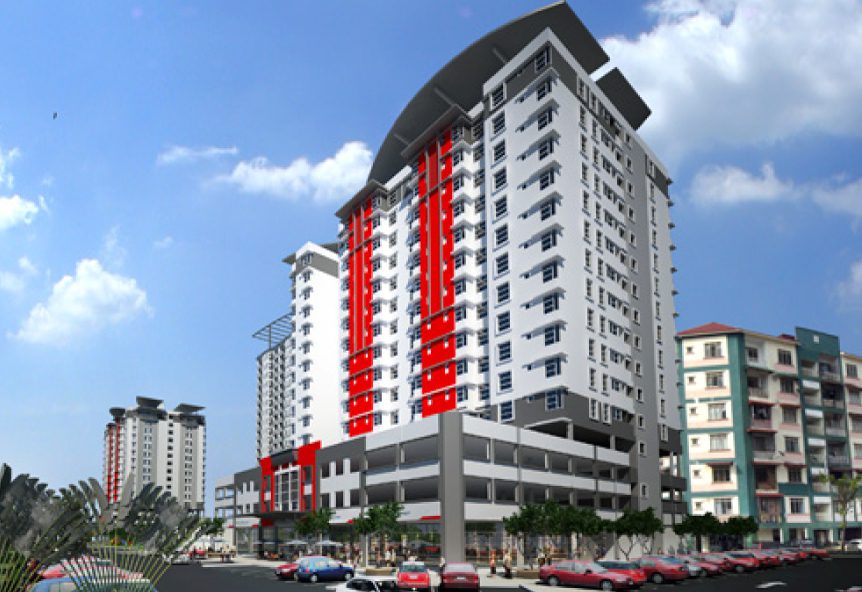 Calisa Residences is a 80-year leasehold residential development located in Taman Mas Sepang, Puchong. Phase 1 which consists of Calisa "N" was launched in 2010, and Phase 2 Calisa "M" was launched in 2011. The development was fully completed by Q4 2014, and the developer is Masteron.
Calisa "M" is housed in one block with 16 storeys. There are total of four layout types available with either 2 or 3 rooms and 2 bathrooms across the board. Built-ups of the units would range from 775 sf up to 1,055 sf, and prices at launch started from RM221,760 at a reasonable RM280 psf. Units in Calisa "M" come with 1 free covered car park. There are only 13 units per level, therefore considered medium in terms of density.
Calisa Residences building is serviced by 2 lifts and 2 staircases. Levels 1 to 3 would serve as car parks, whereas the ground floor would be allocated for retail purposes. Floor 3A throughout 16 would be residential units. Security within Calisa Residences would be three-tiered, which includes card access at lift lobby as well as the car park, and a wireless intercom system to alert the guards should the situation arise. There are no recreational facilities in Calisa Residences.
Calisa Residences is located in the outskirts of Puchong. Amenities are not abundant as the immediate area is rather underdeveloped. There is a Giant Hypermarket located along the north, being less that two kilometers away. Carrefour Puchong Utama is also located relatively nearby, being four kilometers away. Taman Puchong Utama would be the nearest neighborhood with basic amenities such as access to banks and eateries. The nearest hospital is the Columbia Asia Hospital located in Bukit Rimau, as well as Columbia Asia Hospital Puchong. There are several schools nearby, including Da Vinci Putra Heights, SMK Puchong Perdana, and SMK Puchong Utama.
Casa Tropika, Puchong
Casa Tropika is a condominium located along Batu 14, Puchong. It is developed by TSI Holdings and has gross development value (GDV) of RM160 million. The condominium neighbors Zen Residence, The Heron Residency, and Vista Prima. It is sited on a 4.98-acre of leasehold land (99 years) that consists of 520 units of condominium within 3 blocks with 12 units of 3-level shop lots beneath it.
Adjacent to Casa Tropika, there are 12 shop-office units sprawling over a 3-storey shop office blocks, also by the developer. The developer claims that this commercial component has been earmarked for a One-Stop Academic City for young children to learn, play and grow that consists of child care, kindergarten and tuition centres.
The main attraction of Casa Tropika is its vast array of facilities provided. There are a total of 27 common facilities with 3 roof-top facilities. Among the interesting ones are amphitheater, karaoke rooms, pool/billiard room, alfresco BBQ area, sky bar and party area, recreational robotic room, recreational art room and therapeutic spa seats.
Several amenities can be found within Casa Tropika itself. It is near to a number of schools, namely SK Puchong Batu 14, SRJK Han Ming and SMK Puchong. In addition, it is near to Batu 14 public clinic. There is Carrefour Puchong Utama and Hero Supermarket Batu 14 located within close proximity. In terms of accessibility wise, it is accessible via Jalan Puchong, Damansara-Puchong Highway (LDP), Kuala Lumpur-Putrajaya Highway, and Lebuh Puteri.
K Boulevard, Puchong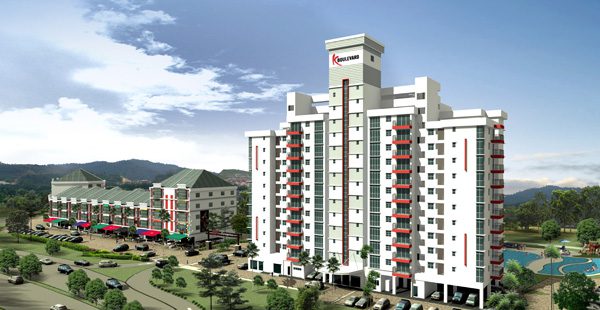 K Boulevard is a leasehold condominium development located in the central region of Puchong. The development was completed on March of 2013 and the developers are Masteron, whom has been very active developing properties in Puchong and have several successful properties under their flag such as Koi Legian, Koi Tropika and the Koi Commercial Centre.
K Boulevard is contained in a single, 13-storeyed block. There are total of 114 units within the block, and all units have 3 bedrooms and 3 bathrooms. There are only two layouts available, and they vary from each other only slightly. In terms of built-up, the units only come in 1,272 sf or 1,339 sf. At its launch, the developer was selling for RM413,620 – RM435,720. Since its completion in March, prices have pretty much stagnated.
K Boulevard comes with 24 hour security, with CCTV surveillance. Facilities include a swimming pool with a bar, a gymnasium, sauna, jogging track, cafeteria, barbecue area. As it is a serviced condominium, it also comes with housekeeping services and a child-care centre can be found within the premises.
K Boulevard's location is quite strategic. 2 kilometers away is the township of Bandar Puteri Puchong where basic amenities could be accessed including a substantial number of eateries, banks, and retail outlets. For grocery shopping, there is the Giant Hypermart located in Bandar Puteri, or the Carrefour located in Puchong Utama. There is also Setia Walk located in Puchong, and Sunway Pyramid located in Bandar Sunway which is less than 15 minutes away.
Desa Impiana, Puchong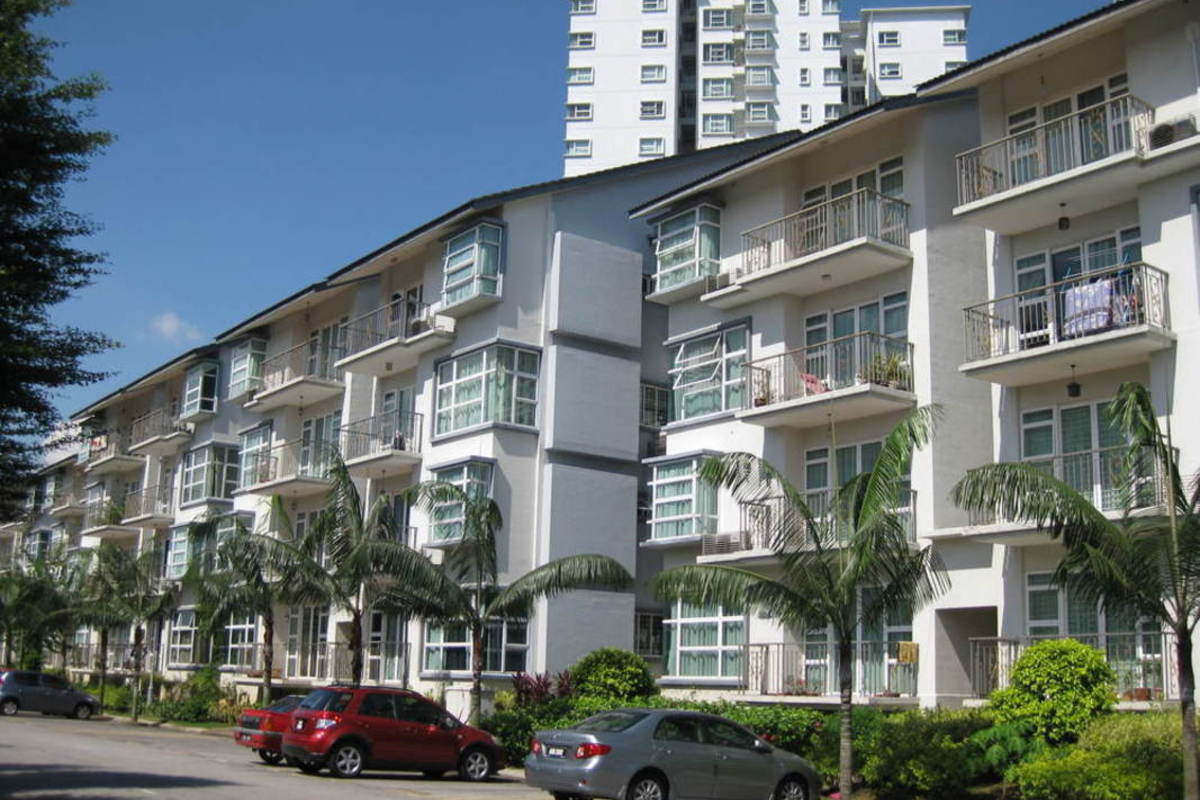 Desa Impiana is a freehold condominium located in Taman Puchong Prima, Puchong. It was developed by PrimaHarta Development. It is located near to Kampung Sri Aman and Section 4 Puchong Prima.
Desa Impiana comprises a total of 8 blocks that house 702 units. There are 6 units per floor which served by 2 lifts. The units have built-up area of 1,068 sf which consisting of 3 bedrooms and 2 bathrooms.
The condominium offers an extensive number of facilities such as covered parking lots, 24 hours security, swimming pool, wading pool, barbeque area, cafeteria, gymnasium, launderette, basketball court, badminton court, 2 squash courts, reading room, nursery / childcare centre, playground and clubhouse.
Residents of Desa Impiana can simply walk to the row of shop lots located at Jalan Prima 5/4 which takes about 5 minutes on foot. Residents can find restaurants, sundry shops, pet shops and more. There are also pharmacies such as Guardian and Constant Pharmacy along the shops at Jalan Prima. Klinik Mediviron and Poliklinik Sri Permai which takes 10 minutes on foot.
Conclusion