Description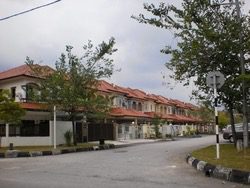 Mutiara Puchong (also known as Taman Mutiara Puchong) is an exclusive lakeside estate on leasehold land which was completed in 2007. Here, you can take comfort in peaceful surroundings – both inside your home and outside while you have a stroll with your loved ones along the lake or playing with the kids at the 4-acre park at your doorstep.
Developed by Malton Berhad, Mutiara Puchong was set up into a couple of phases. Information about phase 1 is currently unavailable, however phase 2 consists of 138 units of 2-storey terrace houses. The lot sizes are 20′ × 70′, with a built-up area of 1,743 sf. There are 4 bedrooms and 3 bathrooms, and had a launch price starting from RM318,000.
Phase 3 consists of 194 units of 2-storey terrace houses by the lake. There are 2 lot sizes – either 22′ × 70′ or 22′ × 80′, however both have a built-up area of 2,001 sf. Similar to phase 2, these houses have 4 bedrooms and 3 bathrooms. The original launch price for these houses started from RM353,400.
In addition, all houses in Mutiara Puchong are in a gated and guarded community that has 24-hour security. There is also a security alarm system with a CMS Option, automatic swing gate, motion detector light, water filtration system. Estate facilities include the 4-acre park, gazebo, football field, basketball court, and 2 badminton courts. Mutiara Puchong is also close-by Austral Residences , Lake Edge , and Lake Side Residences .
Property Details
Name: Mutiara Puchong (also known as Taman Mutiara Puchong)
Address: Puchong, Selangor
Developer: Malton Berhad
Type: Linked House
Tenure: Leasehold
Launch Price

Phase 2: From RM318,000
Phase 3: From RM353,400
Facilities
4-acre private park
Gated and guarded with 24 hour security
Gazebo
Football field
Basketball court
Badminton courts
Analysis
Mutiara Puchong is located near Tesco Puchong hypermarket, and across the lake from YTL's Lake Edge development. These plots of land are the last available land space that can be built on that side of the LDP (although Glomac may have a 3rd adjacent piece), and there are excellent access routes and amenitites which will increase the value of the home presently there. Access rotes include the LDP, NPE, NKVE, and KESAS which means that there is good connectivity to KL, Putrajaya, PJ, Subang, and Sunway.
Possibly representing one of the last chances for potential investors to buy a decent-sized home in Puchong, houses in Mutiara Puchong are an excellent choice for owner-occupation or to rent out because of its location and neighborhood facilities.
Mutiara Puchong is gated and exclusive due to the low density. There are excellent access routes. The only downside is that those who believe in the ancient art of Feng shui may not like the staircase which faces out from the house's main direction and that since it is behind Tesco Puchong, there may be a lot of traffic especially since there is only 1 exit point at this Tesco.