Description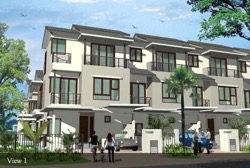 Austral Residences in Puchong is a large, 200 acre development which was planned to be an integrated mixed development with commercial, residential, and some amenities. It is also supposed to be Australian-themed, with its homes marketed as Austral Yarra Link Homes (get it – Austral is Australia and Yaara as in the Yarra River in Melbourne).
During the 1st phase of Austral Residences, 213 homes were open for sale. These were all snapped up, although there was only 1 type of unit available for the pilot phases. These homes are 2.5-storey link houses, on a 22′ × 75′ plot of land. The only difference between these lots are that they are either end lot, corner, or intermediate lots.
The standard intermediate lot at Austral Residences has a built-up area of 2,846 sf, while larger homes are 3,018 sf. These rooms are 4 bedrooms, and there is a courtyard in the living room area which opens up to the sky. This courtyard is quite large.
Other than this, the living room and dining rooms are at the back of the house, and the front of the ground floor is store room or a bedroom, and a powder room. The kitchen opens out to the courtyard, which is similar to the layout of Ametis in Bukit Puchong.
Austral Residences is located behind Tesco Puchong and is next to Lakeside Residences. It is accessible via the LDP. Nearby amenities include Tesco Puchong, St Angel Animal Medical Centre, KPMC Puchong Medical Centre, schools, eateries, and more. Austral Residences is also close-by  Lake Edge and Mutiara Puchong .
Property Details
Name: Austral Residences
Developer: Austral Development (a subsidiary of Am-El Group)
Address: Jalan Perindustrian Puchong, Puchong, Selangor
Type: Link House
Tenure: Leasehold
Launch Price: RM482,000 to RM782,880
Analysis
Austral Residences is an Australian-themed residential development in Puchong. On paper, the homes are quite decent sized and have a reasonable price tag. However, the design of these houses may not be suitable for locals, as the design does seem quite Australian.
For example, locals may not like the courtyard in the centre of the house, which is reminiscent of some townhouses found in East Perth and Subiaco in Western Australia. In addition, the store room/bedroom and powder room at the front of the house, as well as the dining and living areas at the back are almost quite opposite to what Malaysian designers would create but are quite normal in Australia.
However, there is a big problem with these houses in Austral Residences. The original land owner (not Am-El) was in trouble and Am-El stepped in to help. However, the original land owner did not comply with the regulations, so Am-El pulled out. The original land owner lied to buyers, and a court case was supposed to follow up in October 2009. The CF was supposed to be out in June 2010, however there is no news as to whether this actually did happen and what the verdict of the court case actually was.