Description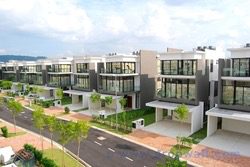 Lake Edge is an exclusive residential estate within a gated and guarded community located in Puchong. It is another prominent development by YTL, which was crowned the Best Residential Development (Over 5 Residences) at CNBC Asia Pacific Property Awards 2009. Not only that, it also won FIABCI Malaysia Property Awards 2008 for Best Residential Development (low-rise) and other awards from Malaysian Institute of Architects (PAM) and Malaysian Institute of Planners in 2006 and 2005 respectively.
Lake Edge development started since 2004 with total land size of 100 acres. The development is inspired by Australian "green street" concept that boasts 24-hour security system within the entire neighborhood with fenceless homes. It neighbours Mutiara Puchong by Malton and Lakeside Residences by Glomac. It is also designed to integrate with the Mother Nature, where there are several green spaces including a 12-acre lake, 1.5-acre linear park and even kitchen gardens – which are all beautifully landscaped. In fact, about 40% of the total acreage is dedicated for all these facilities and landscaping. With these two security and green elements, Lake Edge is a serene, peaceful and safe neighborhood indeed.
Aplenty amenities are available within minutes of driving from Lake Edge. Tesco hypermarket is just 3 minutes away towards Jalan Puchong from Lake Edge. Meanwhile IOI Mall, Bandar Puchong Jaya and Setia Walk are just 1.3 kilometres away from it. Besides that, Giant Hypermart Bandar Puteri Mall is also within 10 minutes of driving away. In terms of accessibility, it is reachable from Jalan Puchong. Jalan Puchong is well-connected to several expressways including Damansara – Puchong Expressway (LDP), Sg Besi – Puchong Bypass, Federal Highway, Kuala Lumpur – Seremban Highway and Shah Alam Expressway (KESAS). It is about 10 minutes drive to Sunway and Subang; and merely 30 minutes drive to Kuala Lumpur city centre and Kuala Lumpur International Airport (KLIA). Lake Edge is also close-by Lake Side Residence ,  Austral Residences , and Mutiara Puchong .
Property Details
Name: Lake Edge
Address: Off Jalan Puchong, Puchong, 47100 Selangor
Developer: Pakatan Perakbina (a subsidiary of YTL Land & Development)
Completion Date: October 2010
Type: Terrace, Semi-Detached & Bungalow
Terrace: Pavilion Terraces, Courtyard Homes, Promenade Homes & Garden Terraces
Semi-Detached: Waterville Homes & Parkville Homes
Bungalow: Parkville Homes
Tenure: Leasehold
No. of Storey: 2.5
No. of Units
Waterville Homes: 50
Parkville Homes: 16
Semi-Detached: 8
Bungalow: 8
Land Area: 100 acres
Dimension:
Pavilion Terraces: 22 x 100 ft
Garden Terraces: 22 x 100 ft
Waterville Homes: 40 x 85 ft
Parkville Homes
Semi-Detached: 50 x 90 ft
Bungalow: 60 x 93 ft
Built-up
Pavilion Terraces: 3,186 sf
Garden Terraces: 3,186 sf
Waterville Homes: From 3,800 sf
Parkville Homes
Semi-detached: From 4,102 sf
Bungalow: 5,194 sf
Maintenance Fee: From RM300
Launch Price
Parkville Homes
Semi-Detached: From RM1.5 million
Bungalow: From RM2 million
Subsale Price: RM818,000-RM2,750,000
Rental: RM2,300-RM6,000
Facilities
24-hour security with panic button
Clubhouse
Swimming pool
Tennis court
Basketball court
Multi-purpose hall
BBQ pit
Water Edge
Playground
Skate park
Boat pier
Analysis
YTL land & Development is a renowned and reputable developer. It has delivered several award winning developments and townships including Centrio, Sentul East and Sentul West. Just last July 2009, it won 7 awards – 4 were awarded for Centrio, 1 was for Lake Edge for Best Residential Development and another 2 were for The Maple at Sentul West. Lake Edge is a superb residential development with almost everything. Everything within the enclave is just perfect. But there is one major drawback – it is leasehold. Hence, it will limit its price appreciation potential in spite of all its great features. Mind you that there aplenty freehold residential in Puchong.
Lake Edge comprises six residential phases, namely Pavilion Terraces, Garden Terraces, Waterville Homes, Promenade Homes, Courtyard Homes and Parkville Homes. Besides that, the residential enclave is built with several facilities and amenities to boast residents' living, namely Water Edge and Clubhouse. Water Edge is a waterfront esplanade with a playground, a skate park, and a boat pier. Meanwhile, the clubhouse is complete with a swimming pool, tennis and basketball courts, gymnasium and a multi-purpose hall. Adding to that, there is a public BBQ area for parties and gathering.
Pavilion Terraces is the last phase of terrace homes in Lake Edge. It is sold out in just 5 hours after it was launched. It is a 2.5-storey terrace homes development with lot size of 22 x 100 ft and built-up size of 3,186 sf. The ground floor locates kitchen area, dining area, living area, an indoor courtyard, 2 ponds, a car porch that accommodates 2 cars, a store room below the staircase, a utility / maid's room with an attached bathroom and a powder room. There are 3 bedrooms including a 'junior suite' with a balcony and 2 bathrooms on the first floor. Its master bedroom is located on the top floor with a balcony and master bathroom. Its master bathroom comes with a long bath.
Garden Terraces is quite similar to Pavilion Terraces. It comprises 2.5-storey terraces with plot size of 22 x 100 ft and built-up sizes from 3,186 sf. The difference is it comes with an outdoor Jacuzzi and a 20-ft private yard. Waterville Homes is a 2.5-storey semi-detached contemporary homes development with a total of 50 units which are sprawled over 5. It is located near to the clubhouse. The unit is built on 40 x 85 land size with built-up sizes range from 3,800 sf onwards. It features full length glass windows and sliding doors that command breathtaking views of the surrounding garden and private swimming pool. Each residence is also built with a rooftop garden. It was launched from RM 1.6 million onwards up to around RM 2 million.
Promenade Homes is a terrace homes development facing the lake. It features full length windows at the first and second floors to take full advantage of the scenic view of the lake. The living room is located on the first floor while the master bedroom resides on the top floor. Parkville Homes comprises only 16 homes; 8 semi-detached and 8 bungalow units. It is adjacent to the linear park where the homes are lined on each side of the park. The park contains a spice garden, a reflexology trail and walking path. The semi-detached home has plot size from 50 x 90 ft and built-up size from 4,102 sf. Meanwhile, the bungalow unit is built on land size of 60 x 93 ft with built-up size from 5,194 sf.