Description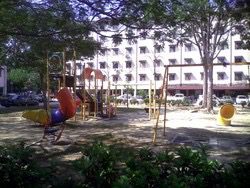 Gugusan Siantan is a low cost apartment located in the well established township of Kota Damansara. It is a leasehold apartment that is well situated within 20 minutes of the Kuala Lumpur city centre, Mont Kiara, Bangsar and Petaling Jaya. The Kuala Lumpur International Airport is a convenient 50 minutes drive away.
As with the neighbouring low cost and medium low cost apartments, Gugusan Siantan is a walk up apartment with no lifts, making it unsuitable for the elderly and handicapped. It stands 5 storeys tall with a typical built up of 650 sf, and is highly suitable for small to medium families with 3 bedrooms and 2 bathrooms. Prices are reasonable as the auction units start selling from RM75,000 while the units for sale start selling from RM95,000.
As one of the oldest developments in Kota Damansara, Gugusan Siantan is has full occupancy. As such, all the units that are being sold were all pre-owned, which is an advantage to buyers as they can get already partially furnished homes. Typical furnishings that can be expected from buying these homes second hand are light and fan fixtures and built in kitchen cabinets. Quite a number of the units also have water heaters installed in the bathrooms.
Being a low cost development, Gugusan Siantan does not offer much in terms of facilities to its residents. They do however have a rather large playground for the children complete with swings, while the adults will have use of the small jogging track. Also available are a number of covered and uncovered parking lots.
Gugusan Siantan is well located and is close to a number of major shopping malls such as the 1 Utama Shopping Complex, The Curve and Ikea at a mere 15 minutes drive away. Closer to home at an approximate drive of 8 minutes is the Sunway Giza Mall which within the vicinity are many local and international banks, eateries and boutiques. Schools are aplenty within the area, and the closest hospital will be the Tropicana Medical Centre.
Gugusan Siantan is well connected to the city by means of several main trunk roads and highways, as it sits just off Persiaran Kenanga which connects to the New Klang Valley Expressway (NKVE) and the main road Jalan Sungai Buloh. Public busses and cabs can be found at the main roads, whilst the nearest train station would be the Kelana Jaya LRT Station which is a 20-minute drive away. The new upcoming MRT trains will however be within walking distance of these apartments.
Property Details
Name: Gugusan Siantan
Address: Off Persiaran Kenanga, Kota Damansara, 47810 Petaling Jaya, Selangor
Type: Apartment
Tenure: Leasehold
of Blocks: 6
of Storey: 5
of Bedrooms: 3
of Bathrooms: 2
Built-up: 650 sf
Facilities
Playground
Jogging track
Parking lots
Analysis
Gugusan Siantan is undoubtedly a well located apartment in the heart of Kota Damansara. It is within close proximity of many high end residential areas, and as such have received the benefits of the many more access roads being built to connect the area. There is however a drawback, as the numbers of vehicles have increased drastically and traffic congestion is at its worse during peak hours; especially as the construction of the MRT stations and tracks are ongoing.
Although Gugusan Siantan is within close proximity of the many high end residential areas, the neighbourhood surrounding Gugusan Siantan is undeniably of the lower income group. As such the residents have a certain unfortunate stigma associated with those of the lower income group, which might unfortunately turn off potential buyers.
Units at Gugusan Siantan are being foistered off as excellent investments, but the fact remains that it is a leasehold apartment within a low cost development neighbourhood. Unless buyers are interested in purchasing a unit in order to rent out in the future when the MRT is completed, buying it as a long term investment is a no-go. However, for those looking for a first home on a budget and do not mind the existing community, these apartments make excellent homes.