Description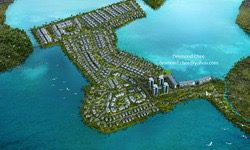 D'Island is an exclusive island resort-setting residential estate. The site is surrounded by water with only a small portion of land that connects to the mainland – which makes it suitable for ones who want to remain on an island but still close to the city centre. Puchong is where this property is sited, specifically in between Taman Putra Prima and Taman Putra Perdana, and it is considered as leasehold. LBS Bina Group is making a leap to the high-end segment with this property, and it is set to be ready in all its glory by 2019. However, the first few phases are already in full swing as early as June 2013.
The Phase 1 of D'Island is named Apicalia, a three-storey super-link with two types of layout to choose from. The 122 units comes with 4 bedrooms, 5 bathrooms, a utility room and a master suite with an en-suite bathroom. The master suite is on the top floor, and it comes with a balcony, a roof terrace and a wardrobe. Other installations are an outdoor shower and a store room below the stairs. Type A of Apicalia offers unit with lot size of 22 ft x 100 ft and the built-up size of 3,966 sf. There are a total of 53 units for Type A. It is priced from RM1,319,900, fetching up to RM1,458,900. Meanwhile, Type B of Apicalia offers houses with the lot size of 22 ft x 80 ft and a built-up measurement of 3,413 sf. Its price range starts from RM1,199,900 to RM1,325,900 for all the 69 units.
The next type of units of D'Island is Balvia, a semi-detached house development with the price tags of RM2,900,000 to RM3,286,000. There are currently 74 units of this three-storey development. The number of rooms for Balvia is akin to Apicalia, meaning the existence of a master suite on the top floor, while 4,864 sf is the built-up size of Balvia. Enhancements that could be found with this particular phase of development are the ample amount of glazed surfaces in the units that can increase the effect of natural lighting. Other than that there are the home security alarm, rainwater harvesting system and a lift to cater to the occupants.
Up next is Nautilus, another super-link development in D'Island. Nautilus has 115 units and is also a three-storey development. The difference between Nautilus and the previous two phases are the replacement of the master suite on the top floor with a studio in the units. The studio is considerably smaller than a master suite, and it is also not located on the top floor, but it is on the second floor. The built-ups are at 4,791 and 4,246 sf for the two available types under this phase, and prices range from RM2,114,900 to RM3,385,900. Interestingly, solar panel is a feature for the Nautilus units.
One more type of development in the territory of D'Island is bungalow lots, strewn on bank of the island, facing them appropriately to the lake. The empty lots are of 7,459 to 11,452 sf in built-up sizes. In total, there are 70 lots waiting to be constructed on.
It is apt that some units at D'Island come with its personal security alarm and intercom system, which adds to the security measures of a three-tiered security system and a dedicated security force. This safety aspect is prepared along with some practical facilities for the use of the potential residents of D'Island. A lakeside gazebo and cafe are expected, since the lake should be enjoyed by the residents. A clubhouse is also provided, and more facilities can be found there. A swimming pool, a sauna, a gymnasium and a steam room are the examples. The health standard of the residents can be maintained as jogging and walking pathways is also included, along with a children's playground.
There are a big number of colleges around D'Island, with names such as Binary University College, Limkokwing University of Creative Technology, Segi College, Multimedia University, Sunway University College, Taylor's University Lakeside Campus and RIMA College being available. Shopping urges are remedied at the nearby Carrefour Puchong, Summit Shopping Mall, Giant Bandar Puteri, Tesco Puchong, IOI Mall, AEON Taman Equine, Giant Kinrara and Sunway Pyramid, while schools are also aplenty with SJKC Sin Ming, SK Taman Putra Perdana 2, SK Taman Putra Perdana, SRK Cyberjaya 1 and Fairview International School. Medical needs are satisfied with KPMC Puchong Medical Centre, Columbia Asia Hospital, Sime Darby Medical Centre, Sunway Medical Centre and Hospital Putrajaya, while Sunway Lagoon Theme Park, Kinrara Golf Club, Botanical Garden and Agriculture Heritage Park provide the other interesting points. D'Island is certainly not short on amenities, when a close look of the surrounding area is taken into account.
Highways are not a problem with Lingkaran Putrajaya, KESAS Highway, Lebuhraya Damansara – Puchong (LDP), ELITE Highway, Federal Highway, Maju Expressway (MEX) and SKVE being around D'Island. KLIA is reachable in 35 minutes, for those who fly often. With such connectivities, D'Island residents are not cut out from the outside world at all. D'Island is also close-by  The Wharf Puchong ,  Putra Industrial Park ,  and Puchong Pertama 3 .
Property Details
Name: D'Island
Address: 47100 Puchong, Selangor
Developer: Astana Modal (a member of LBS Bina Group)
Completion Date: 2019 (estimate)

Balvia: Jun 2013
Nautilus

Phase 1: Dec 2013
Phase 2: Jul 2014

Type: Mixed
Tenure: Leasehold
of Storey

Apicalia: 3
Balvia: 3
Nautilus: 3

of Units: 381

Apicalia: 122
Balvia: 74
Nautilus: 115
Bungalow Lot: 70

of Bedrooms: 4+1
of Bathrooms: 6 – (6+1)
Land Area:

Bungalow lot: 7,459 – 11,452 sf

Dimension

Apicalia

Type A1: 22 ft x 100 ft
Type B1: 22 ft x 80 ft

Balvia: 40 ft x 80 ft
Nautilus

Type A1: 24 ft x 100 ft
Type B1: 24 ft x 80 ft

Built-up

Apicalia

Type A1: 3,966 sf
Type B1: 3,413 sf

Balvia: 4,864 sf
Nautilus

Type A1: 4,791 sf
Type B1: 4,246 sf
Layouts
Apicalia (3-Storey Super Link)

Type A1

(4+1) bedrooms + 6 bathrooms + Master suite (3,966 sf)

Type B1

(4+1) bedrooms + 6 bathrooms + Master suite (3,413 sf)

Balvia (3- Storey Semi-Detached)

(4+1) bedrooms + 6 bathrooms + Master suite (4,864 sf)

Nautilus (3-Storey Super Link)

Type A

(4+1) bedrooms + (6+1) bathrooms + Studio (4,791 sf)

Type B

(4+1) bedrooms + (6+1) bathrooms + Studio (4,246 sf)

Bungalow lot (7,459 – 11,452 sf)
Facilities
Clubhouse

Swimming pool
Gymnasium
Sauna
Steam room
Lounge

Lakeside gazebo
Children's playground
Jogging & walking pathways
Lakeside cafe
Analysis
Certainly, the fact that this development is envisioned to be an island property is a very ambitious prospect. Such properties are hard to come by, especially in the vicinity of Kuala Lumpur and Selangor. LBS are surely putting most of their chips on the table with this property. Unfortunately, a further investigation tells that many customers of LBS Bina have not been thoroughly satisfied with their works, however. Bandar Saujana Putra is one that received many criticisms in terms of its build quality. Apparently, the purchasers of the units there were disappointed with the finished products, in stark contrast to the earlier excitement that they had. Again, it is reflected with a show unit of D'Island itself.A visit tells that the works are not as good as the other developers. Certainly, this has somewhat tarnished the reputation of the developer. Other properties under LBS Bina are The Lake Residence, Taman Tasik Puchong, Bandar Putera Indah and BSP Skypark.
Compounding to the misery is the sight of some high tension cables around D'Island. Thought it is not a major concern, and the cables are not located that near to one another, it makes things just that bit less favourable. Then, the given price has risen arguments on whether the units are worth the money, or how other properties might present better deals. Especially as the location is not exactly five minutes from the centre of Kuala Lumpur. Even the cheap ones are merely super-link units, as the same amount of money could attain a semi-detached unit in other areas.
But certainly, there is a good thing to all things, and this property is included. D'Island is still a unique property, an island-like development that is surely an interesting proposition to buyers and tenants alike. The built-up sizes are very generous, presenting spacious houses with wonderful features such as rainwater harvesting, intercom and home alarm, an elevator and even the LED street lights installed to brighten the area when it gets dark. Another upside is the high number of shopping malls, schools, colleges and universities, medical centers and many more in the vicinity of D'Island. These amenities are important, and they set to propel the value of this development.