Description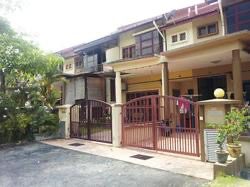 Puchong Permata 3 a freehold apartment located in Puchong, Selangor. This apartment is ited near to other residential areas such as Taman Puchong Permai, Puchong Permata 2 as well as Kampung Baru Sri Puchong Bt 13.
Puchong Permata 3 consists of a single 9-storey block that houses units with a built-up area of 850 sf. Each unit is equipped with 3 bedrooms and 2 bathrooms. Facilities provided are around the clock security, playground as well as parking lots.
Amenities-wise, the Puchong wet market is located just a short drive away from the apartment. Besides that, there is also an Uptown Bazaar Heritage Puchong, which is sited within a 10 minutes' drive away from Puchong Pertama 3. There, one can easily find other amenities such as shopping brands, restaurants, cafes and more.
Not only that, the apartment is also positioned just a short 8 minutes' drive away from Bandar Puteri in which residents can find most basic amenities, all located within the same area which includes restaurants, clinics, cafes, saloons, banks, supermarkets, workshops and many more. The Columbia Asia Medical Centre Puchong is located about an 8 minutes' drive away from the apartment should there be any serious medical emergencies.
As for educational establishments, schools such as SK Alam Megah 3, SMK Alam Megah 2, SK Alam Megah 1 and SK Alam Megah 2 are some of the schools that are positioned within a 5 minutes' drive away from the apartment. One can easily find Puchong Permata 3 using the Damansara-Puchong Highway. There are also a few bus and taxi stands sited along Persiaran Puchong Perdana in which some of them are located within a short drive away from the apartment. Puchong Permata 3 is also close-by Taman Putra Impiana , Bandar Saujana Puchong , and Bandar Nusaputra Puchong .
Property Details
Name: Puchong Permata 3
Address: Jalan Puchong Permai 1, Puchong, 47100, Selangor
Type: Apartment
Tenure: Freehold
of Blocks: 1
of Storeys: 9
of Bedrooms: 3
of Bathrooms: 2
Built-up: 850 sf
Maintenance Fee: RM75
Subsale Price: RM76,000 – RM250,000
Facilities
24 hours security
Parking lots
Playground
Analysis
There is an increase in the property values for units in Puchong Permata 3 and some units, depending on locality and condition of the units in which they can go up to RM155, 000. Some owners rented out spare rooms in their units considering the fact that the area is conveniently and strategically located. However, traffic congestions might a daily issue to many – especially for those who need to commute to the nearby business hubs like Subang, Petaling Jaya and Sunway.