Description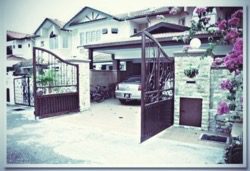 Desa Ixora is a leasehold residential enclave located in Section 6, Kota Damansara. It is neighbors with developments such as D'Villa, Bayu Damansara, Bayu Perdana as well as established districts like Section 7 and Section 8.
Desa Ixora is a low density, gated residential community which comprises of double storey link houses. The double storey link houses typically have 4 bedrooms and 3 bathrooms with a built-up of approximately 2,000 sf and dimension of about 24 × 90. Facilities available to residents include a fruit garden and security.
Located in the rising township of Kota Damansara, residents of Desa Ixora are practically surrounded by an abundance of amenities. Speaking of eateries, a short drive along Persiaran Surian will bring commuters to the main commercial hub of Kota Damansara. Within, residents will find over 60 restaurants and still continuously growing!
Furthermore, almost all sort of bank are existent within the vicinity for ease of banking activities. Obtaining daily necessities will not be a problem either as residents of Desa Ixora will have so many hypermarkets to pick from. Amongst the hypermarkets available are Giant and Village Grocer which can be found in Sunway Giza – both of which can be accessed within a short 5 minutes drive.
Recreational activities available here are almost incomparable. As one drive further along Persiaran Surian, you will be greeted by the most popular shopping malls in Petaling Jaya, namely The Curve, IPC, Ikea and 1 Utama. Sports enthusiasts will be able to enjoy activities such a badminton, paintball and golf.
Schools are also easily accessible, as they are all placed within walking distances. Desa Ixora is located right opposite the renowned Sri KDU high school and Segi College. For medical attention, one can always visit the Tropicana Medical Centre which is only a stone's throw away from Sri KDU.
Desa Ixora has great accessibility to a wide range of areas, and is serviced by several major highways like NKVE and LDP. However, public transportation to and fro Kota Damansara is pretty limited, as only buses and taxis are available.
Property Details
Name: Desa Ixora
Address: Section 6, Kota Damansara, 47810 Selangor
Type: Link House
Completion Date: 2007
Tenure: Leasehold
No. of Bedrooms: 4
No. of Bathrooms: 3
Land Area: 24 × 90
Built-up: From 2,000 sf
Facilities
Fruit Garden
Playground
Security
Analysis
Desa Ixora being located in the booming residential enclave of Kota Damansara, provides great investment opportunity. Over the years as the enclave is surrounded by surprising number of new developments, property owners within the enclave have enjoyed the sky-rocketing prices. It is speculated that property prices have nearly more than doubled across 5 years. As such, it might prove as a decent investment.
However, the one major problem residents have to face is the horrible crawling traffic. Almost inevitably, residents will have to brace themselves for horrible traffic due to poor planning and traffic lights. It is reported that the traffic lights along Persiaran Surian have frequently malfunctioned causing a total halt on traffic as commuters will be caught in a choke hold at the cross junction located in front of Sunway Giza.
The horrible traffic is further worsened with the number of high-density residential developments sprawled across Kota Damansara. It is only made tolerable due to the fact that almost everything is obtainable without having to travel out of the enclave.