Description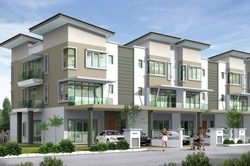 Amanria Residence is an exclusive cul-de-sac concept residential development located in Puchong in the state of Selangor. It is a leasehold development, an effort of none other than the Keringat Group, a developer of high standards. The development has just been completed, and is already Certificate of Fitness (CF) and Certificate of Completion and Compliance (CCC) ready.
Amanria Residence consists of four different types of extravagant 3-storey terrace houses, with the built-ups ranging between 3,020 sf and 4,720 sf. Each house hosts 3 to 4 magnificent suites with en suite bathrooms guest rooms with en suite bathrooms, wet kitchens, dry kitchens and 2 family halls. Density of the neighbourhood is extremely low, as there are only a total of 78 units available with a limited number left for sale.
The Amanria Residence houses are exquisitely designed. The Armani design homes have internal balconies on the first floor floor on in the intermediate units. It is also one of the only two designs that has a decorative pond in their large and spacious courtyard of 13 × 12 ft. The other design that comes with a courtyard and decorative pond is the Casaman design.
Besides having the whimsical delights of a decorative pond in a large courtyard, Armani in Amanria Residence also have walk in wardrobes in all 4 suites; again one of the only two designs that can boast this luxury, with the other being the Belle design. All the houses here come with stylish sliding and folding gates and car porches than can fit two cars, while the Armani design can fit for cars. With an eye to design, each home also maximises the use of natural lighting with large windows and glass sliding doors.
Amanria Residence is a gated and guarded residential area, with access granted only the authorised guest and residents. There are guard patrols to ensure that the safety of the residents are not violated. The neighbourhood itself is well designed with landscaped gardens that hosts a playground for the children, and a jogging track and reflexology path for the adults.
Amanria Residence is situated in the perfect location; in the heart of Puchong but yet separated from the hustle and bustle of the city. The famous IOI Mall is a mere 10 minutes drive away, while the closest medical institution is the Columbia Asia Medical Centre. Schools for all ages and of all mediums of teaching are easily found within the area and all local and international banks are conveniently within a 4 kilometre radius.
Amanria Residence is also located near the food hub of Puchong opposite IOI Mall, where many popular restaurants and eateries can be found. For residents who crave bigger shopping malls, Sunway Pyramid is a mere 20 minutes drive away. The hypermarket that serves the area is Tesco, which is only 10 minutes away where fresh produce can be bought daily.
Amanria Residence is well connected to major highways via the main trunk road of Jalan Puchong which provides direct access to the Damansara – Puchong Highway (LDP), the Middle Ring Road 2 (MRR2), the Kuala Lumpur – Seremban Highway and the Shah Alam Expressway (KESAS). Public busses are easily found on the main road outside the neighbourhood. Amanria Residence is also close-by Cascadia Lake Vista , Desa Idaman Residence , and K Boulevard .
Property Details
Name: Amanria Residence
Address: Jalan Bunga Raya, Bandar Puchong Utama, 47100 Puchong, Selangor
Developer: Keringat Group
Completion Date: 2013
Type: Terrace
Tenure: Leasehold
of Storey: 3
of Units

Casaman: 16
Armani: 9
Belle: 27
Clove: 26

of Bedrooms

Casaman: 5 + 1
Armani: 5 + 1
Belle: 5 + 1
Clove: 4 + 1

of Bathrooms

Casaman: 5
Armani: 5 + 1
Belle: 5
Clove: 4

Land Area: 7 acres
Dimension

Casaman: 37 × 60 ft
Armani: 24 × 113 ft
Belle: 24 × 75 ft
Clove: 24 × 65 sf

Built-up

Casaman: 3,635 sf
Armani: 4,720 sf
Belle: 3,535 sf
Clove: 3,020 sf

Maintenance Fee: RM150
Launch Price

Casaman: RM1,448,000 – RM1,938,000
Armani: RM1,463,000 – RM1,688,000
Belle: RM1,098,000 – RM1,478,000
Clove: RM858,000 – RM1,303,000
Facilities
24-hour security
Guard patrol
Landscaped gardens
Playground
Jogging track
Reflexology path
Analysis
The developer of Amanria Residence is Keringat Group, who are developers of reputable homes and commercial premises. Some of their other projects of excellence are Permai Villa, Avenue Ampang and Permai Ria. Established in 1987, this company has quickly risen through the ranks of development and obtained ISO 9001 in 2007, and have been members of the Master Builders Association Malaysia (MBAM) since 1997.
Amanria Residence is well located in a well established area where development of higher end residential areas have been swift. Amanria Residence is one of the few new establishments that have managed to be situated in the prime area in the city of Puchong. The neighbourhood residents are guaranteed to be of the upper income bracket, promising exclusivity to buyers.
Despite being a leasehold property, Amanria Residence promises to yield excellent results as an investment; as not only is it located in prime land, it is also well designed with excellent quality. It also promises to be an excellent place to bring up a family, owing to its peace and serenity. Whether it is for investment or for own stay, Amanria Residence promises to be a good buy.