Description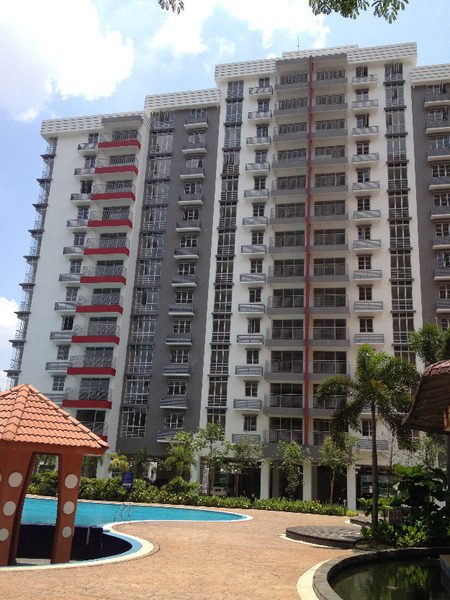 K Boulevard is a leasehold condominium development located in the central region of Puchong. The development was completed on March of 2013 and the developers are Masteron, whom has been very active developing properties in Puchong and have several successful properties under their flag such as Koi Legian, Koi Tropika and the Koi Commercial Centre.
K Boulevard is contained in a single, 13-storeyed block. There are total of 114 units within the block, and all units have 3 bedrooms and 3 bathrooms. There are only two layouts available, and they vary from each other only slightly. In terms of built-up, the units only come in 1,272 sf or 1,339 sf. At its launch, the developer was selling for RM413,620 – RM435,720. Since its completion in March, prices have pretty much stagnated.
K Boulevard comes with 24 hour security, with CCTV surveillance. Facilities include a swimming pool with a bar, a gymnasium, sauna, jogging track, cafeteria, barbecue area. As it is a serviced condominium, it also comes with housekeeping services and a child-care centre can be found within the premises.
K Boulevard's location is quite strategic. 2 kilometers away is the township of Bandar Puteri Puchong where basic amenities could be accessed including a substantial number of eateries, banks, and retail outlets. For grocery shopping, there is the Giant Hypermart located in Bandar Puteri, or the Carrefour located in Puchong Utama. There is also Setia Walk located in Puchong, and Sunway Pyramid located in Bandar Sunway which is less than 15 minutes away.
The nearest hospital is the Columbia Asia Medical Centre of Puchong. There are several schools located in the vicinity, including SMK Puchong Batu 14, SJK © Sin Ming, SMK Puchong Perdana, and SMK Puchong Utama. In terms of accessibility, K Boulevard is located right beside the Damansara-Puchong Expressway (LDP), and through the LDP one can easily access the New Pantai Expressway (NPE) and the Federal Highway. There is no public transport infrastructure in Puchong at the moment. K Boulevard is also close-by  Vista Prima ,  Vista Millennium ,  and Zen Residences .
Property Details
Name: K Boulevard
Address: Puchong Batu 13 ½, Puchong, Selangor
Developer: Masteron
Completion Date: March 2013
Type: Serviced Condominium
Tenure: Leasehold
of Blocks:
of Storey: 13
of Units: 114
of Bedrooms: 3
of Bathrooms: 3
Built-up: 1,272 sf & 1339 sf
Layouts
Type A

3 bedrooms + 3 bathrooms (1,272 sf)

Type B

3 bedrooms + 3 bathrooms (1,339 sf)
Facilities
Swimming pool with bar
24-hour security with CCTV surveillance
Gymnasium
Sauna
Cafeteria
Jogging track
Barbecue area
Housekeeping services
Child-care centre
Analysis
K Boulevard is not to be confused with the flop of Koi Tropika, which is located right beside it. There are certain pessimists in the community whom described K Boulevard as a renamed Block E for Koi Tropika. Although they are located right next to each other, they are two separate condominiums. K Boulevard has been described to be a lot better. Buyers have better be aware of the problems faced by the residents of Koi Tropika as they are from the same developer after all, Masteron.
Location wise, K Boulevard is located pretty near the outskirt of Selangor. The upside is that Putrajaya is only 20 minutes away by car. Traffic conditions though is rough to say the least. For the past two years, the amount of residential developments in Puchong has been rising at a rapid rate. The population has also accordingly been increasing, therefore the congestion is heavy. The proposals for the new MRT route which will come to realization around 2018 would definitely help relieve the congestion considerably.
For investment purposes, I suppose K Boulevard is worth the shot of appreciating once the MRTs come online. The problems faced by the residents in Koi Tropika could possibly repeat itself in K Boulevard, buyers had better be informed about the problems faced by their neighbors. K Boulevard is also considered one of the best luxury condos in Puchong .