Description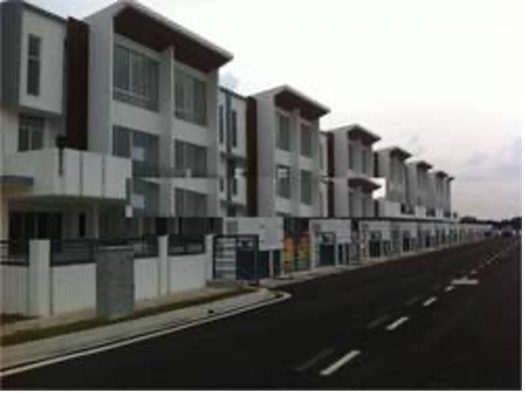 Cascadia Lake Vista is a 3-storey townhouse estate within a gated and guarded community in Puchong. This residential project is developed by Bolton, a reputable developer behind Lake View Garden Terrace and The Wharf.
Cascadia Lake Vista houses a total of 324 townhouses with built up area ranging from 1,600 sf to 2,100 sf for the lower floors and 1,690 sf to 1,870 sf for the upper floors units. A standard unit comes with 4 bedrooms and 3 bathrooms and 2 parking bays. Not only that, there is also a big playground and 24-hour security.
Residents of Cascadia Lake Vista also get to enjoy ample amenities within a stone's throw away as there is a big KFC and Pizza Hut outlet which operates 24 hours a day located just next to it. There are also other restaurants such as Mr. Yong Tau Fu and Restoran Embun Urai. And with The Wharf, residents will get to enjoy more amenities when the project is in completion soon.
Clinics such as Klinik Kulit Ko is also situated just a short 4 minutes drive away from the residential development. Apart from that, there are also several schools located within a 3km radius away namely SMK Puchong Utama 1, SK Puchong Utama 1, SK Puchong Utama 2 and SMK Puchong Perdana.
Cascadia Lake Vista is also easily accessible via major highways like the Damansara-Puchong highway or even routes like Lingkaran Putra Prima. Public transportation such as the RapidKL Puchong Utama Terminal is also located within a close proximity for the convenience of the residents around that neighborhood. Cascadia Lake Vista is also close-by  Koi Tropika ,  Koi Prima and Taman Puchong Tekali .
Property Details
Name: Cascadia Lake Vista
Address: Lake Vista, Puchong, Selangor
Developer: Bolton
Type: 3-Storey Townhouse
Tenure: Leasehold
of Storey: 3
of Units: 324
of Bedrooms: 4
of Bathrooms: 3
Land Area: 24' x 85' sf
Built-up

Lower Floor: 1,600 sf – 2,100 sf
Upper Floor: 1,690 sf – 1,870 sf

Subsale Price: RM428,000 – RM940,000
Rental: RM1,200 – RM2,700
Facilities
2 parking bays for each unit
24 hours security
Playground
Analysis
Having a home overlooking the beautiful and majestic 200 acre lake is a rare selling point in property market nowadays as more and more homes are surrounded by concrete jungles as oppose to Mother Nature. Besides that, Cascadia Lake Vista has a very well planned-out layout to allow residents to expand their home based on their needs in the future without much hassle. The floor plan is flexible and practical for young families.
Despite the many pros of getting a unit at Cascadia Lake Vista, there are negative points stated by some of the residents staying near to the townhouses. Some residents there commented that the location is situated near to small factories, hence the bad road conditions. Also, there are many foreign workers loitering around the area. Another con is the bad traffic congestion leading to the townhouses but despite the negative facts, many are still very optimistic about the value of Cascadia Lake Vista as there is already an appreciation in value for the units there.