Description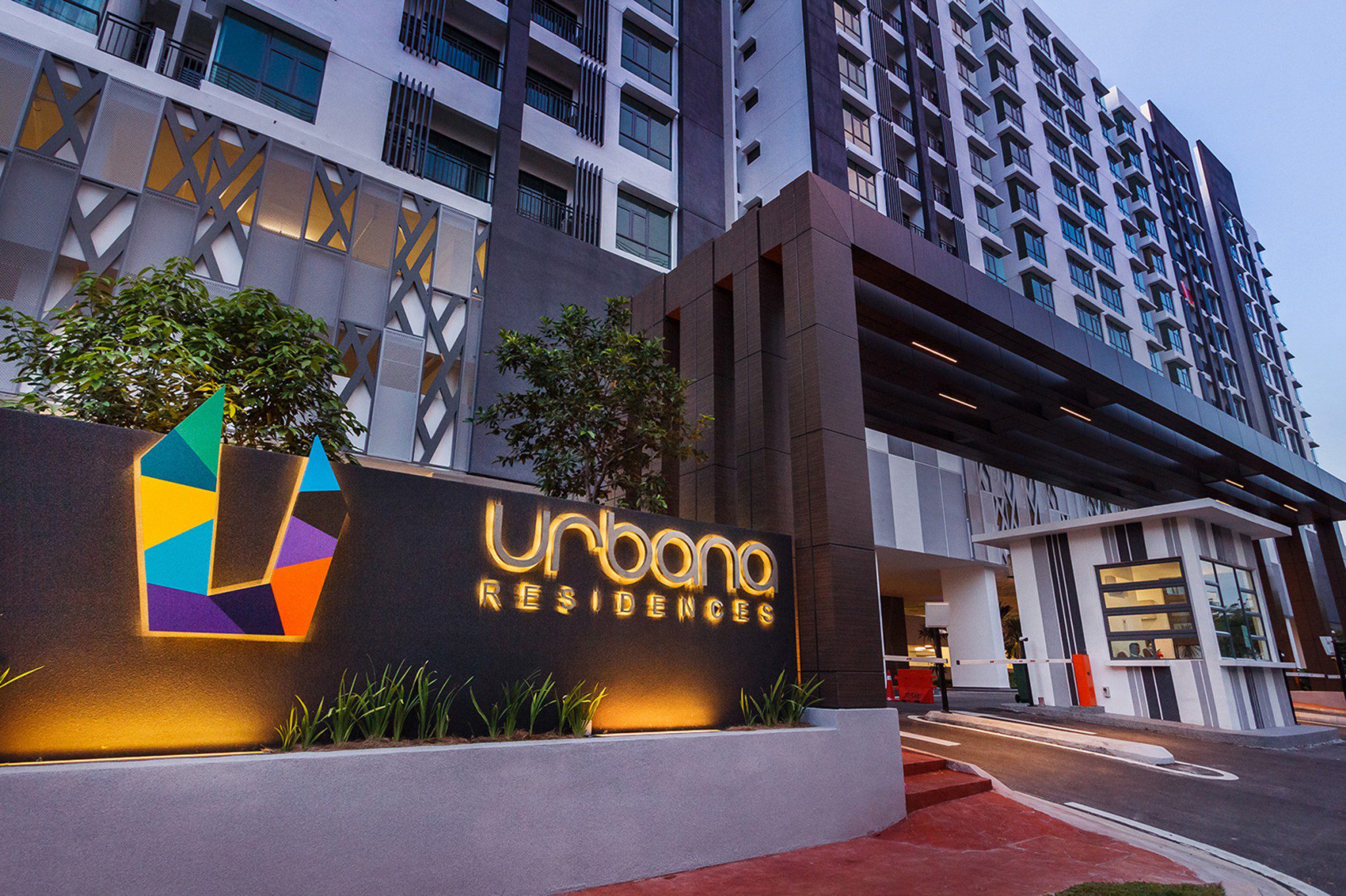 Urbana Residences is an initiative by Weida, whose venture in the plastic industry is more well-known. This maiden attempt of them will take place in Ara Damansara, and it is expected to be completed by September 2016. This serviced apartment is being developed by Loyal Paragon, a subsidiary of Weida, on a leasehold land. It is close by G Residences Ara Damansara .
Only a single block of building will be housing all the future residents of Urbana Residences. There are four wings in total, encompassing the 16-storey high apartment. An expansive variety of layouts are available for choosing, with the interesting idea of a dual-key apartment in the offing. The 356 units will feature between 2 to 4 bedrooms, plus two utility rooms for the latter, with 2 to 4 bathrooms, with a powder room in addition to the 4 bathrooms unit. The units are launched at a price starting from RM521,250 to RM1,328,500.
The units in Urbana Residences will be partly furnished. They will come with Johnson Suisse's bathroom fixtures, Signature Kitchen's cabinet, hob, hood and sink, air-conditioning systems and also a washer and a dryer, with the last two equipped to compensate for the lack of yard for the smaller units. This guarded residence will have its security personnel patrolling the area all day long, plus the security enhancement of card-controlled elevators. Further inspection reveals cool facilities too. Urbana Residences seems to be going along the line as being the residential solutions for the young and modern, and this is echoed by facilities like vista lounge, sky garden, Swingin' Cocoons, Lookout Cubes, Chillax Zone and a cabana.
Buyers can tick 'amenities' on their checklist when reviewing Urbana Residences, as a whole lot of those are available to them. Citta Mall is just around the corner, with Paradigm Mall being just a bit further. So, groceries and other shopping needs can be considered served. Smiles are aplenty on the faces of golfers of Urbana Residences as Saujana Golf & Country Club, Glenmarie Golf & Country Club and National Golf Club Subang are within reach. Then, the Japanese School of KL is nearby too, as well as Sime Darby Medical Centre. If potential occupants are willing to drive further, a host of other amenities will be possible, such as Subang Parade, Empire Shopping Gallery, Sunway Pyramid, INTI College, Taylor's College, Sunway University, Monash University and Sunway Medical Centre (SMC).
600 metres is all that separate residents of Urbana Residences and the Kelana Jaya train station. Subang Airport would require a bit of driving, but it is in the near vicinity as well. Two more train stations are proposed to be built nearby, increasing the transportation value of the property. Those who prefer personal vehicles will be using Jalan Lapangan Terbang Subang a lot. That particular road connects the place with North – Klang Valley Expressway (NKVE), which in turn leads to SPRINT Highway. Jalan Lapangan Terbang Subang links the property to Federal Highway and New Pantai Expressway (NPE) as well, and the former connects it to Damansara – Puchong Highway (LDP).
Property Details
Name: Urbana Residences
Address: Off Jalan PJU 1a/2, Ara Damansara, 47301 Petaling Jaya, Selangor
Developer: Loyal Paragon (a subsidiary of Weida)
Completion Date: Sep 2016
Type: Serviced Apartment
Tenure: Leasehold
of Blocks: 1
of Storey: 16
of Units: 356
of Bedrooms: 2 – (4+2)
of Bathrooms: 2 – (4+1)
Land Area: 2.46 acres
Built-up: 807 – 2,033 sf
Maintenance Fee: RM0.35
Launch Price: RM521,250 – RM1,328,500
Layouts
Type A1 / A2a / A2b

2 bedrooms + 2 bathrooms (807 sf)

Type A3

2 bedrooms + 2 bathrooms (839 sf)

Type A4

2 bedrooms + 2 bathrooms (979 sf)

Type A5a

2 bedrooms + 2 bathrooms (871 sf)

Type A5b

2 bedrooms + 2 bathrooms (1,022 sf)

Type A5c

2 bedrooms + 2 bathrooms (990 sf)

Type A6a / A6c

2 bedrooms + 2 bathrooms (1,033 sf)

Type A6b

2 bedrooms + 2 bathrooms (1,054 sf)

Type A6d

2 bedrooms + 2 bathrooms (1,000 sf)

Type B1

2 bedrooms + 2 bathrooms (1,033 sf)

Type B2

2 bedrooms + 3 bathrooms (1,065 sf)

Type C1

3 bedrooms + 2 bathrooms (1,173 sf)

Type C2

3 bedrooms + 2 bathrooms (1,485 sf)

Type C3

3 bedrooms + 3 bathrooms (1,280 sf)

Type C4a

3 bedrooms + 3 bathrooms (1,431 sf)

Type C4b

3 bedrooms + 3 bathrooms (1,410 sf)

Type C4c

3 bedrooms + 3 bathrooms (1,377 sf)

Duplex Type D1

(2+1) bedrooms + (2+1) bathrooms (1,377 sf)

Duplex Type D2

(3+1) bedrooms + 3 bathrooms (1,485 sf)

Duplex Type D3

(3+1) bedrooms + 3 bathrooms (1,689 sf)

Duplex Type D4

(4+1) bedrooms + 4 bathrooms (1,839 sf)

Duplex Type D5

(4+2) bedrooms + (4+1) bathrooms (2,033 sf)
Facilities
Sweat factory (gymnasium)
Blue strip (swimming pool)
Blue lounge (pool deck)
Junior escapade (kids' swimming pool and water play area)
Vista lounge
Sky garden
Garden terrace
Swingin' cocoons
Lookout cubes
Pavilion
Chillax zone
Children's playground
Reading lounge
Jacuzzi
Cabana
Spacious and beautiful arrival bay
Barbecue area
Analysis
As mentioned previously, Weida is more of an expert in the plastic industry, thus their first attempt here is arguably risky. It could be that they have prepared well, but experience helps in all matters, and they lack that, especially in the property construction business.
Besides, Jalan Lapangan Terbang Subang is infamous for its heavy traffic. Traffic jam is a common feature, and will delay those who use the road during peak hours. So that is something that buyers should have in mind when deciding to own a unit at Urbana Residences. Other than that, despite the wide array of layouts, the one with the smallest measurement is surprisingly missing a common bathroom and a yard. The former would make guests enter the bedrooms to use the toilets, and the latter will cause lingering odour following cooking sessions. The facilities then present a minor cause of concern, as the children wet play park is situated next to the dry indoor children's playground. What if the dry play park is used by the kids who just got out of the wet play park, would not that present a hazard as the dry play park will be slippery?
Clearly, these issues do blight the prospect of buying properties here. But rest assured, Urbana Residences has its pros along with its cons as well. Ara Damansara is proving to be a quiet residential area, with Citta Mall being not as crowded on weekend as the other malls, preventing headaches to the locals. Tesco will also be built in the area, offering another cog in the whole retailing machine of the area. Then, the price is cheaper compared to the other near developments, and this is good as the serviced apartment sets to be a low-density one. Finally, a high number of car parks will be made available to the residents, plus the addition of DIBS. Urbana Residences is also considered one of the best luxury condos in Ara Damansara .