Best Luxury Condo In Ara Damansara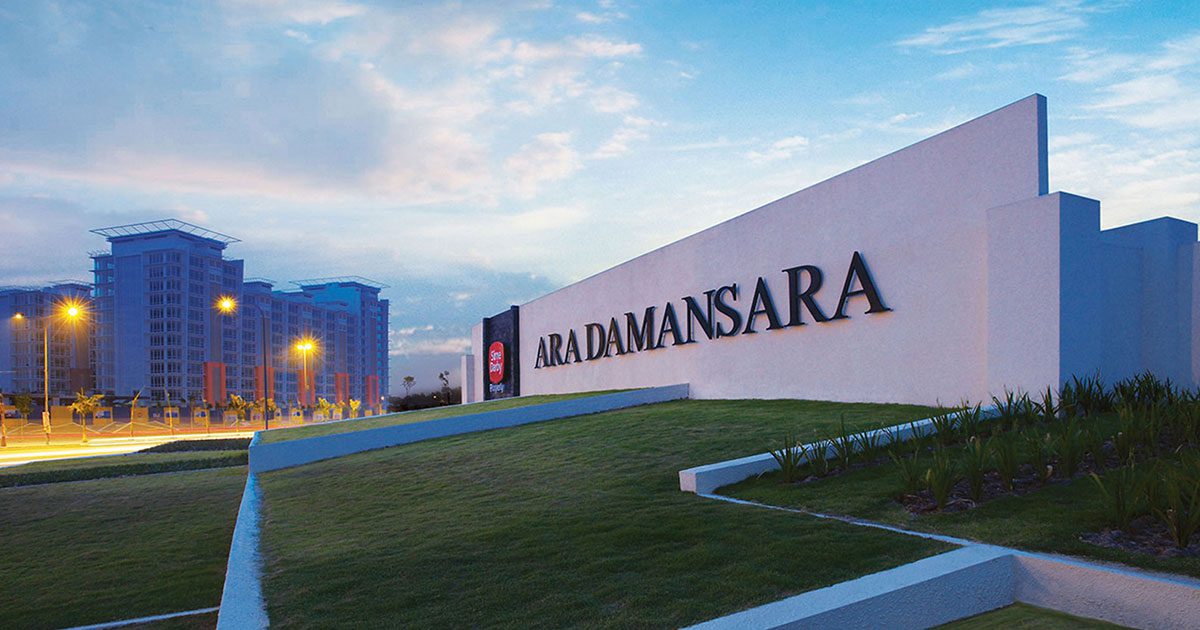 Ara Damansara is the popular township in Petaling Jaya consisting of low and high-rise residential homes, commercial properties, and bungalows spread out in dedicated garden precincts and commercial centres. From the luxurious, resort-style villas to the trendy, serviced suites; Ara Damansara promises unparalleled convenience and comfort with many public amenities such as retail outlets, recreational centres, and offices close by. If you are looking for a great condominium to buy or rent in Ara Damansara, we have listed the top luxury condos in Ara Damansara for you to choose from:
Top Luxury Condos In Ara Damansara
G Residences, Ara Damansara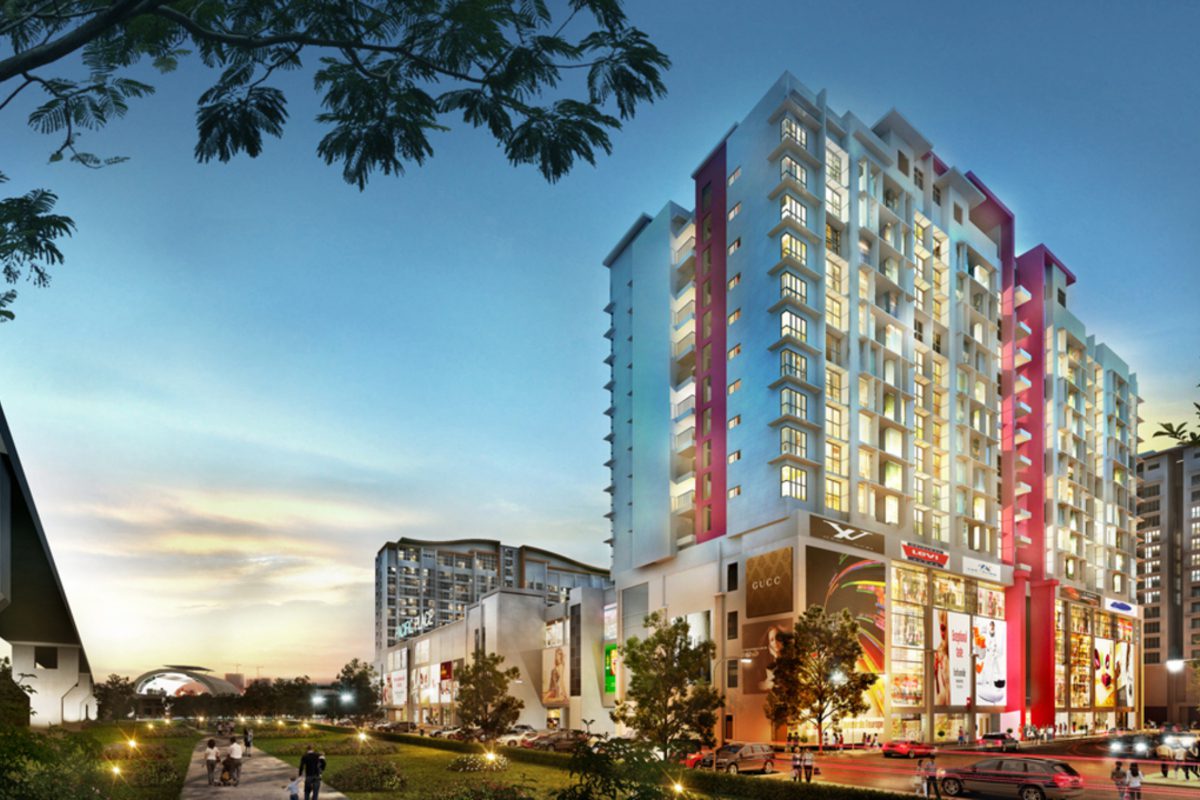 G Residences is a proud project by HCK Capital that started its development in late October 2012. It was completion in mid 2015, this leasehold condominium located in the new upcoming prime area of Ara Damansara is attracting a lot of attention. It is close by Urbana Ara Damansara .
The uniqueness of G Residences is that the developer is going to fully furnished each unit for the occupants, hence, the slightly steep price. This means that each unit will come with its own beds, sofas, refrigerators, air conditioners, cooker and hob, a ready-made home with no need to shop for your own furniture. G residence will come with the typical facilities of a condominium; the most important being the 24-hour security, along with covered parking, gymnasium, jogging track, playground and swimming pool.
Maisson, Ara Damansara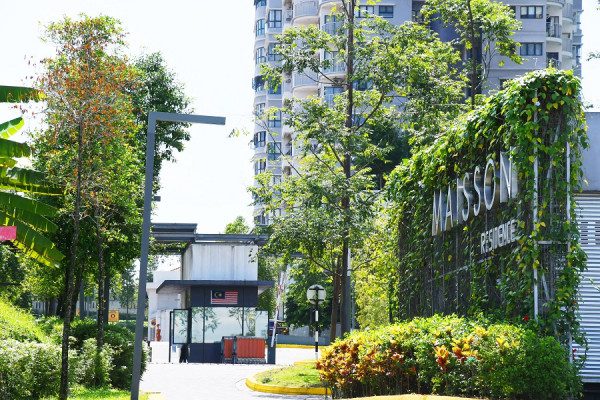 Maisson is a freehold, medium-cost development located in Ara Damansara, Petaling Jaya. The developers are 128 Ara Damansara Sdn Bhd, whom are the master developers. Other developments in the area include Taipan 1, Alissia and Atilia.
There are multiple types of units offered at Maisson to cater to a wide range of potential home buyers. The smallest units are studio units with only 500 sf, whereas the rest would consist of mainly 2 or 3 bedroom units with square footage ranging from 882 to 1,594 sf. There would be a total of 5 blocks, and a total of 1,247 units spread among them.
At Maisson, there would be a swimming pool and landscaped gardens located between the four blocks. Apart from that, the units facing Southeast would have a view of Petaling Jaya, whereas the units facing northwest would be able to have a view of Tropicana. There are also 2 acres within the development that is designated for a Landscaped Deck for excellent sunrise and sunset views.
Facilities in the Maisson are adequate for an active lifestyle. It comes with a swimming pool, children's pool, gymnasium and function lawn. There are also numerous landscaped gardens for casual scenic strolls. There would be a multi-purpose hall for community events, kindergarten for the young ones, and 24-hour security for peace of mind and protection.
Urbana Residences, Ara Damansara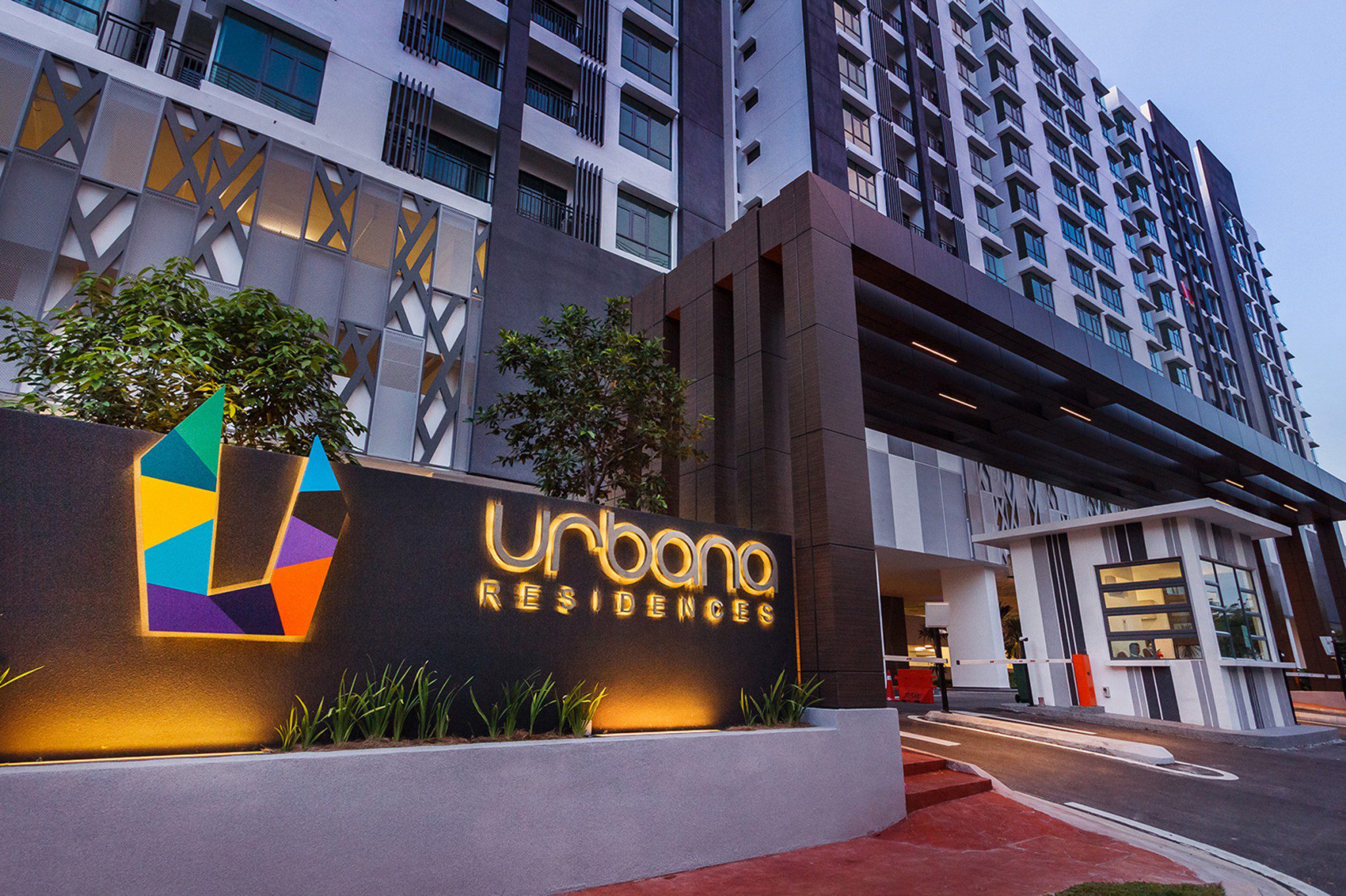 Urbana Residences is an initiative by Weida, whose venture in the plastic industry is more well-known. This maiden attempt of them will take place in Ara Damansara, and it was completed in September 2016. This serviced apartment is being developed by Loyal Paragon, a subsidiary of Weida, on a leasehold land. It is close by G Residences Ara Damansara .
Only a single block of building will be housing all the future residents of Urbana Residences. There are four wings in total, encompassing the 16-storey high apartment. An expansive variety of layouts are available for choosing, with the interesting idea of a dual-key apartment in the offing. The 356 units will feature between 2 to 4 bedrooms, plus two utility rooms for the latter, with 2 to 4 bathrooms, with a powder room in addition to the 4 bathrooms unit.
The units in Urbana Residences will be partly furnished. They will come with Johnson Suisse's bathroom fixtures, Signature Kitchen's cabinet, hob, hood and sink, air-conditioning systems and also a washer and a dryer, with the last two equipped to compensate for the lack of yard for the smaller units. This guarded residence will have its security personnel patrolling the area all day long, plus the security enhancement of card-controlled elevators. Further inspection reveals cool facilities too. Urbana Residences seems to be going along the line as being the residential solutions for the young and modern, and this is echoed by facilities like vista lounge, sky garden, Swingin' Cocoons, Lookout Cubes, Chillax Zone and a cabana.
Ara Hill, Ara Damansara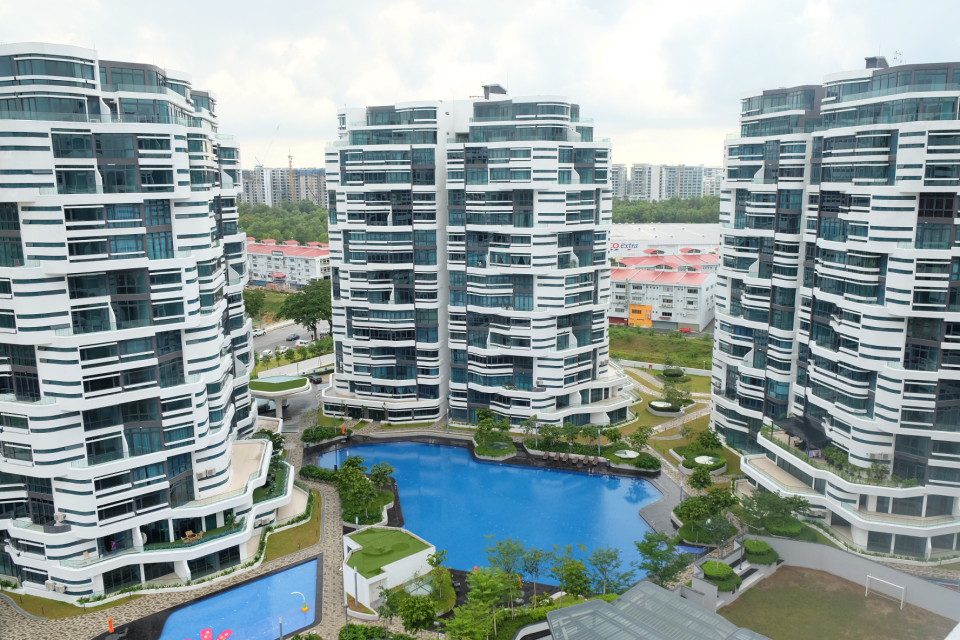 Ara Hill is an exclusive 16-acre site condominium nestled in Ara Damansara, a celebrated mixed development vicinity by the reputable Sime Darby. Designed in resort-styled setting, this freehold residential is a low density enclave, with only 25 units per acre. There are 2 types of condominium available, namely Ara Hill Resort Villa and Ara Hill Resort Condominium. It is close by Ara Damansara Berkely , Calarosa and Maisson .
Ara Hill Resort Villa comprises 20 blocks of 3-storey high condominiums, which consist of a total of 110 units. There are 5 layouts to choose from ranging from 1,600 sf to 4,200 sf. Meanwhile, Ara Hill Resort Condominium is a medium-rise condominium with each block is 8-storey to 10-storey high. It offers 11 layout designs with built-up sizes ranging from 1,600 sf to 2,390 sf.
Each residence at Ara Hill is fitted with timber flooring for all bedrooms, and polished homogeneous tiles for the foyer, and living and dining area. It is completed with air-conditioning units and built-in central hot water system. Some units come with built-in wardrobes, kitchen cabinets, private balcony and a food waste disposal unit.
Ara Greens Residences, Ara Damansara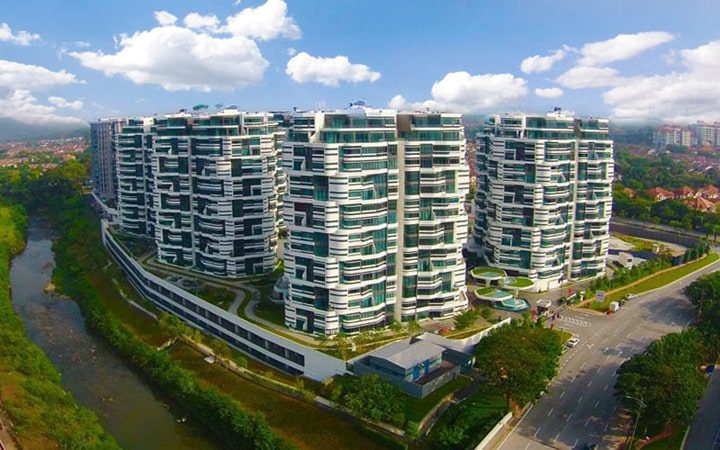 Ara Greens Residences is a freehold development located in Ara Damansara, Petaling Jaya. The developers are HSB Development, and it was completed in 2015. Other developments in the vicinity include Dataran Ara Damansara, Palermo and Chelmsford.
Smaller Type A units of Ara Greens Residences only comes with one parking bay, whereas Types B, C and D would have two. Only larger units under Type E, F and G would have three parking bays. There are only an average of eight units per storey, and each block is served by three passenger lifts along with one service lift. The density of the development is medium as it is approximately 100 units per acre.
Ara Greens Residences boasts a good security system that is multi-tiered. There would be security present at the guardhouse and patrolling the premises. Certain units also comes with dual-key to facilitate more convenient property management, and provides versatility to the owner.
In Ara Greens Residences, the developers are going all out with the facilities, having many recreational facilities scattered across the six blocks. Putting things into perspective, approximately 63.4% of the development, or 4.76 acres is being designated for community space. There is a children's pool, playground, playroom and splash zone, that is designated for children alone. The developers are certainly generous with the facilities.
Pacific Place, Ara Damansara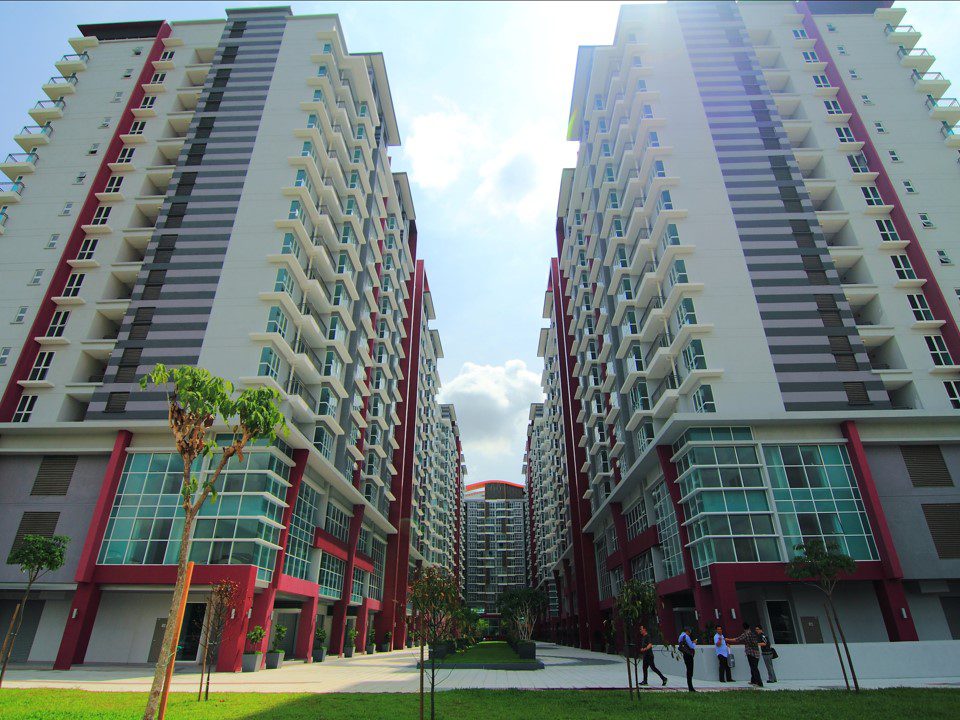 Pacific Place is an integrated development featuring serviced apartment, a shopping mall, business / commercial shop-lots and a college in Ara Damansara. It is located next to Dana 1 Commercial Centre and adjacent to Peremba Square, Amaya Saujana , G Residence and Puncak Seri Kelana.
The serviced apartment at Pacific Place comprises of 6 blocks of 15-storey buildings including a 3-storey of shop-lots beneath it. Each block consists of about 200 units; hence the apartment comprises a total of about 1,200 units. There are 15 units per floor and it is served by 3 lifts. Every block has its own facilities at the roof top that include Tai Chi garden, games room, roof-top garden and swimming pool.
There are several layouts available; 1-bedroom unit with 717 sf of built-up size, 2-bedroom unit with built-ups of 864 sf and 906 sf, 3-bedroom unit with 1,042 sf and 1,078 sf of built-up sizes, and 2 duel key types which units that feature a separate studio (with private entrance) from the house that comes with 3+1 bedrooms with built-ups of 1,325 sf and 1,275 sf.
Eve Suite, Ara Damansara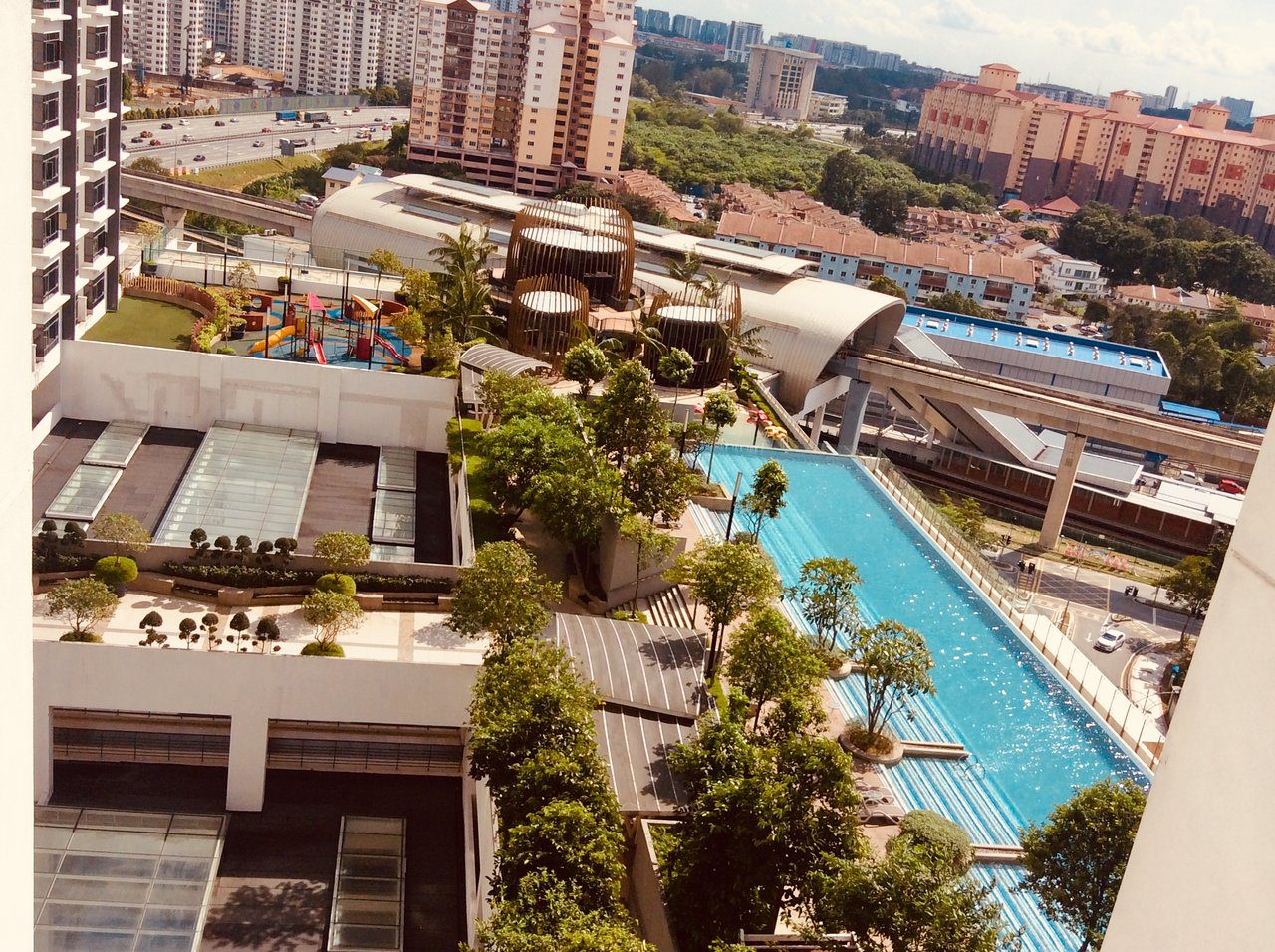 Eve Suite (formerly known as NZX Square) is a mixed serviced apartment and retail mall development located in Ara Damansara. It is developed by SM Land Group, and has estimated gross development value of RM350 million. Nestled on 5.264 acres of freehold land, it comprises of two blocks of serviced apartment with a total of 713 units of studio and 2-bedroom apartment units. Its studio suites / SoHo and 2-bedroom apartment have built-up sizes of 680 sf and 1,065 sf respectively.
Besides residential component, Eve Suite also comprises of two-storey retail mall beneath the apartment. It has built-ups ranging from 4,121 sf to 6,854 sf. Its studio units was launched from RM380,800, the two-bedroom suite was from RM565,000 and its retail shops start from RM2,133,220. Each unit of Eve Suite is fully-furnished with New York chic interior design concept. The apartment is furnished with 40′ LCD TV, sofa, coffee table, mirror (wall), walk-in wardrobe, a 1.5 hp split unit air cond and its kitchen is equipped with kitchen cabinet, fridge and bar stools. Adding to that, the 2-bedroom unit also comes with dining chairs, study table and side tables (but minus mirror and bar stools).
Oasis Serviced Suites, Ara Damansara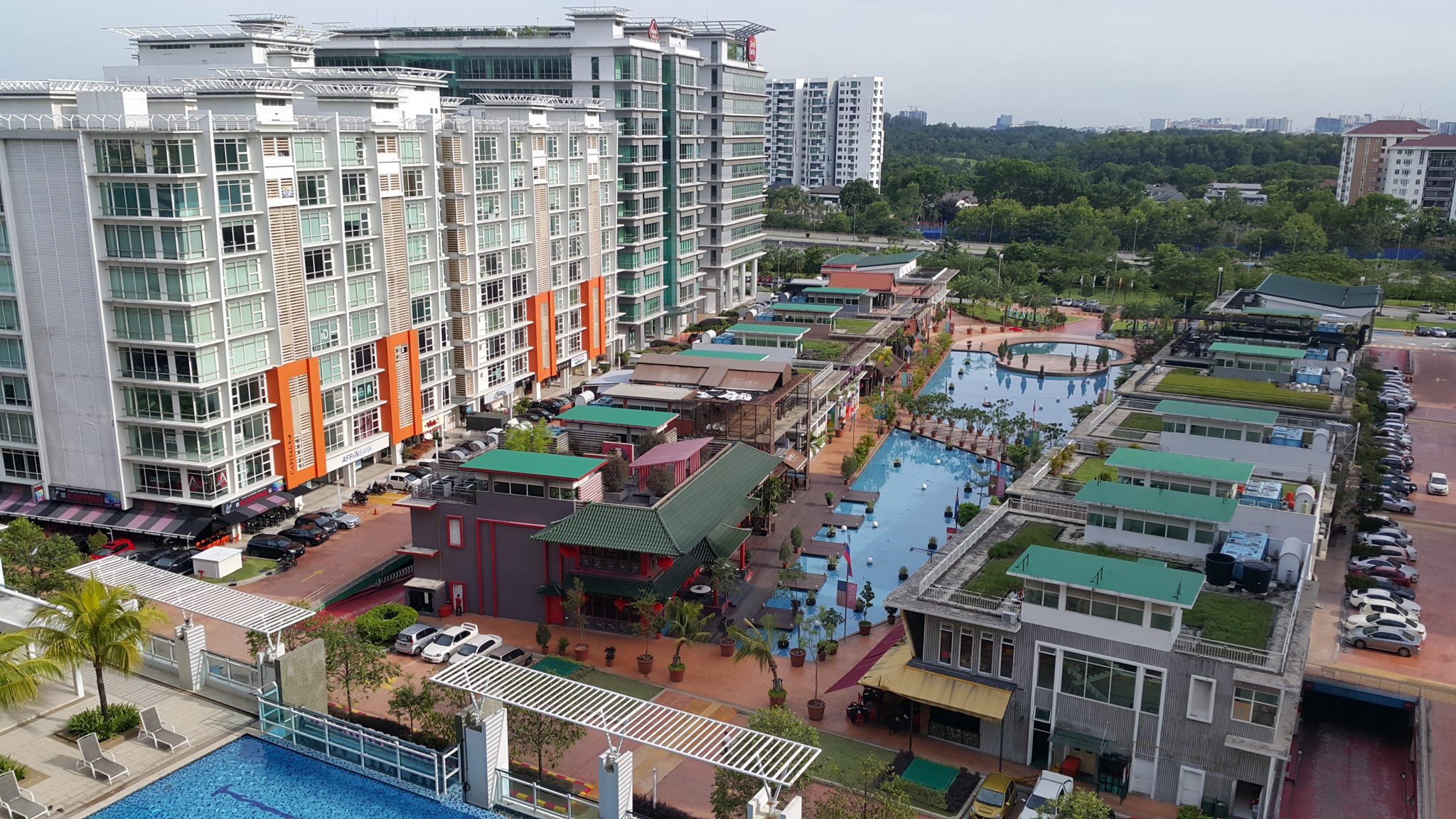 Oasis Serviced Suites is a new serviced apartment nestled within Sime Darby's Oasis Ara Damansara integrated development in the Ara Damansara township. This integrated building features a magnificent 12-meter high cascading waterfall at the entrance.
This serviced apartment comprises two 10-storey blocks sprawling over 2.98 acres of freehold land. It consists of 326 units with small-sized studio units to typical condominium-sized units. It has 4 standard unit types to choose from with built-ups ranging from 572 sf to 1,108 sf. There are also penthouse units built. Each unit is furnished with built-in wardrobe, built-in kitchen cabinet, kitchen hood and hob, hot water system and security alarm system with intercom and panic button.
Oasis Serviced Suites is equipped with modern facilities including a yoga garden, jogging track, sauna, gazebos and patios, a putting green, BBQ area and swimming as well as wading pool to name a few. It features 4-tier security with 24-hour CCTV surveillance.
This development is part of the integrated Oasis Ara Damansara commercial cum residential hub which is dubbed to become the focal point of Ara Damansara. This integrated development also comprises shop offices, retail lots, corporate offices and a 2-storey development of food and beverages outlets. In a nutshell, Oasis Ara Damansara itself is a self-contained oasis with full basic amenities for the residents.