Description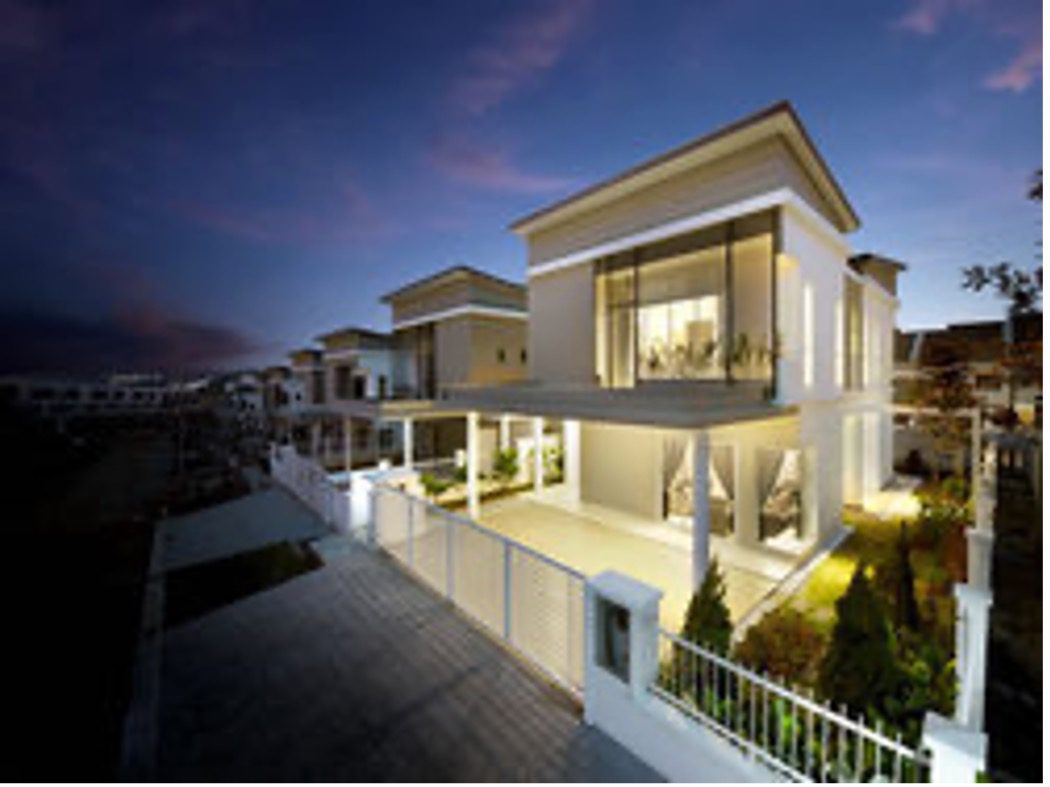 Urbana @ D'Alpinia is an exclusive low-density and gated residential development nestled in the new residential community D'Alpinia, Puchong. The highlight of this development is its rare concept of built-then-sell that allows home buyer to view their home first. Upon satisfaction, they can then make a choice and own it in almost no time at all.
Urbana @ D'Alpinia comprises 64 units of bungalows and link-bungalows developed by the distinguished Hap Seng Land (a wholly owned subsidiary of Hap Seng Consolidated). With over four decades of experience, Hap Seng Land knows exactly the demands of home buyers and they intend to cater to their every whim. Compliant to D'Alpinia community ideals, Urbana adheres to the high standard of delivering a 'contemporary and modern' lifestyle with modern architecture, practical living spaces and plenty of functional amenities.
The discerning home buyers of Urbana @ D'Alpinia would be happy to know that it has great built-in features in each homes such as solar heater, water filtering system, alarm system, auto-gate, air-conditioning for major rooms, bathroom accessories, shower screen and wired with fibre optics for TM Unifi easy installation. For those who believe that the kitchen is the heart of a home will be pleased with its built-in kitchen cabinets with hood, hob and oven. On top of that, the added five-year warranty for anti-termite treatment is an added bonus. Hence, the owners can move in without having to make any renovations or further enhancements.
Safety issues have always been the most considered issue when buying property. Urbana @ D'Alpinia salutes the importance of this, especially for those who are raising a family. That is the reason for the developer's offering of extensive security service; single entrance / exit point, security personnel, 24-hour CCTV and monitored card access. Families can spend time together in the lush gardens, children playground and on the jogging track with a peace of mind after a long day of work and school for bonding moments without worry.
Urbana is part of D'Alpinia's 76-acre development leasehold land which is enclaves within the Southern Golden Triangle of Puchong, Seri Kembangan and Putrajaya with direct access to LDP, MEX Highway, SKVE and Seremban Highway. With these highways, the residents of the residential area can access various places of interest in just short amount of time.
For example, a short drive from the neighborhood will take the residents to IOI Mall, Puchong. Other malls such as Alamanda Putrajaya and Jaya Jusco, Seri Kembangan can also be reached within short amount of time via these roads. Furthermore, what makes Urbana the ideal choice of home for families with children is its location that is nearby primary and secondary schools. The government schools are located within 2-kilometer radius from the residential area, hence, parents do not have to worry about their children's education. Urbana @ D'Alpinia is also close-by Mutiara Indah ,  La thea residences , and Kipark Puchong .
Property Details
Name: Urbana @ D'Alpinia
Address: Jalan D'Alpinia 8 & Jalan D'Alpinia 9, D'Alpinia, 47120 Puchong, Selangor
Developer: Hap Seng Land Development
Completion Date: June 2013 (estimate)
Type: Link Bungalow & Bungalow
Tenure: Leasehold
of Storey

Bungalow: 2 ½ storey
Link Bungalow: 2 & 2 ½ storey

of Units

Link Bungalow: 38
Bungalow: 26

of Bedrooms: 5 & 6
of Bathrooms: 6 & 7
Dimension

Bungalow: 60 × 100 ft
Link Bungalow: 40 × 80 ft

Built-up

Bungalow: 4,749 – 5,846 sf
Link Bungalows: 3,489 – 4,168 sf

Maintenance Fee: From RM120 per month
Launch Price: From RM1,700,000
Layouts
Bungalows

Type A: 4,749 sf (5+1B, 6 bathrooms + 1 powder room)
Type B: 5,538 sf (5+1B, 7 bathrooms + 1 powder room)
Type C: 5,846 sf (6+2B, 7 bathrooms + 1 powder room)

Link Bungalows

Type D: 3,489 sf (5+1B, 6 bathrooms + 1 powder room)
Type E: 4,168 sf (5+1B, 6 bathrooms)
Type F: 4,031 sf (6+1B, 6 bathrooms + 1 powder room)
Facilities
Children playground
Jogging track
Analysis
Urbana @ D'Alpinia homes definitely complement the face-paced lifestyle of the urbanites who prefer their homes to be surrounded with great amenities at an arm's length. Residents of Urbana can benefit from their extensive range of surrounding amenities that include restaurants, shops, cafes and shopping complexes.
Set for completion by June 2013, Urbana promises an escape from the hustle and bustle from city but at the same time the city is easily accessible via the Lebuhraya Damansara – Puchong. It should ease the worry and wary of city workers who are hesitating about its location. Coupled with Hap Seng Land's insistence on lush greenery and practical home layouts, Urbana is definitely on the hot list of properties to have. The added bonus of home appliances and fancy finishing is saving the home buyers a large sum of money when moving in.