Description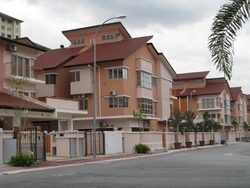 KiPark Puchong (also known as Taman KiPark) is a semi-detached houses development on leasehold land located in Puchong. It is located amidst several new housing developments and some remaining palm tree farm.
Among the immediate residential neighbors of KiPark Puchong are D'Alpinia, Saujana Puchong, Bandar Bukit Puchong, Sierra Puteri, and Taman Desa Ayer Hitam.
KiPark Puchong encompasses resort-style living with a water theme park located at the centre of the residential. It comprises 130 unites of 2½-storey semi-detached houses with each lot sizes 32′ × 75′. Its built-up sizes range from 2,706 sf to 2,756 sf. It was completed in early 2007 and developed by KiPark Management, a member of the KIP Group. It was launched from RM378,720 to RM756,470.
KiPark Puchong is nearby to Lim Kok Wing University College, UNITEN, University Putra Malaysia and Multimedia University. Besides that, it is few kilometres away from The Atmosphere Business Centre, Giant Bandar Putra Permai and Pasar Borong Selangor. KiPark Puchong is also close-by Puchong Gateway , Saujana Puchong , and Taman Puchong Intan .
Property Details
Name: KiPark Puchong (also known as Taman KiPark)
Address: Puchong, Selangor
Developer: Kipark Management (a subsidiary of KIP Group)
Completion Date: Early 2007
Type: Semi-D
Tenure: Leasehold
of Storey: 2½
of Units: 130
Built-up: 2,706 – 2,756 sf
Facilities
Gated and guarded area
Water-theme park with swimming pool
Analysis
The built-up size available at KiPark Puchong is quite small, as for the 2½-storey houses, its built-up is only 2,706 sf. Besides that, its driveway is also quite small, but enough to fit 2 cars. It has a wet and dry kitchen combined, and a total of 5+1 bedrooms in each unit.
First floor the unit houses a large master bedroom and balcony, and two bedrooms. These two bedrooms share a common bathroom. Second floor comprises of a large family area, balcony and another 2 bedrooms.
KiPark Puchong is surrounded by palm oil farm and new housing developments. There are two rivers nearby the development, one is near the entrance while another behind the furthest units from the entrance. Some residents claimed that there had been flash flood for quite a number of times. Plus, the rivers seem to grow bigger as well.
Besides that, some initial buyers were upset with the development. One of the issues highlighted was TNB cable used is not underground as promised. Not only that, even after the development was completed, there were some rows still under construction.