Description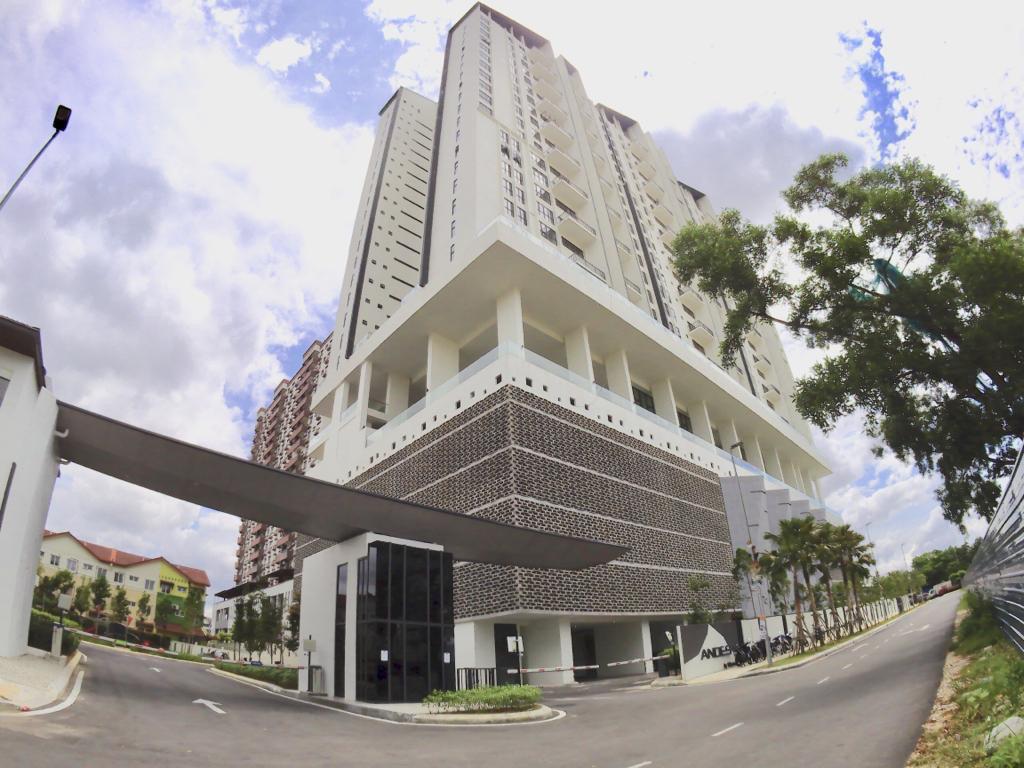 The Andes is the name of a freehold development located in the borderline between Bukit Jalil and Puchong, and it completed in 2018. This property is under the helm of Villamas, and it is made of two residential unit types, condominium and villa terrace. Hence, in the borderline of this project, one would find two blocks of condominium buildings and a row of villa terrace houses. Mutiara Bukit Jalil andKinrara Mas.
Standing at a height of 20 storeys, the two condominium blocks at The Andes will be seen beside the triple-storey villa terrace. Two of the villa terrace units will have extra garden space compared to the other twenty. Meanwhile, six bedrooms (plus one utility room) and six bathrooms fill the units. On the other hand, the condominiums consist of 353 units, all with built-up sizes from 1,105 to 1,842 sf. One of the layouts, Type B2, even features a studio space with a dual-key system, further widening the options available for The Andes.
The units of The Andes are furnished with many surprisingly sweet benefits. One is the attached double volume balcony, while another is the two master bedrooms in the villa units. A few of the higher-end units would come with private roof garden and a private lift lobby. Another interesting prospect of The Andes is the facilities provided. Celebrity kitchen is a public space for those who want to have a gathering or a quick party. Reading pod is basically a space for people to read and relax. Onsen spa and sauna provide stress-relieving hang out points. The other facilities are the rudimentary but still salient ones like swimming pool, gymnasium, yoga studio, kindergarten, squash court, surau, barbecue area and others.
The location's poor qualities contrast very much to the many amenities that The Andes is close to. Places to buy stuff from are Giant, 101 Mall, Tesco, Sunway Pyramid and Mines Resort City. Bukit Jalil Golf & Country Resort, Kinrara Golf Club and Selangor Turf Club are certainly other interesting places to be at. Columbia – Asia Hospital and Sunway Medical Center would be a frequent destinations for people that have patchy medical background. Schools and colleges are aplenty with SJKC Yak Chee, SMK Seksyen 1 Bandar Kinrara, Taylor's University Lakeside Campus, Monash University and Sunway University. Lastly, those who crave for some good old-fashioned sports action can attend the always-busy National Stadium of Bukit Jalil.
Roads and highways present an advantage to the congested area around The Andes. They allow the far destinations to feel much shorter. Jalan Kinrara 1 will lead people to Bukit Jalil Highway, which is connected to SILK. Jalan Puchong is also another often-travelled road, as that one is reachable to Shah Alam Highway, Sungai Besi Highway, Damansara – Puchong Highway (LDP), Federal Highway, New Pantai Expressway (NPE) and Jalan Kelang Lama. KESAS is also in the vicinity, as are Maju Expressway (MEX) and the proposed Kinrara – Damansara Skyway (KIDEX). To make The Andes more appealing, a barrage of new MRT stations are in construction near the area.
Property Details
Name: The Andes
Address: Jalan Mas 1, Bukit Jalil, 58200 Kuala Lumpur
Developer: Villamas
Completion Date: 2018
Type: Condominium & Villa Terrace
Tenure: Freehold
of Blocks:
of Storey: 25 & 3

Condominium blocks: 25
Villa Terrace: 3

of Units: 375

Condominium: 353
Villa Terrace: 22

of Bedrooms: 3 – (6+1)
of Bathrooms: 2 – 6
Land Area: 6.25 acres
Dimension:

Villa Terrace: 22 ft x 100 ft & 33 ft x 100 ft

Built-up:

Condominium: 1,105 – 1,842 sf

Maintenance Fee: RM0.30 psf
Launch Price:

Condominium: RM685,000 – RM1,652,000
Villa Terrace: RM1,600,000 – RM2,249,061
Layouts
Condominium

Type A

3 bedrooms + 2 bathrooms (1,105 sf)

Type B

(3+1) bedrooms + (2+1) bathrooms (1,325 sf)

Type B1

(3+1) bedrooms + (2+1) bathrooms (1,596 sf)

Type B2

Studio + (2+1) bedrooms + 3 bathrooms (1,842 sf)

Villa Terrace

Type C

(6+1) bedrooms + 6 bathrooms (22 ft x 100 ft)

Type C2

(6+1) bedrooms + 6 bathrooms (33 ft x 100 ft)
Facilities
Celebrity kitchen
Cardio gymnasium
Yoga studio
Kindergarten (depending on the availability of operator)
Squash court
Surau
Multipurpose hall / badminton courts
Playground
Reading pod
Pavilion
Swimming pool
Children's pool
Barbecue area
Onsen spa
Sauna
Analysis
Villamas the developer has managed to tarnish its name with bad quality and terrible workmanship in their previous projects. Names like Serin Residency and Atmosfera are the ones that are criticised a lot. Even though Villamas has quite a few projects in their pocket, it still looks like they need to put in more effort in term of their craft output in order to satisfy the disappointed purchasers. Hopefully, The Andes will erase all that humiliation and bring a new shine to the name of Villamas.
The location of The Andes has failed to put in more positive outlook on the property. First comes the issue of the traffic jams. The current not so wide road is known to be crawling with cars especially at peak hours. And might not be looking up when one would think of the future, as the prospect of many more developments to be erected along Jalan Puchong is scary as that will surely increase the traffic population. The construction of the new MRT stations will no doubt complicate matters further. To add salt to the injury, a Malay cemetery land has been identified as a potential neighbouring property for The Andes, other than factories and industrial ares.
The silver linings of this place is the low-density nature of the residence and the upcoming existence of MRT stations in near proximity. Other than that, amenities will not cause a major problem while the facilities are shaping up to be of top-notch. Another smart move by the developer is to open up a new road just behind Old Town in order to ease the accessibility. That move will surely be welcomed by the prospective purchasers and tenants of The Andes. The Andes is also considered one of the best luxury condos in Bukit Jalil .