Description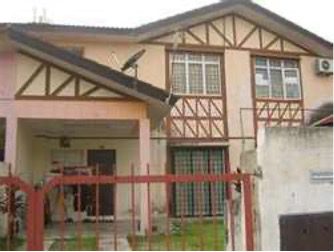 Taman Sri Puchong is a leasehold residential development sited in Puchong, Selangor. This residential area can be found near to Taman Perindustrian Puchong. It comprises of 2-storey terrace houses and 2-storey shop lots. A standard terrace unit has a built-up area of about 1,200 sf and is equipped with 2 bedrooms and 2 bathrooms whilst shop lots at this area typically have built-up sizes of about 2,070 sf.
Residents of Taman Sri Puchong can easily walk to the shop lots located within the residential area where they can find a 7-11 convenience store which operates 24 hours a day. There are also eateries such as Kedai Mek located within the vicinity of Taman Sri Puchong. Besides that, hypermarkets like Tesco is situated just a short 6 minutes drive away from Taman Sri Puchong.
If that is not enough, residents can still find ample amenities situated along the Damansara-Puchong Highway where they can find banks, a wide variety of restaurants and eateries, furniture shops, clinics, gym, hotels and more. Education establishments like SK Puchong Indah, SK Puchong Utama, SMK Puchong Bt14 and SRJK (T) Puchong Bt14 are all located no further than 2 km away from Taman Sri Puchong.
Taman Sri Puchong can be easily reached using the Damansara-Puchong Highway. For those who prefer to travel via public transportations, there are also many bus stations located along the Damansara-Puchong Highway with the point at Jejantas (LDP) Tesco being the nearest station which is situated about a 3.9 km away from Taman Sri Puchong. Taman Sri Puchong is also close-by Taman Putra Perdana , Taman Tasik Puchong , and  Disland Puchong .
Property Details
Name: Taman Sri Puchong
Address: Puchong , Selangor
Type: 2-Storey Terrace & 2-Storey Shop Lot
Tenure: Leasehold
No. of Storey
No. of Bedrooms
No. of Bathrooms
Built-up

Terrace: 1,200 sf
Shop Lot: 2,070 sf
Facilities:
Analysis
Taman Sri Puchong is surrounded by commercial developments and some people might think this is a negative point due to the fact that noise and environmental pollution is unavoidable in those commercial areas. However, there are still certain units that are able to enjoy the Puchong Lake view which is quite a treat considering the fact that almost the whole residential area is surrounded by residential and commercial developments. Apart from that, with the development of the more upscale Lakeside Residences that is located nearby, values of properties here at Taman Sri Puchong are expected to increase further.