Description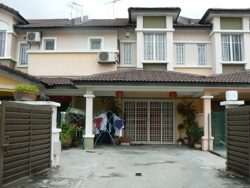 Taman Puchong Prima is a commercial and residential township situated at Puchong, Selangor. It was developed by Mitrajaya Homes. Other areas located nearby are Kampung Sri Aman, Desa Millennia and Taman Puchong Perdana.
Sprawling over 250-acre of freehold land, Taman Puchong Prima comprises of 2-storey terrace houses, condominiums, apartments and shop-offices within its township. The 2-storey terrace houses typically have built-up sizes of about 1,700 sf with standard units consisting of 4 bedrooms and 3 bathrooms.
The condominium (named Desa Impiana) has built-up areas of about 1,068 sf with standard units having 3 bedrooms and 2 bathrooms. Another condominium development is Desa Idaman Residences, a tropical-themed condominium with its owned recreational water park. Desa Idaman Residences consists of 540 units spread over 11 blocks.
There are several apartments within Taman Puchong Prima, namely Orchid Apartment and Lotus Apartment. The apartments have built-up areas of approximately 977 sf and a standard unit mainly consists of 3 bedrooms and 2 bathrooms. Shop-offices in Taman Puchong Prima typically have built-up sizes of around 1,408 sf.
There are many amenities within walking distance in Taman Puchong Prima. Residents can simply walk to the shop lots located along Jalan Prima 5/5 and find various restaurants, workshops, pharmacies such as Guardian and Constant are also located along that road.
There is also Clinic Mediviron along Jalan Prima 5/1. Poliklinik Sri Permai and Poliklinik Lourdes, both situated along Jalan Permai are only within a 5 minutes short drive away. Several schools can be found within a short drive away from Taman Puchong Prima namely SMK Puchong Perdana, SK Puchong Indah, SK Taman Puchong Utama, SK Taman Puchong Utama 3 and a few more.
One can access to Taman Puchong Prima via Persiaran Puchong Permai, Persiaran Puchong Perdana and also highways such as Damansara-Puchong Highway. RapidKL Terminal Puchong Utama LRT Station is located about 1.04km away for those who prefer to take public transportation. Taman Puchong Prima is also close-by Koi Prima , Koi Tropika , and K Boulevard .
Property Details
Name: Taman Puchong Prima
Address: Puchong, 47150, Selangor
Developer: Mitrajaya Homes
Type: 2-Storey Terrace House, Condominium, Apartment & Shop-Office
Tenure: Freehold
No. of Storey
Terrace: 2
Shop: 4
No. of Bedrooms
Terrace: 4
Condominium: 3
Apartment: 3
Shop: 1
No. of Bathrooms
Terrace: 4
Condominium: 2
Apartment: 2
Shop: 2
Built-up
Terrace: 1,700 sf
Condominium: 955 – 1,110 sf
Apartment: 977 sf
Shop: 1,408 sf
Facilities
School
Commercial centre
Petrol station
Field
Children's playground

Analysis
There were some serious crimes that has happened in Taman Puchong Prima about 2 years ago where 2 armed robbers have robbed a bank and ran away with RM750,000. One of the robbers fired a shot at the ceiling of the bank and then another robber forced an employee to enter the customer service room to open the safe while the others waited outside to keep an eye out on staffs and customers.
There were also cases of illegal cybercafe outlets in Taman Puchong Prima. Police raided some areas and confiscated online gambling games and computers. At the end of the raid, as many as 429 computers have been taken away from 26 illegal outlets.
Taman Puchong Prima is a self-sustained neighborhood as it is furnished with all basic amenities for the residents. The township is built with petrol station, a school and a commercial centre. Besides that, high-rise residences here enjoy the view of Tasik Prima.