Description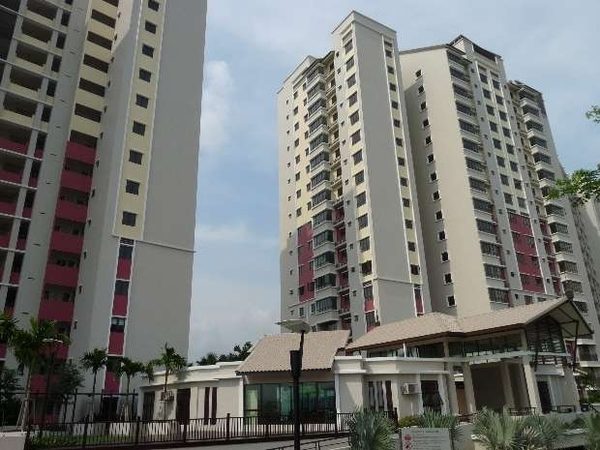 Savanna 1 is a condominium developed by Berjaya Land. The condominium is located in the Bukit Jalil vicinity. It consists of two blocks of 22-storey condo which houses a total of 408 units. This freehold condo was completed in October 2008, it is close to Covillea and Arena Green.
Of the two blocks, Block B was sold to Hanju Savanna, a Korean developer. The units on the block were upgraded with higher quality tiles compared to Block A. Block B was sold initially with golf memberships only to Koreans, but the remaining units were opened to locals later on.
Savanna 1 is located along Jalan Bukit Jalil / Kuala Lumpur – Putrajaya Expressway. It is close to nearby townships such as Sri Petaling and Cheras. It is easily accessible via KESAS Highway, MRR2, Federal Highway and KL – Seremban Highway.
Savanna 1 is also near to major public amenities such as LRT station, Sports Complex, schools and institution of higher learning (SK Seri Saujana, SMK Bandar Baru Seri Petaling, IMU and APIIT), Technology Park Malaysia, Bukit Jalil Golf and Country Resort, Bukit Jalil Recreational Park and many others.
Property Details
Name: Savanna 1
Address: Jalan Bukit Jalil, Kuala Lumpur
Developer: Berjaya Golf Resort (a subsidiary of Berjaya Land)
Completion Date: October 2008
Type: Condominium
Tenure: Freehold
of Blocks: 2
of Storey: 22
of Units: 408
Built-up: 1,179 – 1,281 sf
Maintenance Fee: RM0.20 psf
Subsale Price: RM350,000 onwards
Rental: RM2,000 onwards
Facilities
24-hour security
Swimming pool
Gymnasium
Club house
Sauna
Laundry
Convenience store
Tennis court
Badminton court
Basketball court
Children's playground
Analysis
When one mentions about Savanna 1, it is the strategic location that attracts most property buyers. Located along Jalan Bukit Jalil / Kuala Lumpur – Putrajaya Expressway, Savanna 1 is within walking distance to Bukit Jalil LRT station. Its close proximity to the Ampang / Sri Petaling LRT line makes it very convenient for public transportation users.
However, there are a few disadvantages to this area. Savanna 1 is located exactly opposite the Bukit Jalil National Sports Complex and stadium. This may appear as a plus point to sports lovers. Nevertheless, buyers should take note that the KL – Putrajaya Expressway has heavy traffic flow particularly during peak hours. The traffic jam also contributes to noise pollution and dust.
Apart from that, the whole area is also congested whenever there is an event such as concerts or sports tournaments held at the sports complex opposite Savanna 1.
Block B of Savanna 1 was sold by Berjaya Golf Resort to Hanju Savanna, a Korean developer. Even though both blocks share the same layout plans, Block B was actually sold at a higher price. Block B comes with fully tiled and furnished bathrooms, heaters and three units of air conditioners, tiles of higher grade for the living room and kitchen as well as free golf club membership.
The facilities at Savanna 1 appeared better than most condos of its class and were rather well-maintained. Most condo only comes with one or two parking lots, but the condo offers three parking lots to residents. This is certainly good news to buyers, as these days most families have more than two cars at home.
In terms of density, Savanna 1 is considered to be densely populated even though it has plenty of space for lush greenery. With 12 units on each floor and three lifts for each block, some regard this condo to be similar to that of a medium cost apartment.
Savanna 1 has three types of layout plans but all ranges around 1,200 sf with an option of standard unit (without balcony), units with balcony and units with garden terrace. All units come with the 3+1 bedrooms and 2 bathrooms concept. With a size of about 1,200 sf per unit, the rooms especially the small utility room appears to be very small. Even though there is not much of difference between the three types of layouts, there's a price difference between those types. Some consider the price variance to be ridiculously huge.
Pricing wise, Savanna 1's subsale price appears to be higher than other similar developments. This could be due to its strategic location of being near to other nearby townships. However, many buyers have regarded the condo to be slightly overpriced as most believe that by paying the same amount, one could easily get another property at nearby areas.
Nevertheless, Savanna 1 could be a good buy for steady rental returns as it is close to Technology Park Malaysia as well as the International Medical University.
With business centers and institution of higher learning around, there is always demand on properties like Savanna 1. However, if one were to compare this condo to other similar developments, its rental value is also considered much higher. Perhaps, the full condo facilities, developer's reputation as well as its location could very well justify the condo's value. Savanna 1 is also considered one of the best luxury condos in Bukit Jalil .