Description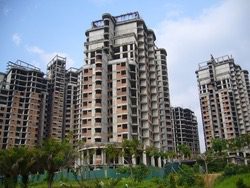 Platinum Damansara is a condominium developed by Lagenda Group which was supposed to be completed by 2007. It is located in the up-and-rising Ara Damansara, neighboring developments such as Ara Hill, Eve Suite, and Vista Subang.
The project began at around year 2004, and comprises of three block towers with up to over 20-storey tall. Each unit comes with 3 bedrooms and 2 bedrooms or more. Facilities provided by Platinum Damansara includes club house, covered parking, gymnasium, mini market, squash court, swimming pool, tennis court and 24-hour security.
Strategically located amongst many matured and bustling neighborhood like Aman Suria, Kelana Jaya, Kota Damansara, and Tropicana, whereby residents will find it extremely convenient to travel between places for daily necessities.
One can head to Aman Suria which takes less than 10 minutes by car for a wide variety of eateries. Many hypermarkets are within close proximity as well such as Giant hypermarket, Tesco hypermarket, Carrefour and shopping complexes like 1-Utama as well as The Curve.
Amongst the number of school within close proximity to Platinum Damansara are SMK Tropicana School (1.09km), SK Tropicana School (1.29km), SRK Lembah Subang School (1.31km), and SMK Lembah Subang School (1.38km). Furthermore, higher education institution are easily accessible as well, namely Segi College and KBU.
In terms of transportation, residents of Platinum Damansara need not be overly concerned with traffic congestion as most of the roads leading into the enclave (which is low-density) are not as congested. Residents who lack private transportation may get around via RapidKL Kelana Jaya LRT station which is less 2km away.
Property Details
Name: Platinum Damansara
Address: Ara Damansara, 47301 Petaling Jaya, Selangor
Developer: Lagenda Group
Completion Date: 2007 (abandoned)
Type: Condominium
Tenure: Leasehold
No. of Blocks: 3
No. of Storey: Over 20
Built-up: From 1,000 sf
Facilities
Club house
Covered parking
Gymnasium
Mini market
Playground
Squash court
Swimming pool
Tennis court
24-hour security
Analysis
Platinum Damansara, a project developed by Lagenda Group which was supposedly completed by 2007, is currently abandoned despite several efforts to rally support from Ara Damansara's resident to revive the project. It has been sitting for over 4 years in the vicinity, luring many unwanted guests and activities.
Many residents who have bought the unit that prior to completion were eagerly following the development, yet were dismayed when progress were slowing down to a complete halt eventually. When they approached the developer of Platinum Damansara, they were given many excuses such as sewage problem, awaiting approval from the government or even blueprint errors. Many believe it is a legal scam and are furious over the developer.
Certain parties also complain that the agreement drafters are too one sided, whereby it over protects the developer and management company to the extent where it is virtually impossible to sue them if things go wrong. Buyers have been used as financier, while the developer benefits from the cash flow with reduced risk.
As of February 2011, a message was forwarded to buyers on behalf of the developing company regarding their initiative to revive the above abandoned project. They claim that they would attach an advertisement of the property up on STAR newspaper.
However, buyers were required to submit a number of documents, however there was a poor response, up to 100 buyers instead of the expected 600 buyers. It seems that yet another initiative taken by the developer has proved to be futile. To date, Platinum Damansara still remains abandoned and no progress have been witnessed.