Description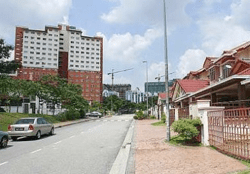 Vista Subang is a low-cost apartment strategically located within the urban township of Ara Damansara. The apartment is located neighboring Idaman Villas, Winchester and D'Aman Crimson.
Vista Subang consists of a single 15-storey block comprising 210 units of 3-bedroom and 2-bathroom apartment with built-up size of 650 sf. The apartment is built by Glomac back then in 1999.
Being located within the well-planned Ara Damansara township, there are numerous amenities can be found nearby. Within 5 minutes drive, one can reach NZX Commercial Centre that houses 1 Station Café, 99 Speedmart, Fullhouse restaurant and other specialty stores and eateries. Besides that, Vista Subang is within close proximity to [Oasis Ara Damansara] and Citta.
In terms of accessibility, the apartment is approximately 7 minutes drive to Jalan Lapangan Terbang Subang and Damansara-Puchong Highway (LDP) via FAS Tunnel. Besides that, Vista Subang is within short driving distance to New Klang Valley Expressway (NKVE).
Property Details
Name: Vista Subang
Address: Jalan PJU 1A/43, Petaling Jaya, Selangor
Developer: Glomac
Completion Date: 1999
Type: Low-Cost Flat
Tenure: Leasehold
of Blocks: 1
of Storey: 15
of Units: 210
of Bedrooms: 3
of Bathrooms: 2
Built-up: 650 sf
Subsale Price: RM70,000 – RM115,000
Rental: About RM460
Facilities
Analysis
There was an issue reported on The Star regarding a move to build a new access road for Vista Subang residents. For over the years, Vista Subang residents have been using jalan PJU 1A/43 that runs through Winchester terraces enclave.
Vista Subang was completed 8 years earlier than Winchester. If the road is built, the road will be farther to access the main road and the residents will no longer enjoy parking their cars at the buffer zone.
Vista Subang is located right next to the NKVE highway. In fact, the block is just 25 m away from the highway. Besides the highway, it is also located right next to Petronas petrol station and adjacent to Shell petrol station. Thus, units that face the highway directly may experience intolerable noise and dirty air from the vehicles passing by the highway and petrol stations.
Just like other Ara Damansara residents, the biggest issue is the access road as the entire neighborhood only relies on Jalan Lapangan Terbang Subang and the small FAS tunnel to go places.
However, once the link road to Tropicana is opened, Vista Subang residents will be able to drive to Tropicana, Dataran Prima, Bandar Utama and Kota Damansara with breeze.