Description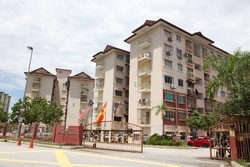 Latan Biru is a leasehold medium-cost apartment positioned in Seksyen 8 at Kota Damansara, Petaling Jaya. It is a project by PKNS. It houses units with a built-up area of 850 sf and each standard unit contains 3 bedrooms and 2 bathrooms. Some of the facilities provided at Latan Biru are playground, covered and non covered parking lots as well as 24 hours security.
As for amenities, there is a row of shop lots sited just next to the apartment in which residents can find some restaurants or some small cafes there. Not only that, residents can also find a convenience store, several restaurants, tuition centre, workshops, clinics and more at the rows of shop lot sited along Jalan Pekaka 8/1 which is sited just a short drive away from Latan Biru. Besides that, there are also several rows of shop lots situated along Persiaran Jati which is about a 3 minutes short drive away from the apartment. There, residents can find a food court in which they can enjoy various local and international cuisines. Apart from the food court, there is also a policlinic, a Shell petrol kiosk and several restaurants located there.
SK Sek 9 Kota Damansara SMK Sek 10 Kota Damansara, SK Sungai Buloh S7 and SRA Kota Damansara are just some of the schools that are located within a short 10 minutes' drive away from Latan Biru. There is also a school that is still under construction positioned just a stone's throw away from the apartment. It can be easily located using Jalan Pekaka 8/1. As for those who travel using the public transportation can find a KTM Sungai Buloh station sited about a 3.28km away from Latan Biru.
Property Details
Name: Latan Biru
Address: Jalan Pekaka 8/1, Kota Damansara, 47300, Petaling Jaya, Selangor
Developer: PKNS
Type: Apartment
Tenure: Leasehold
of Bedrooms: 3
of Bathrooms: 2
Built-up: 850 sf
Facilities
Covered parking lots
Playground
24 hours security
Analysis
Many people would purchase Latan Biru for their own stay for the affordable price. Furthermore, there is a school which is located just a stone's throw away from the apartment that is still under construction will provide much convenience to those staying at Latan Biru or staying nearby.
There are also many who takes Latan Biru as an investment as there are also many others who are looking to rent just spare rooms in the units at Latan Biru. With new LRT line coming up soon in Kota Damansara, the properties values here are expected to increase further, Latan Biru included.