Description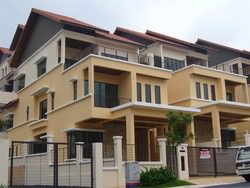 Kiara View (also known as Kiaraview) is a landed property located between the Mont Kiara enclave and Desa Sri Hartamas. This residential is developed by Seni Nusantara Sdn Bhd.
Kiara View consists of 2-storey and 3-storey semi-detached homes that are built on a Malay Reserve Land. This freehold property comprises a few phases with a total of 97 units under Phase 1 and 2, 34 units under Phase 3A, and 12 units under Phase 4A.
Kiara View was first launched in 2005, and the construction of its first phase was completed in year 2007. The developer has since successfully completed three phases and the final phase is currently under construction. Phase 4A is scheduled for completion in mid 2010.
Kiara View is approximately 2 minutes walking distance from Desa Sri Hartamas, 5 minutes drive to Bangsar and 15 minutes to Petaling Jaya. It is close to amenities, such as Plaza Mont Kiara, Mont Kiara Business Center, Hartamas Shopping Center, Bangsar Village, Bangsar Shopping Center, SMK Sri Hartamas, French International School, Mont Kiara International School, Bukit Kiara Equestrian Club, Pantai Medical Centre, and Kuala Lumpur Golf and Country Club.
Property Details
Name: Kiara View (also known as Kiaraview)
Address: Mont Kiara, Kuala Lumpur
Developer: Seni Nusantara
Completion Date

Phase 1: 2007
Phase 2: 2008
Phase 3A: 2009
Phase 4A: Mid 2010 (estimate)

Type: 2-Storey & 3-Storey Semi-D
Tenure: Freehold (Malay Reserve Land)
of Units

Phases 1 and 2: 97
Phase 3A: 34
Phase 4A: 12

Built-up: 3,833 – 5,444 sf
Launch Price: RM1.4 mil onwards (in 2005)
Subsale: RM2 mil onwards
Rental: From RM10,000 onwards
Layouts
Azalea

2-Storey Semi-D
Built-up: 3,833 sf

Begonia

2-Storey Semi-D
Built-up: 3,833 sf

Camellia

3-Storey Semi-D
Built-up: 4,644 sf

Dahlia

Split Level 2-Storey Semi-D
Built-up: 3,834 sf

Callisia

3-Storey Semi-D
Built-up: 4,906 sf

Cassia

3-Storey Semi-D
Built-up: 4,995 sf

Dillenia

3-Storey Semi-D
Built-up: 5,444 sf

Erica

3-Storey Semi-D
Built-up: 4,720 sf
Facilities
24-hour security
Gated and guarded community
Analysis
Developer's reputation is often one of the most important considerations when a buyer scouts around for a suitable property. As Kiara View is the developer's maiden project, many buyers may be feeling intimidated by the developer's background or experience. Some buyers may take advantage of a new developer, as they normally would offer special packages to attract more property buyers.
Accessibility wise, Kiara View definitely has its advantage compared to other developments, as it is located somewhat near to the Sprint Highway (Penchala Link). Further to the location factor, when one talks about Mont Kiara and Sri Hartamas areas, they are think to be similar to a "gold mine", as places like these are often highly sought after due to its high capital appreciation as well as promising rental returns.
Apart from that, certain units are located within close proximity to high tension power lines, especially those on lower ground next to the guard house. The good news is majority of the units are located on higher ground, thus far away from those power lines.
In view of the Kiara View's market rate, the first and second phases of this property have actually appreciated from the developer's price of approximately RM1.4 mil to RM2 mil. Even though this property carries high capital appreciation and rental yield, Kiara View can only be bought and owned by the Malay community as it is built on Malay Reserve Land. Kiara View is close by Sunway Vivaldi and Kiara Hills .