Description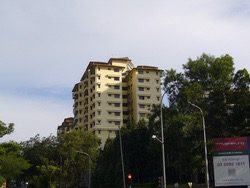 Cascadium is situated next to Casa Vista. It is placed in the heart of Bangsar, the trendiest and most commercialised residential area of all areas in Kuala Lumpur. This bustling town is a preferred destination among those with a pulsating nightlife and with the will to shop. If you need shopaholic anonymous then this would be a hard environment to live in as it is the source of great retail therapy.
Placed right opposite Bangsar Shopping Complex and in the vicinity of Bangsar Village, Cascadium residents would have no trouble with public transport. From bus services to cabs in abundance, there would be no hassle when it comes to transportation. With only 125 units, this low density condominium has a peaceful environment and there is no congestion and overflow of people in the building. It has ample of space and is also quiet and comfy.
Cascadium is well equipped with facilities and conveniences that suits residents of all sorts. It can be a family home or a student's chill-out apartment or even a studio in some cases. The pools and gyms helps in distressing and keeping fit while the cleaning services, cafe and launderette makes chores a little less of a burden.
In addition to that, Cascadium has tip-top security. The guard house always has 2 to 4 guards present and they have been well trained to not allow vehicles without the condo's car sticker pass through. Also, in terms of security, there are CCTV's, 24 hour patrolling and access cards which is required to move in and out of the building.
Property Details
Name: Cascadium
Address: Jalan Maarof, Bangsar 59000, Kuala Lumpur
Managed By: Azmi & Co
Developer: Sunrise
Type: Condominium
Tenure: Freehold
of Units: 125
Built-up: 1,200 sf
Layout
Standard (2+2)
Duplex (1,600 sf) (3+3)
Penthouse (2,000 sf) (3+3)
Facilities
Barbecue area
Covered parking
Gymnasium
Playground
Swimming pool
24hr security
Cleaning services
Launderette
Mini mart
Wifi Hotspot (free WiFi at level 3 common area)
Car wash area
Analysis
Cascadium is well off geographically as it is within walking distance to trendy bars, local, and international eateries, clubs, malls and about a ten minute drive away from Mid Valley City and 1-Utama. As all these leisure malls and entertainment outlets are nearby, it comes with its downfalls too.
Being in the center of the city, it is without a doubt that there are many offices, workplaces and education centers around. This makes rush hour maddening and hard to live with. When you're on your way home, you would encounter a massive jam which at times can be a bumper to bumper situation. Also, the noise pollution would increase as impatient drivers honk their way through in order to get out of the congestion and mess.
As Bangsar is the town of all parties, it is undeniably that your nights wouldn't be as easy either. The jams and noise level would increase as many party goers and clubbers would fill the streets to get to their favourite bars and clubs. Having said this, at times, it can get a little frustrating because live band performances and visiting international DJ's who come around often make a big deal with their music and you can hear the bass and cheering right up the street.
Also, at times you would find that once these entertainment outlets close up, highly intoxicated people spill into the streets and start up a commotion. This is more frequent during football season and during festive seasons as well. With this, the noise increases and outside safety decreases making it a bit worrying when it comes to our teenagers who return late and such.