Description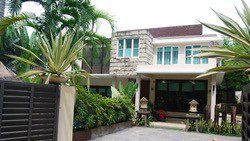 Bukit Bandaraya is an exclusive neighborhood located on the hilly part of Bangsar. The neighborhood consists of semi-detached houses and bungalows, catering to the affluent class in Malaysia. It is situated in the heart of Bangsar, where one can find many commercial activities in the nearby area.
Bukit Bandaraya was developed by Bandar Raya Development in the 1970s. Houses in the area are matured and have distinctive 70's design, such as split level homes and large entertaining area. Mostof the homes here have been renovated to adapt to the modern lifestyle. The price of semi-detached homes and bungalows here have appreciated greatly over the years due to its location and prestige.
The popular Telawi enclave located in Bukit Bandaraya is one of Kuala Lumpur's most popular nighttime entertainment districts. The streets of Telawi are littered with night clubs, pubs and bistros, making it one party area during the weekends. Furthermore, Bangsar Shopping Centre (BSC) and Bangsar Village are two prominent shopping malls located here. It is easily accessible via Jalan Maarof, Lebuhraya SPRINT and Jalan Duta. It is within minutes of walking distance away from Telawi area, where plenty of amenities can be found.
The Bukit Bandaraya enclave is accessible via Jalan Maarof. Residents can opt between using the SPRINT Highway or Jalan Bangsar to reach the neighbourhood. Within 10 minutes' walk, residents can hop on a bus at the bus stop to get to Bangsar LRT station that is approximately 3 kilometers away.
Property Details
Name: Bukit Bandaraya
Address: Off Jalan Maarof, 59000 Bangsar, Kuala Lumpur
Developer: Bandar Raya Development
Completion Date: 1970s
Type: Semi-Detached & Bungalow
Tenure: Freehold
Analysis
Houses in Bangsar are highly sought after by the upper middle class Malaysians and expatriates. Even during economic crisis, property prices in this exclusive neighborhood hardly drop. In fact it inches up slightly during the past several crisis, mainly due to the scarce land in this part of the city.
Bukit Bandaraya is fast becoming a hot retail neighbourhood. Plenty of the bungalow houses along Jalan Maarof have been converted into show rooms for house furniture, boutiques and bridal designs. Bangsar Shopping Centre and international grocery store at bangsar Village are also available for those who prefer international cuisines and lifestyle.