Description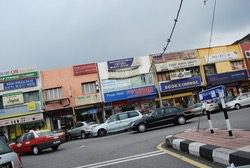 Lucky Garden is located at the heart of Bangsar. It neighbors Bangsar Baru to the northern, Taman Bangsar to the Eastern, Taman Bukit Pantai to the Southern and Sprint Highway to the Western. It is one of the most fully developed residential, and supported by amenities and commercial shops.
A quick glance at Lucky Garden would look like a modern metropolitan city with mushrooms of landed houses includes terrace house, semi-detach house and bungalows. Though the landed houses are old and completed quite long ago, but still attract those city dwellers and visitors alike buyers and tenants.
In terms of academic institutions, there are varieties of academic institution ranging from primary to tertiary located within the vicinity. Moreover, there are a few kindergarten and nurseries operated from house. Schools which located nearby Lucky Garden are Sekolah Kebangsaan Bukit Bandaraya, Sekolah Kebangsaan Bukit Pantai, Sekolah Rendah Jenis Kebangsaan (T) Jalan Bangsar, Sekolah Menengah Kebangsaan Bangsar and Sekolah Menengah Kebangsaan Bukit Bandaraya. As for Tertiary academic institution, University of Malaya is five minute drive from Lucky Garden.
As for the daily needs and shopping, there are lots of commercial shops and a shopping center can be found here. Commercial shops ranging from food & dining, banks, cafe, utilities shops can be found especially at Bangsar Baru. Besides, Bangsar Village is located just walking distance from Lucky Garden. In terms of medical institution, Pantai Hospital Kuala Lumpur, Institute Kesihatan Umum and Hospital University all within 5 to 10 minutes drive from Lucky Garden.
For accessibility, there is no doubt that Lucky Garden is one of the most strategic locations, as it is only 4 minutes drive to KL city centre. It is also connected to Petaling Jaya via the Federal Highway or the Sprint Highway. The New Pantai Expressway begins at Jalan Bangsar and passes through Jalan Pantai Baharu, Pantai Dalam, Jalan Kuchai Lama, Jalan Klang Lama, Bandar Sunway and terminates at Subang Jaya. The Sprint Expressway, at the northern end of Jalan Maarof connects to Bukit Damansara, Jalan Duta, Sri Hartamas, the New Klang Valley Expressway, the Damansara-Puchong Expressway and several suburbs in Petaling Jaya.
As for public transportation, the Bangsar LRT station on Rapid KL's Kelana Jaya Line is located on Jalan Bangsar. Abdullah Hukum, Kerinchi and Universiti LRT stations are also located nearby. Furthermore, Lucky Garden is five minute drive from KL Sentral, a major transportation hub in neighboring Brickfields.
Property Details
Name: Lucky Garden
Address: Taman Lucky, 59100 Kuala Lumpur
Type: Residential & Commercial Mixed
Tenure: Freehol
Market Trends
Analysis
Lucky Garden is one of the highly demanded areas for residential, as well as commercial. As one of the closest township to KL city centre, Lucky Garden has been highly demanded especially those city dwellers. It has grown rapidly over the years and its property of price has gone up tremendously. Addition to that, developments in neighboring such as Bukit Damansara and Mid Valley City have highly increased the property value at Lucky Garden. However, it has paid the price in terms of traffic jams.
Generally, Lucky Garden is the most ideal place for those who own a job at city centre as its strategic location and close to city centre. As there is no new development can be foreseen, the buyer may have to go for second-hand house if they are interested to stay there. Frankly, it is a good place to own a property for own staying or investment.