Description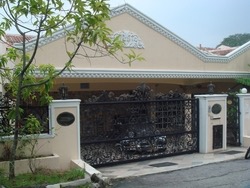 Taman SA is one of the old and exclusive neighborhoods in Bangsar. The neighborhood consists of linked houses and bungalows, catering to the rich politicians and businessmen in Malaysia. It is situated right in between of Bangsar Baru and Damansara Heights.
The popular Telawi enclave is just a stone's throw away from Taman SA. The small commercial enclave is one of Kuala Lumpur's most popular nighttime entertainment districts. Furthermore, Bangsar Shopping Centre (BSC) and Bangsar Village are two prominent shopping malls located within walking distance from Taman SA.
Taman SA is easily accessible via Jalan Maarof, Lebuhraya SPRINT, and Jalan Duta. It is within minutes of walking distance away from Bangsar Shopping Center (BSC), where plenty of amenities can be found.
Property Details
Name: Taman SA
Address: 59000, Bangsar, Kuala Lumpur
Type: Terrace House & Bungalow
Tenure: Freehold
Market Trends
Analysis
Houses in Bangsar are highly sought after by the upper middle class Malaysians and expatriates. Even during economic crisis, property prices in this exclusive neighborhood hardly drop. In fact it inches up slightly during the past several crisis, mainly due to the scarce land in this part of the city.
People very often confused Taman SA for being located in Damansara Heights, instead of Bangsar, due to its close proximity to the latter. According, to its postcode and geographical map, Taman SA belongs to Bangsar, not Damansara Heights. YTL family (Malaysia's conglomerate and richest family) has recently built a gigantic mansion near Taman SA in Damansara Heights. This mansion has been reported to be one of the most expensive mansions in Malaysia.
In recent years, due to frequent break-ins in the area, residents came together to set up a barricade at the only entrance to the housing estate. There is 24-hour security guards at this barricade, registering visitors entering the area.