Description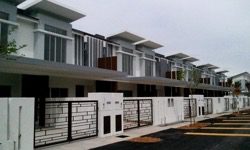 Taman Putra Prima is a relatively new housing development located in Puchong, Selangor. Houses here are freehold, and are in various states of completion depending on its phase. It is a development of Plenitude Permai, located deep in Puchong and is rather from from the city of Kuala Lumpur at a 40-minute drive. Other places of importance such as Bangsar, Mont Kiara, Petaling Jaya and Klang are all an approximate half an hour's drive away.
The houses in Taman Putra Prima consist mainly of 2-storey terrace houses, while the outer areas of the development consists of shophouses. Sizes of the houses here range between 1,400 sf and 3,220 sf, with between 3 bedrooms and 2 bathrooms to 4 bedrooms and 3 bathrooms. Market price of these homes are now approximately between RM568,000 to RM1,500,000.
Being a relatively new development, Taman Putra Prima does not have a high occupancy rate as of yet, as many of the units are being held by property speculators. There have also been units that have been fully extended or renovated to increase its value. While many of the units are being sold bare, some of the units have partial furnishings already to increase its value, such as in-built cabinets, built in wardrobes, air-conditioners and water heaters.
Facilities are rather non-existent in Taman Putra Prima. There is a sole playground in the area, which is only accessible from certain phases of the development, as the playground is fenced off. The neighbourhood is however of a residential type, and evening activities may expand to include cycling within the residential area.
What Taman Putra Prima lacks in facilities is made up for with the many amenities that residents have access to. The neighbourhood has many renowned primary and secondary schools in the vicinity, with two hypermarkets serving the area, Carrefour and Tesco. A morning market is available at Batu 14, while eateries from all nationalities are within short driving distance. There are also many banks available, within a 10 kilometres radius.
Taman Putra Prima is also extremely well located, as it sits just off the main trunk road of Jalan Puchong, which provides easy access to the Damansara – Puchong Highway (LDP), the Shah Alam Expressway (KESAS) and the North – South Central Link Expressway. Public transportation is just as easily found on the main roads of Jalan Puchong. Taman Putra Prima is also  close-by Taman Tasik Puchong , Taman Tasik Prima , and The Wharf Puchong .
Property Details
Name: Taman Putra Prima
Address: Off Jalan Puchong, 47100 Puchong, Selangor
Developer: Plenitude Permai
Type: Terrace
Tenure: Freehold
No. of Storey: 2
No. of Bedrooms: From 3
No. of Bathrooms: From 2
Built-up: From 1,400 sf
Facilities
Analysis
The developer of Taman Putra Prima is Plenitude Permai, whose main focus of developments lie more in Penang and Johor Bahru. Their other projects in these two areas are such as Taman Desa Tebrau in Johor Bahru, and Bandar Perdana, Lot 88 and Bayu Ferringhi in Penang. Their developments have all been excellence in terms of design and quality.
Taman Putra Prima is proving to be another success of the developers, in another highly sought after location in the state of Selangor. The heavy density of residents living in the area has however caused traffic in Puchong to be something of a nightmare during peak hours. Taman Putra Prima is no less a victim of traffic congestion, as all the main roads that lead to it are congested after 6 pm.
Taman Putra Prima is not considered to be an exclusive neighbourhood, as it caters more towards the middle income group to the upper middle income group. Development is ongoing, promising an influx of even more residents in the near future. It is neither a gated nor guarded area, which has caused some residents to voice out in hiring private security companies.
Taman Putra Prima was considered by some to be an excellent investment, which their purchase has proven fruitful as the prices of the homes have increased by twofold since its inception. Prices have since further increased bit by bit from the year 2013 to the present time. Taman Putra Prima is not just an ideal investment, it also promises to be an excellent permanent home as it is in an excellent location within easy reach of all necessities.