Description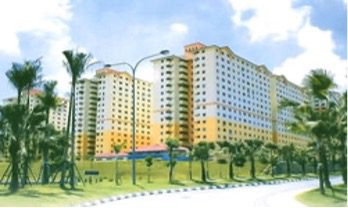 Sri Rakyat Apartment is a freehold low-cost apartment located in Bukit Jalil, Kuala Lumpur. The development was developed by Ho Hup Group in the year 2003. Developments nearby include The Treez, Jalil Damai and Aurora Sovo.
Sri Rakyat Apartment has three blocks; each of the blocks has 14 storeys. Units are identical and typical low-cost housing units. All units have 3 bedrooms and 2 bathrooms. The toilet and the shower are separated. The unit density is also rather high as each block has approximately 366 units of housing spread over 16 floors, translating to 20 over units per floor.
There are very few facilities in Sri Rakyat Apartment as it is essentially a low-cost housing. There is no security, and the area is neither gated nor guarded. It comes with basic facilities such as communal parking, and a playground. The ground floors of the blocks are shop lots and there are salons and mini markets available right at the doorstep for the convenience of the residents.
Sri Rakyat offers good access to amenities, but there is a lack of thereof in the immediate vicinity. The nearest mall is Endah Parade located 3 kilometers away, whereas others such as IOI Mall, Amcorp Mall and Mid Valley are upwards of 6 kilometers away. Banks and eateries could be found in commercial areas which is a 5 minute drive away, being located in Taman Kinrara and Taman Sri Endah. Two of the closest hospitals are 5 kilometers away, being the Taman Desa Medical Centre, and Assunta Hospita.
From Sri Rakyat Apartment, there are several schools nearby including Seri Indah and SK Seri Suria. Accessibility into the location is good as well as there are many major roads nearby. Easily accessible from Sri Rakyat is the Bukit Jalil Highway, Shah Alam Highway, Sungai Besi Highway as well as the Kuala Lumpur – Putrajaya Highway.
Property Details
Name: Sri Rakyat Apartment
Address: Jalan 14/155C, 57000 Bukit Jalil, Kuala Lumpur
Developer: Ho Hup Group
Completion Date: 2003
Type: Condominium
Tenure: Freehold
No. of Blocks: 3
No. of Storey: 14
No. of Units: 1,098
No. of Bedrooms: 3
No. of Bathrooms: 1
Built-up: 650 – 670 sf
Maintenance Fee: RM39
Subsale Price: From RM110,000
Rental: From RM700
Layouts
Typical Unit
3 bedrooms + 1 bathrooms (650 sf)
Facilities
Communal parking
Playground
Mini market
Salon
Analysis
Ho Hup Group has multiple developments, with the majority of them being located in Bukit Jalil. They have many developments of many types under their banner, including Jalil Damai, Jalil Ritz, and Jalil Sutera, all of which are located in Bukit Jalil. They were also one of the developers working on KLIA 2, and also worked to build the foundations for the Petronas Twin Towers. Furthermore, the company also has experience in constructing railways, having taken part in the construction of both Star LRT line and the Putra LRT line. It is sufficient to say that the developers have immense experience with property development, being an old name in the business that was founded in the year 1960.
Due to the low purchase price, Sri Rakyat Apartment could be a candidate for buy-to-rent types of investment. Traffic conditions during peak hours are bad as there are multiple low-cost developments in the area, resulting in a very high people density.