Description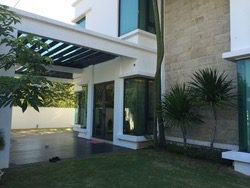 Section 11 is a housing development located in the famed and much sought after area of Kota Damansara. A leasehold development, it is located only 20 minutes away from the city centre of Kuala Lumpur while the bustling city of Petaling Jaya is equally as near. Frequent travellers will be pleased to find that the Kuala Lumpur International Airport (KLIA) is only 45 minutes away from here.
Catering to the upper income group of citizens, Section 11 of Kota Damansara consists mainly of double storey bungalows of massive built-ups. Very commonly found in this area are houses with 8 bedrooms, and with built-ups of 9,000 sf. Prices of these homes are not easily afforded either, with price tags easily reaching RM6,000,000 onwards.
The prices of the homes in Section 11 of Kota Damansara are however well justified for its upmarket location, as well as the unique designs bourn by each home. Heavily renovated homes are the norm here, while selected homes also have their own private swimming pools and lifts, with high quality finishings and polished marble floors.
All the houses in Section 11 of Kota Damansara are also usually fully air-conditioned, while security measures such as fully integrated alarm systems and CCTV surveillance systems are also the norm. In addition to the house's stringent security, the neighbourhood is also guarded by the 24-hour security personnel.
Located just minutes away from the enclave of Section 11 of Kota Damansara are several upscale shopping malls such as Giza Plaza, e@Curve and 1 Utama Shopping Complex, while just minutes away are several medical centres such as the Tropicana Medical Centre catering to the residents. Banking facilities as well as restaurants catering to all walks of lives are also plenty available in the vicinity of Giza Plaza.
Section 11 of Kota Damansara enjoys easy and convenient accessibility to many main highways such as the New Klang Valley Expressway (NKVE) and the SPRINT Highway; both of which are mere minutes away from the housing development. While public transportation is not easily available at the moment, the situation is expected to change much upon the completion of the new MRT station which will have a stop within Kota Damansara itself.
Property Details
Name: Section 11
Address: Off Persiaran Mahagoni, Kota Damansara, 47810 Petaling Jaya, Selangor
Type: Bungalow
Tenure: Leasehold
of Storey: 2
of Bedrooms: From 8
of Bathrooms: From 7
Built-up: From 3,500 sf
Layouts
Facilities
24-hour security
Covered parking
Analysis
Just as short as seven years ago, Section 11 of Kota Damansara was not what it is today; an area dedicated to upmarket living. However with the property boom of the recent years, prices have skyrocketed and property here have suddenly became gems. As such, the population in this area is high and traffic congestion is unavoidable especially during peak hours.
In spite of the terrible traffic situation, the neighbourhood of Section 11 in Kota Damansara unmistakably caters to the upper income group. Homes here are highly exclusive, and extremely hard to come by due to its low availability. The safety of the area is unquestionably excellent, as are the homes in this area.
Property speculators will undoubtedly find that their gambles years ago were well executed as they reap the profits from selling these homes, while those who bought homes in this area hoping for an upturn in the area were not disappointed. Home buyers who are looking for a home with in an unimpeachable neighbourhood will find their dream homes here as well if they can afford the price tag.