Description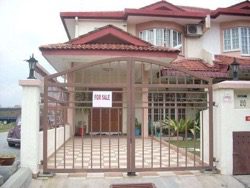 PU2 (also known as Puchong Utama 2) is a residential enclave comprising terrace houses in Puchong Utama, Puchong. It is situated near to PU1 and the Puchong Utama Park.
PU2 offers 2-storey terrace houses with land area of 22′ × 75′. These houses have built-up size of about 3,037 sf and consist of 5 bedrooms and 3 bathrooms.
Residents can go to shop lots area at Puchong Utama which is situated along Persiaran Puchong Utama and takes 6 minutes of walking.
There is an abundance of amenities there like restaurants, mini market, internet cafes, workshops, convenience store, clinics and even a community policing operation lot there. A huge Carrefour hypermarket can be found there so grocery shopping is practically a breeze for the residents nearby.
For those who love the night market, the Pasar Malam Puchong Utama is also situated there every Tuesday night. The nearest established medical centre positioned to PU2 is the KPMC Puchong which is located about 4.1km away. Other options include the more notable Sunway Medical Centre which is situated about a 15 minutes short drive away via Damansara-Puchong Highway.
SK Puchong Utama 3 is basically just a stone's throw away from PU2. Other schools such as SK Puchong Utama, SMK Puchong Utama 1 and SK Puchong Utama 2 are also within close proximity. PU2 is easily accessible using Persiaran Puchong Utama, Jalan Puchong and Damansara-Puchong Highway.
For residents who choose to commute via public transportation can go to the Puchong Utama Bus Station or the taxi stand there which is within close vicinity to Carrefour Puchong Utama. PU2 is also close-by PU5 , PU6 , and PU1
Property Details
Name: PU2 (also known as Puchong Utama 2)
Address: Taman Puchong Utama, 47100, Puchong, Selangor
Type: Terrace House
Tenure: Freehold
of Storey: 2
of Bedrooms: 5
of Bathrooms: 3
Land Area: 22' x 75'
Built-up: 3,037 sf
Subsale Price: From RM850,000
Rental: From RM1,000
Analysis
PU2 is situated within a densely populated residential zone and Taman Puchong Utama residents are not at all surprised by petty crimes with the areas of Taman Puchong Utama. However, petty crimes that have happened recently mostly involved young local boys.
These young boys would go around on their motorcycles and then snatch hand phones and other valuables when one is not paying attention. These petty crimes happened quite often in Puchong Utama.
However, earlier this year, RELA has launched its own patrolling team at Taman Puchong Utama. There are 5 members in a group on motorcycles or on foot to patrol the neighborhood from 10pm to 2am every Monday, Wednesday and Friday. This patrolling unit is the first to be held in the Puchong area.