Description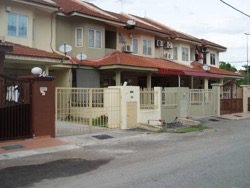 PU10 is a residential enclave located within the vicinity of Puchong Utama. There are many other similar enclaves that can be found here, such as PU1 to PU8.
PU10 consists of mainly double-storey terrace / link houses. Most of the units within the enclave have similar layout, design and built-up sizes with little variation in between. Typically, each unit has built-up sizes at an average of approximate 1,100 sf, which comes with 3 to 4 bedrooms and 2 to 3 bathrooms.
Residents of PU10 will be able to benefit from the unrivaled convenience and accessibility to amenities. There are a myriad of choices for residents to pick from, as there are many shop-offices within the commercial areas that are located not far away. It ranges from local eateries to banking facilities, while shopping malls such as IOI Mall, Giant and Tesco can be found within close proximity.
Additionally, several schools can be found within a stone's throw away. To begin with, SK Puchong Utama 1 and SMK Puchong Utama 1 are technically within walking distance, being no further than 0.4km away. SK Puchong Utama 2 and SK Puchong Utama would probably require short driving. Colleges such as Binary College, Optima College and Kolej Pengurusan Austin can be found nearby as well.
PU10 is easily accessible via inter-connectivity of several major highways such as Damansara-Puchong Highway, KL-Shah Alam Expressway, Puchong Highway, KL-Shah Alam Expressway, North-South Central Link and Putra Link. Apart from that, Rapid KL Terminal Puchong Utama is located no more than 3km away. PU10 is also close-by PU8 , PU6 , and PU1
Property Details
Name: PU10
Address: Puchong Utama, 47100 Puchong, Selangor
Type: Residential
Tenure: Freehold
of Storey: 2
of Bedrooms: 3 – 4
of Bathrooms: 2 – 3
Built-up: 1,100 sf
Subsale Price: From RM300,000
Rental: From RM600
Facilities
Parking
Playground
Mini market
Analysis
PU10 provides buyers with an excellent value for money, considering its largely affordable price tag within one of Klang Valley's fastest growing commercial and residential hub. Convenience to amenities and other established neighborhood are unrivaled, rendering it a viable option to live within Puchong, while working at KL City Center. The only problem is the inevitable traffic congestion which occurs on a daily basis.