Description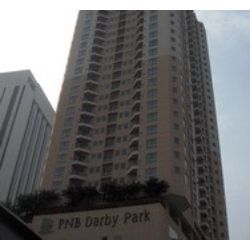 PNB Darby Park is a commercial and serviced residence situated along Jalan Binjai in KLCC. Located near to the building are other commercial developments like Menara PNB, GTower, Menara Ilham Baru, Tabung Haji and residential projects such as Desa Kudalari and The Troika to name a few. PNB Darby Park is built by Sime Darby, which is also an established developer behind other projects like the Sime Darby Convention Centre and Subang Avenue Service Suites.
PNB Darby Park houses a total of 338 executive serviced and office suites. The standard apartment suite has a built-up area of 1,000 sf and comprises of single, two, three or four bedroom unit. Some of the facilities provided there are swimming pool, sauna, tennis courts, squash courts, convenience store, parking spaces, gymnasium, restaurant, business centre and around the clock security.
PNB Darby Park is located just a stone throw away from the famous KLCC shopping mall in which one can find ample amenities like cinemas, various restaurants, cafes, shopping brands, ATMs, clinic, saloons, boutiques, supermarkets, food courts and many more, all sited under one roof. Medical amenities such as the medical centre located at Menara HSC is also positioned just a 10 minutes walk away should there be any serious medical emergencies.
As for educational establishments, Goethe Institute, Malaysian Institute of Management, SRJK Chung Hwa and SKJ Gurney are some of the educational institutions that are sited within a 1.5km radius away from PNB Darby Park. It can be easily located using Jalan Binjai, Jalan Tun Razak and Jalan Ampang. RapidKL Ampang Park Station is positioned just a 0.12km away from the building for those who travels using public transportation.
Property Details
Name: PNB Darby Park
Address: 10, Jalan Binjai, 50450, Kuala Lumpur
Developer: Sime Darby Property
Completion Date: June 2000
Type: Apartment Suites & Office Suites
Tenure: Freehold
No. of Blocks: 1
No. of Storey: 30
No .of Units
No. of Bedrooms
Built-up

Apartment Suites: 1000 sf
Office Suites: 1,200 sf – 10,000 sf

Rental

Apartment Suites: From RM388 per night
Office Suites: From RM4.80 psf
Facilities
Swimming pool
Parking spaces
Business centre
Gymnasium
Tennis courts
Squash courts
Restaurant
Sauna
24 hours security
Analysis
PNB Darby Park aimed to provide a homely surrounding to those who choose to stay at their suites and one of the biggest selling points of PNB Darby Park is that it is strategically positioned within Kuala Lumpur's golden triangle. There were also a lot of reviews stating that the rooms were clean and spacious and that it provides suitable accommodation for those traveling on business trips or even those who are staying with their families. As for office suites, its biggest selling point would be that it is sited just a short walk away from the Ampang Park LRT Station.