Description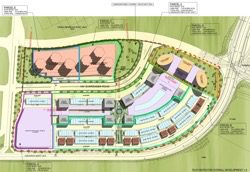 One Jalil (also known as Jalil City) is an integrated urban city development in Bukit Jalil. It is sited on a 60-acre of freehold land near to Alam Sutera, Seri Jalil, and Jalil Damai apartments.
The RM2 billion masterplan of One Jalil comprises of 1,800 condominium units, 140 units of 5 to 8-storey shop-offices, a 9.15 acres hypermarket, a lifestyle central podium for entertainment and F&B;, SOHO offices, serviced apartments, a Grade A office tower and a 'Condo Hotel'. So far, the developer has only launched a few projects which are only available for booking – 5-storey shop-office, 8-storey shop-office and 12-storey shop-office.
The 5-storey Lifestyle Shop Office development at One Jalil comprises a total of 113 units with size of 26' by 70' with built-up area of 7,444 sf (Nett) and 9,010 sf (Gross). Meanwhile, the 8-storey Lifestyle Shop Office development consists of 27 units, each sizes 26′ by 70′ with built-up size of 12,750 sf (Nett) and 15,400 sf (Gross). There are 10 units available for the 12-storey Signature Office development; each sizes 70′ by 70′ with built-up area of 58,800 sf.
Facilities provided at One Jalil are lifts, security CCTV, IT broadband infrastructure, landscape street and basement car park. Other services provided are 24-hour security, pest control, and maintenance of the common area and facilities area.
Property Details
Name: One Jalil (also known as Jalil City)
Address: Bukit Jalil
Developer: Ho Hup Construction
Type: Mixed
Tenure: Freehold
No. of Units
5-Storey Shop Office: 113
8-Storey Shop Office: 27
12-Storey Signature Office: 10
Estate Area: 60 acres
Land Area
5-Storey Shop Office: 26′ x 70′
8-Storey Shop Office: 26′ x 70′
12-Storey Signature Office: 70′ x 70′
Built-up
5-Storey Shop Office: 7,444 sf
8-Storey Shop Office: 12,750 sf
12-Storey Signature Office: 58,800 sf
Facilities
24-hour security
Broadband infrastructure
Landscape street
Basement car park
Analysis
To create a city would definitely be the most challenging project for any property developer. Can Ho Hup deliver? Let's look at its past history. It was founded in 1960 by Mr Low Chee. Started as a construction company, it has involved in a few national mega projects including the Petronas Twin Towers, National Sports Complex, KLIA, LRT and Malaysia-Singapore 2nd crossing bridge.
Completed projects by Ho Hup so far are Sri Rakyat Apartment, Jalil Damai, Jalil Sutera and The Ritz. Based on the experiences, the upcoming result of One Jalil will be high quality.
Despite the developer vast arrays of experience, it is currently facing financial difficulties as their debt has amounted to RM113 million. According to the newly appointed managing director, Lim CHing Choy, the company is gearing to focus on its property development business to generate faster income apart from its corporate restructuring. Under the corporate restructuring, the company is focusing on capital reduction, capital injection and selling non-core land assets. The company is expected to reduce its debt to RM60 million by the 1st quarter of 2011.
There were a few speculations regarding this project previously. The speculation started when Ho Hup proposed to sell the land which to Permata Juang (M) Sdn Bhd, a subsidiary of Magna Prima Bhd. One of the directors of Magna Prima, Datuk Lye Ek Seang, is also a director of Ho Hup. Due to the conflict of interest, the shareholders did not support the land disposal plan to Magna Prima.