Description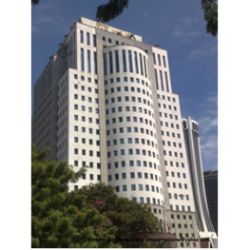 Menara Tan & Tan is an office building which holds the enviable distinction of having the most embassies, foreign missions and diplomatic representative offices as tenants under its roof. Hence there is a permanent police beat base situated just outside the building. Some examples of the embassies that are located within the building is the Embassy of the Federal Republic of Germany, the Embassy of Brazil and the Canadian High Commission.
Developed by IGB Corporation, which merged with the property-related businesses of Tan & Tan Developments in 2002, they are responsible for the completion of other notable properties such as The Gardens in Mid Valley City and U-Thant Residence in Ampang Hilir. The Group has created a niche for itself as an asset builder focused on harnessing recurring income from its property investment and hospitality businesses. They invest in and manage a diverse portfolio of long term commercial, retail, residential and hospitality assets in Asia, Australia, the United States and Europe.
As an iconic property that has been classified as a Grade A building that offers 5-star office spaces for rental, Menara Tan & Tan's prime location allows both tenants and visitors alike to enjoy the various amenities offered nearby such as Suria KLCC, GTower, Hampshire Residences as well as 5-star hotels such as the Mandarin Oriental. It consists of a 25-storey tall tower with a net lettable area of 340,596 sf.
To ensure that every single one of its tenants and visitors are greeted with streamlined comfort and amenities, Menara Tan & Tan underwent an RM 20 million building upgrade which was completed in December 2011. Accessibility to Menara Tan & Tan is straightforward enough with the property located on an advantageous site, as there are roads which lead directly to it, most notably Jalan Tun Razak, Lorong Kuda, Jalan Binjai and Jalan Ampang, to name but a few.
Property Details
Name: Menara Tan & Tan
Address: 207, Jalan Tun Razak, Kuala Lumpur
Developer: IGB Corporation
Completion Date: 1990s
Type: Commercial
Tenure: Leasehold
of Blocks: 1
of Storey: 25
Net Lettable Area: 340,596 sq ft
Facilities
High speed lifts
24 hours security
CCTV surveillance
Indoor car park
Food & Beverage outlets
Internet broadband
Telco providers including TIME, Telekom and Maxis
Analysis
Considering that Menara Tan & Tan is a commercial-based building, it houses many foreign embassies as well as food and beverage outlets such as the popular eatery known as Antipodean Café. In order for the property to maintain its good name and image as well as protect the safety of all within, there is also the 24 hours security with card access system that is only made available for those within the building.
Tenants and visitors will have no trouble finding their way to the building since Jalan Tun Razak is well-known as an area which contains prestigious shopping complexes that boast international names as well as quality local products. Suria KLCC Shopping Complex tops the list as the city's classiest shopping complex whereas Ampang Park, Ampang Plaza and City Square houses a wide range of shops that cater to all the possible needs and wants of tenants and visitors.
However, with Jalan Tun Razak being a hub for all things business and pleasure, there is the downside of major traffic snarls which each and every person in that area will have to face on an almost-daily basis; this happens especially during the peak hours where office-goers are hurrying home to or from work. The situation can be made more complicated during a heavy downpour, of which Malaysia has many, as the roads in that area tend to get flooded and the traffic will come to an almost complete stand-still.
There is an upside to these particular situations nonetheless, with Menara Tan & Tan situated within walking distance to public transportation services such as the Ampang Park LRT station, enabling tenants to make use of the public transport services.