Description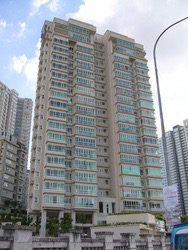 Kiaraville is a luxury condominium developed by Binaderas. The developer is one of the very few developers who decided to have a joint venture with foreign sources. Kiaraville was a result of the collaboration between Binaderas and CapitaLand Financial and OCBC Bank (Singapore).
Kiaraville consists of six blocks of condominium that ranged between 9 and 18-storey. There are numerous units crafted with splendid design and spacious layouts, whereby the units have built-up areas ranging from 1,592 to 3,935 sf. The interior of the condominium has also been designed with French-like architecture and it is surrounded with amazing landscapes.
The facilities at Kiaraville are about the same like any other new condominiums around the area. With numerous covered car park, residents does not have to worry about finding parking nor the condition of the car if it rains. Most of the units are provided with at least two parking lots, making it easier for big families or any residents that have more than one car. The condominium also has a special jogging track, a feature that not many condominiums have but of course it is possible here as it has a huge land of 6.74 acres.
Residents of Kiaraville no longer need to join any nearby clubs for leisure entertainment as the facilities at Kiaraville include gymnasium, a swimming pool, tennis court and squash court. The swimming pools are quite attractive as it is below a shady area with trees all around. There is also a nursery and a playground available, catering to the needs of parents that wanted to enjoy great quality time with their children.
There are many amenities that can be found nearby Kiaraville which include two international schools which are within a short drive (Mont Kiara International School and Garden International School), several shopping malls (SohoKL at Solaris Mont Kiara and Hartamas Shopping Centre at Plaza Damas), rows of shops, boutiques, restaurants, bars and entertainment outlets.
Kiaraville has an easy accessibility to SPRINT Highway, which is connected to Mont Kiara enclave. As it is close by to the highway, Kuala Lumpur city centre can be reached within only 10 minute drives. The nearest public transportation station to Kiaraville are Odyssey Luxury Liners Coach Services, Jalan Duta Bus Terminal and Hentian Duta.
Property Details
Name: Kiaraville
Address: Jalan Changkat Duta Kiara, Mont Kiara, 50450 Kuala Lumpur
Developer: A JV between Binaderas, Capitaland Financial & OCBC Bank)
Completion Date: Early 2008
Type: Condominium
Tenure: Freehold
No. of Blocks: 6
No. of Storey: 9 – 18
Land Area: 6.74 acres
Built-up: 1,593 – 3,935 sf
Maintenance Fee: RM0.40 psf
Subsale Price: From RM1,460,000
Rental: From RM7,000
Facilities
Swimming pool
Barbecue area
Cafeteria
Covered car park
Gymnasium
Jogging track
Nursery
Playground
Sauna
Squash court
Tennis court
Wading pool
24 hour security
Analysis
Although Binaderas is still a young property development company, they have managed to establish a good image where they are now amongst the recognized and experienced shareholders in the real estate industry. CapitaLand is also a very reputable company focusing on the main cities of Asia, Australia and Europe. All three companies came together and managed to pull through a well-built condominium of Kiaraville.
There is much to say about the location as Kiaraville is located at an area where it is easily accessible via Sprint, NKVE, LDP and Jalan Duta. Furthermore, with highways nearby, residents can find ease in moving in and out of Mont Kiara. There is a catch to it, however as congested traffic can be unreasonably long during peak hours. This was a problem back in 2005 where there was only one main road to gain access to Mont Kiara.
Overall, the location of Kiaraville is strategic but there is also a downside to it. The highways located nearby can be a potential disturbance to certain units. Units near the highway will experience noise pollution according to some of the current residents nearby. However, it is important to note that only certain units will face the highway.
So far, not many residents in Kiaraville have left their unit vacant, which leaves a good impression for investment and also a place to stay. Considering the location of the property, there will be good returns for investment. Nevertheless, the unit that you choose will be crucial as not all units will be good. It is important to take note on where the unit is facing, and also the notable sound pollution.
Kiaraville also has much to boasts about its design. The project was designed by one of Malaysia's most premier architect firms which is BEP Arkitek. The entrance is impressively built with a fair-faced curved concrete wall which seems inviting to visitors or on-lookers passing by. Further features to woo buyers and investors are the covered balcony with ample windows called Lanai; which is a French-architecturial design.
The condominium is also located near to two international schools, namely Mont Kiara International School and the Garden International School. Parents planning on sending their children to international schools and deciding to stay in Mont Kiara should consider Kiaraville. It would be so much better to live nearby a school so it won't cause a hassle going through congested traffic to send your children to school. Kiaraville is also located near to shopping malls and grocery stores, so getting hold of daily needs will not be a problem. It will take about five to ten minutes walk to the nearest shops.
The price of Kiaraville is cheaper than Mont Kiara Damai, but some think Mont Kiara Damai is much better compared to Kiaraville. The price started off at about RM380 to RM480 psf (launch price) and has shot up to about RM600 psf during during its peak. It is still reasonable considering the condominium's location. The subsale price for fully furnished units at Kiaraville (as of October 2014) starts from RM1,460,000 whereas the rental price for fully furnished unit starts from RM7,000. Kiaraville is close by Pavillion Hilltop and Tiffani Kiara .