Description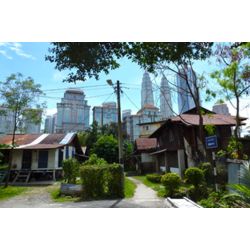 Kampung Baru is a residential area located right in the middle of the Kuala Lumpur city centre. It is one of the oldest residential areas in KL and has been reserved as a township for the ethnic Malays. The neighbourhood features traditional one and two storey wooden houses placed against an exciting backdrop of the Kuala Lumpur city skyline.
Kampung Baru features plenty of interesting local restaurants and food stalls. Most of the food served is Malay food and on weekends, large numbers of people crowd the area to visit the night market. The night market attracts a large number of visitors because it tends to sell anything from food to clothes to jewellery and traditional craftwork.
The Kampung Baru enclave happens to be an extremely valuable piece of land set within the city. Though its worth has been estimated to be within the billions, it has managed to maintain and preserve its authenticity. Developers have been discouraged from building large scale developments as Kampung Baru has a special historical significance.
Kampung Baru is one LRT stop away from KLCC. Its extremely central and strategic location has attracted the interests of developers for years, but these developers have been steadily and heavily opposed by a tight knit community. The birthplace of the United Malays National Organisation (UMNO), Kampung Baru is historically important and significant in terms of politics.
Property Details
Name: Kampung Baru
Address: Kampung Baru, 43000 Kuala Lumpur
Type: Traditional Kampung Houses
Land Area: 250 acres
Facilities
Restaurants
Food stalls
Night markets
Public transportation
Analysis
Kampung Baru is an incredibly special place that has managed to maintain its authenticity in the midst of a fast developing city. While Kuala Lumpur has witnessed an almost complete transformation as to what it used to be decades ago, Kampung Baru has managed to preserve its traditional charm.
Kampung Baru portrays the wonderfully traditional side of Kuala Lumpur's yesteryears. Authentic kampung houses on stilts washed in a variety of colourful shades, this area has proved to be quite the picturesque escape from the hustle and bustle of Kuala Lumpur's city centre. The wooden houses are shaded by trees and children play freely in their front yards. It is a definite contrast to the fast paced, concrete city.
Kampung Baru has also steered clear of modern day commercialism. Its ability to preserve the feel of a quaint, traditional settlement amongst commercial developments is truly admirable and has gained itself the reputation of being a famous landmark in Kuala Lumpur. As most of the community are against developing, there is a strong chance that Kampung Baru will remain as traditional and wholesome as it has been since its inception.