Description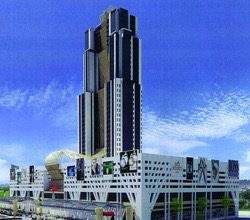 Encorp Strand Garden Office is the new leasehold luxury garden office in town, incorporating greenery into work life. Just newly completed in 2014, these gorgeous offices are a product of a joint venture between Encorp Berhad and PKNS. These offices are located in the prime area of Kota Damansara, at only 15 minutes away from the city centre of Kuala Lumpur.
Encorp Strand Garden Office is part of a mixed development which includes a high flying condominium, the Encorp Strand Residences. The commercial part of the development consists of 6-storey and 7-storey shop-offices. The development sprawls over 14 blocks of buildings, and has built-ups of between 1,700 sf and 2,500 sf.
Sales of the Encorp Strand Garden Office have been tumultuous with both investors and office buyers fighting to get a unit here. Density is extremely low as there are only three units to a floor, ensuring complete privacy to tenants. There are enough parking bays for 1,100 cars, and the building is served by four classic bubble lifts. Stresses of work are eased via the whimsical sky gardens, which climates at a private enclave exclusive to the penthouse units.
Encorp Strand Garden Office is one of the best located offices in town as Kota Damansara is becoming Petaling Jaya's new favourite commercial spot. Located amidst this new business hub, buyers of Encorp Strand Garden Office are guaranteed excellent returns. The environment is highly self contained, with the ground floors of the offices hosting retail shops while the penthouses that are accessible via the sky bridge would make good art galleries.
The closest and most popular hotel in the area is none other than the Tune Hotels from Air Asia, excellent for foreign business partners. Golfers will also be pleased to know that the Tropicana Golf & Country Resort is close at hand for business meetings. Major shopping malls such as 1 Utama Shopping Complex and IKEA are also close to work for business meet ups.
Encorp Strand Garden Office is extremely well connected by many main highways. It sits just off the New Klang Valley Expressway (NKVE) which provides easy accessibility to the SPRINT Highway and the Damansara – Puchong Highway (LDP). It is also close Malaysia's best train system, the MRT, which will be ready in 2015.
Property Details
Name: Encorp Strand Garden Office
Address: Off Persiaran Surian, Kota Damansara, 47810 Petaling Jaya, Selangor
Developer: Encorp Berhad (a joint venture with PKNS)
Completion Date: 2014
Type: Shop-Office
Tenure: Leasehold
No. of Blocks: 14
No. of Storey: 6 & 7
Built-up: 1,700 sf – 2,500 sf
Facilities
High speed bubble lifts
Sky gardens
Sky bridge
Water features
Private enclave (penthouse units only)
Covered parking bay for 1,100 cars
Analysis
Encorp Strand Garden Office was an an immediate success, which could be foreseen as its co-developer Encorp Berhad whose tagline is "Anything But Ordinary", is also the mastermind behind some of the most successful projects such as Encorp Cahaya Alam in Shah Alam, Encorp Marina Puteri Harbour in Johor and Residences On McCallum Lane in Perth, Australia.
Encorp Strand Garden Office is strategically located close to many major highway, which helps in easing the traffic conventions during peak periods. Where workers from most of the other offices in Kota Damansara would be caught in the evening traffic, tenants of the Encorp Strand Garden Office will find that their way home is most clear.
The neighbourhood surrounding Encorp Strand Garden Office consists mainly of white collar workers, and those of the middle upper and upper income group. With most of the latest developments in Kota Damansara now dedicated to the upper market, tenants of these the Encorp Strand Garden Office can be assured that their clientele will be only of the best.
Encorp Strand Garden Office showed promise from the get go to the an excellent investment, as it is located in one of the most prime areas in Kota Damasara, surrounded by rapid development, and is located only 750 metres from the upcoming MRT station. Contrary to many shop-offices that do not make it in the market, Encorp Strand Garden Office is an unequal success.